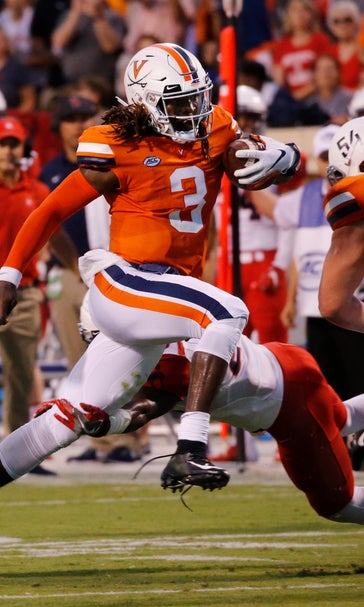 Virginia, Ohio to meet at Vanderbilt Stadium due to storm
September 14, 2018
NASHVILLE, Tenn. (AP) — It will be a rare home game on the road for Virginia on Saturday.
The Cavaliers (1-1) will face Ohio (1-0) at Vanderbilt Stadium, a venue change arranged early in the week when weather forecasts suggested that Hurricane Florence could make conditions dangerous for players and fans.
Virginia is coming off a 20-16 loss at Indiana that was played in an often driving rain, and coach Bronco Mendenhall said it was his preference to play again this week, even if it meant leaving Charlottesville.
"We want to grow, we want to play, we want to be developed, and there was an option, and that's all I was asking for. If there was an option, let's explore it," he said. The plan to move the game was finalize Tuesday.
On the field, Virginia will be looking for improved consistency on both sides of the ball. The Hoosiers, led by bruising freshman Stevie Scott's 204 yards on 31 carries, ran for 237 yards against the Cavaliers.
"Our gap assignments were off," linebacker Chris Peace said. "From myself to the D-Line, linebackers, I know one thing for the outside backers — we were just way too wide in some of our fits. ... I wouldn't say it was (Scott). Just like I said, it's back on us. You know what you're supposed to do. We've just got to go out and execute it."
Ohio, coming off a bye week, will also be looking for a vast improvement, especially on the defensive side. The Bobcats allowed 645 yards (484 through the air) in their opener against Howard, but rallied to win 38-32.
The Bobcats, like Indiana, figure to focus first on stopping dual-threat quarterback Bryce Perkins, who has run for more than 100 yards in each of the Cavaliers games. His 123 yards against Indiana came on 25 carries, and included a 47-yard run, one of four times he's gained at least 20 yards while running the ball this season.
"He's 6-3, 215, really can run, and it presents a lot of problem," Ohio coach Frank Solich said. "They use him as a runner coming off a traditional running style that you see quarterbacks coming off of now in terms of an offense. Then, they use him a lot in the option game, and he'll carry a ball around there.
"He can throw, which causes an extra problem in terms of that dimension."
Perkins struggled throwing the ball against Indiana, completing 12 of 24 tries for just 106 yards.
Some other things to watch when Ohio faces Virginia:
LINE OF SCRIMMAGE
Mendenhall said Indiana got the better of the Cavaliers on both sides of the ball with line play, and Virginia will need to shore that up to be more effective running the ball and stopping the run.
TAKEAWAYS
Ohio took the ball away from Howard four times and never turned it over, allowing them to overcome the Bisons' huge offensive performance. "It is something that we've worked on," Solich said. "We had drills where we did it. We did a bit more of that, where we weren't actually tackling but we were grabbing the ball."
WHO'S AT QB?
Bobcats starting quarterback Nathan Rourke earned all-Mid American Conference second team honors last season, but was replaced after completing just two of eight passes against Howard. Backup Quinton Maxwell was 17 for 25 for 233 yards with two touchdown passes. He also ran for touchdowns of one and 10 yards.
PASSING FANCY
Perkins has completed 25 of 48 passes thus far for 291 yards with four touchdowns and one interception, but 11 of his completions have gone to Olamide Zaccheaus for 116 yards. Only three other Cavaliers have multiple receptions, a point Mendenhall blamed on the inconsistency of some of the Cavaliers receivers.
CONSISTENCY AT THE TOP
Ohio is the only Division I program in the country to have had the same head coach, offensive coordinator (Tim Albin) and defensive coordinator (Jimmy Burrow) for each of the past 14 seasons. The Bobcats also have attained bowl eligibility in each of the past nine seasons.
---
---