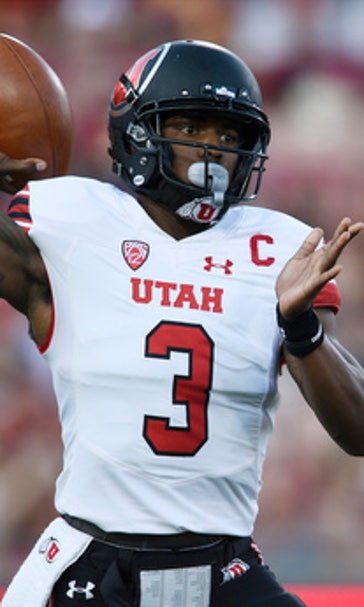 Utah still struggling to solve red zone problems
October 16, 2017

SALT LAKE CITY (AP) Utah was in a potentially season-changing scenario but grappling with one of its biggest weaknesses.
The Utes were on the 3-yard line Saturday and needing a two-point conversion to beat USC and hold onto a share of the Pac-12 South lead. But Utah's red zone performance hasn't been one of its strengths this season.
Quarterback Troy Williams took the snap with 42 seconds remaining and rolled right after the first read was covered to the left. He tried to outrun the defense to the sideline and was tackled at the 2-yard line in the 28-27 loss.
The play didn't technically qualify as a red-zone situation, but it exemplified something that continues to hold the Utes back. Utah is tied for No. 112 in the nation in red zone touchdown conversions at 47.06 percent. The red zone scoring percentage ranks No. 56 at 85.29 percent.
Louisiana-Lafayette leads the nation with an 89.29 red-zone touchdown percentage and Pac-12 rival Oregon is No. 2 at 88.24 percent.
Coach Kyle Whittingham said he can't pinpoint the issues as the team prepares to host Arizona State next Saturday.
''We've studied it relentlessly,'' Whittingham said, ''and work on it and scheme for it and we still are not good enough. ... We were two for four on Saturday night. If we would have been three for four we would have won the game. The one thing that's constant is we have to get better in the red zone.''
There doesn't seem to be one thing that has been the issue when the end zone gets closer. Execution is the popular answer.
If Williams hadn't bailed out and run for the sideline at the end of the USC loss, he might have seen receiver Darren Carrington come wide open in the back of the end zone.
The Utes could have jumped out to a significant lead in the first quarter but Williams threw an interception at the USC 14-yard line and Matt Gay missed a 33-yard field goal. In both instances, Utah failed to earn a first down once it reached the red zone.
''I would like us to run the ball a little bit more in the red zone than we do because we do have a tendency to throw a lot more in those short areas. We've just got to be better,'' running back Zack Moss said. ''Just don't understand why we can't score. It's frustrating to go on the field and get a long drive and then just walking off with three or no points.''
This is not a new thing for Utah. The Utes were tied for No. 115 in the nation in red zone touchdowns (50.0 percent) last season, tied for No. 65 in 2015 (60.87 percent) and No. 78 in 2014 (57.78).
Whittingham said the goal is to score touchdowns on 70 percent of red-zone trips.
Starting quarterback Tyler Huntley may offer more options deep in the opponent's territory with more running ability than Williams, but he's been injured the last two and a half weeks and remains day-to-day. Huntley was having similar struggles before getting hurt, however.
Utah scored touchdowns on just one of seven trips against 1-6 BYU and four of seven against FCS North Dakota.
''Just a lack of execution,'' Williams said. ''That's all I can really say. I feel like the game plan for the red zone, everything is good. Just have to really lock in once we get down there.''
---
More AP college football coverage: http://collegefootball.ap.org and on Twitter at http://twitter.com/APTop25
---
---