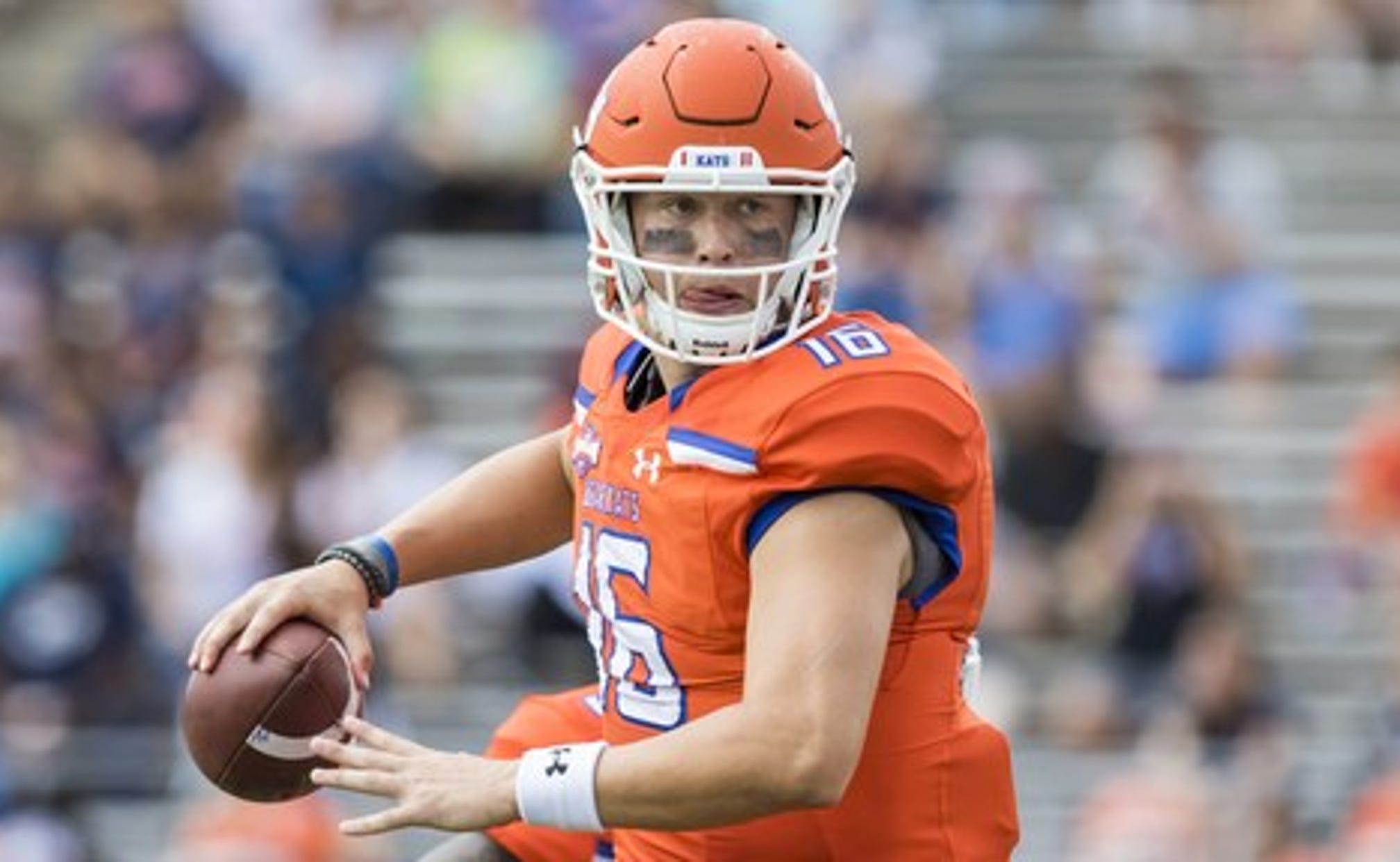 Two-time Payton winner Briscoe seeks to impress at Shrine Game
BY AP • January 18, 2018
(STATS) - Coming from the FCS level, former Sam Houston State quarterback Jeremiah Briscoe realizes the critiques are a little stronger when NFL prospects go under the microscope.
He's fine with that because he's always been one to mess something up before getting it right.
He certainly learned the right way at the FCS level. Just two weeks ago, he became the second player in the 31-year history of the STATS FCS Walter Payton Award to win top national offensive honors twice, both as a junior and a senior.
This week, Briscoe is one of 16 former FCS players taking a big step toward a potential NFL career at the 93rd annual East-West Shrine Game in St. Petersburg, Florida. NFL scouts, coaches and executives are taking a closer look with their microscopes leading into Saturday's all-star game at Tropicana Field (3 p.m. ET, NFL Network).
"It's been a whirlwind. We've kind of hit the ground running since the season was over," Briscoe said.
"Just really trying to get ready not only just mentally for an NFL system, but physically, taking drops, doing all the play-action stuff, making more of the NFL throws. We made a lot of those throws and a lot of similar throws (at Sam Houston), but not exactly the same throws. That's been a big focus right now, especially leading up to the Shrine. After that, we'll work on a little more mobility, speed, all those kinds of things."
As a senior, Briscoe helped lead the Bearkats to a 12-2 record and a semifinal appearance in the FCS playoffs. The 6-foot-3, 225-pounder from Houston led the nation in passing yards (5,003), passing yards per game (357.4), touchdown passes (45) and points responsible for (288).
In his two Payton Award-winning seasons, he passed for 9,605 yards and 102 touchdowns.
But Briscoe also knows his game with be picked apart heading toward the NFL draft in late April. Fortunately, what he got wrong along the way was often made right.
He has to improve his accuracy and release the ball quicker when under pressure, and NFLDraftBible's scouting report says he can make "dangerous and risky passes that can drive a coach absolutely nuts," yet Briscoe reads through his progressions well and has good arm strength. His college career started at UAB, but after the Blazers' program disbanded following the 2014 season, he transferred to Sam Houston, playing three seasons under coach K.C. Keeler.
"I think there's definitely something to learn from when there's criticism," Briscoe said. "But at the same time, you kind of have to take it with a grain of salt just because of a lot of things they don't know exactly - what was going on in the film or what was going on on the field or what was going on that specific play. So there's some things that you can overlook.
"But there's a lot that I think you can learn from. I think constructive criticism is one of the best things to learn from. ... Hearing feedback and those kind of things, it helps. But when it comes to the draft, it's out of my control. I can only control how I do on and off the field. That's what I'm focused on."
Briscoe is part of the West squad at the Shrine Game along with Sam Houston teammate P.J. Hall, a defensive tackle. Other FCS players are Illinois State cornerback Davontae Harris, Delaware defensive tackle Bilal Nichols, South Dakota State center Jacob Ohnesorge, Villanova cornerback Malik Reaves, North Dakota safety Cole Reyes, Wagner offensive tackle Greg Senat, Weber State tight end Andrew Vollert and South Dakota State wide receiver Jake Wieneke.
FCS players on the East roster are Fordham running back Chase Edmonds, Northern Iowa wide receiver Daurice Fountain, Illinois State defensive tackle Dalton Keene, North Dakota State center Austin Kuhnert, William & Mary offensive guard Connor Hilland and Penn wide receiver Justin Watson.
---
---