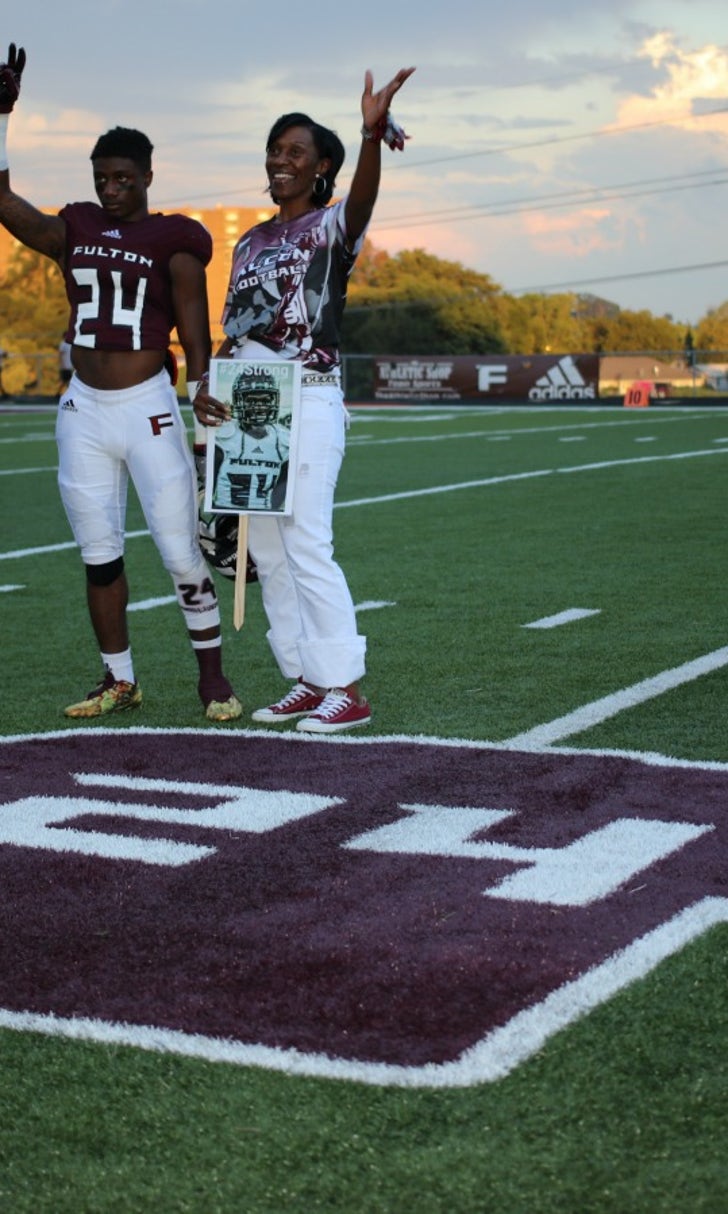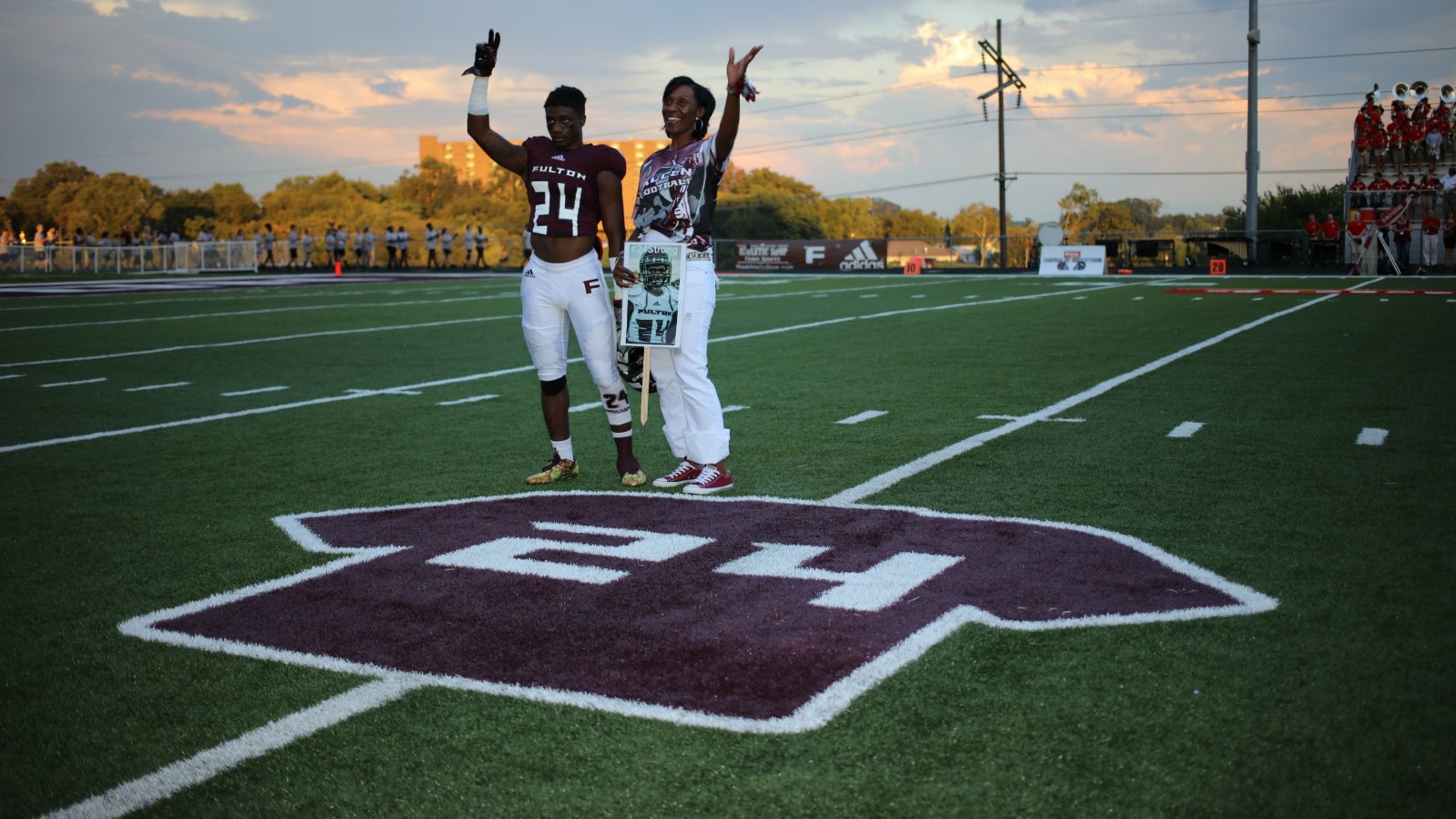 The spirit of Zaevion Dobson lives on
BY Sam Gardner • August 30, 2016
KNOXVILLE, Tenn. — The evening ended the same as it began, with Zack Dobson in tears, reliving the worst moment of his life. But to think this night was anything but a celebration would be to miss the point altogether.
In fact, Fulton High School's™ 45-29 loss to Maryville on Saturday was a celebration in every sense of the word, despite what the lopsided scoreboard might suggest.
It was a celebration of opportunities and new beginnings after Fulton'€™s 37-game win streak and a run of three straight Class 4A state titles came to an end in 2015. It was also a celebration of a new turf field, one of 13 generously donated by the Haslam family and Pilot/Flying J to high schools across Knox County.
It was a celebration of Tennessee high school football, a televised matchup of state powerhouses known simply to fans in the area as the "€œBattle of Champions."€ And it was a celebration of a tight-knit community in the heart of SEC country, a place for all of Knoxville to gather on the final Saturday before Neyland Stadium takes center stage for the remainder of the fall.
Most importantly, it was a celebration of Zaevion Dobson, a brother, friend and teammate senselessly murdered just three miles from his high school — and just three blocks from his own front door — on Dec. 17 of last year.
With a capacity crowd some 6,000 deep on hand for the Falcons'€™ first home game since Dobson'€™s death, Fulton christened its new playing surface by honoring the late linebacker, who was killed by two strangers at the age of 15 while shielding his friends from gunfire on a neighbor's front porch on the first night of Christmas break.
Fifteen minutes before kickoff, Zack Dobson, a senior wideout and defensive back, took the field along with his mother, Zenobia, his coach, Rob Black, Fulton athletic director Jody Wright and principal Rob Speas to unveil a No. 24 jersey painted in Fulton maroon and white on the 24-yard line, facing the home bleachers near the north end zone.
Prior to his death, Zaevion Dobson wore No. 24. Hours after Zaevion was killed, Zack texted Black in the middle of his first sleepless night without his brother to ask if he could wear the number instead of his regular No. 4 during his final season.
"€œIt was really important to me,"€ Zack told FOX Sports after practice one day last week. "€œWe had actually talked about it, that if anything ever happened what would we do? We said we'€™d wear each other'€™s number and just play, so that'€™s what I did."
The team has been practicing on the new synthetic surface for weeks, but Saturday marked the first time the public saw it. And as Black, Wright and Speas peeled back the tarp that covered the design during the pregame ceremony, Zenobia Dobson raised her eyes and lifted a homemade sign with a picture of Zaevion to the heavens while Zack began to cry.
"€œIt took me back to that night, thinking about everything that happened, and I just couldn'€™t stop,"€ said Zack Dobson, who returned to the scene of the crime and cradled Zaevion in his arms in the moments after the shooters fled the scene that balmy winter night. "€œI gave my mom a hug and told her I was about to ball for him, and she said, '€˜You got this, he'€™s watching you.'"
Over the next few hours, Zack did exactly that, carrying the ball five times for 27 yards and catching four passes for 117 yards and two scores — a 26-yarder to give Fulton a surprising 14-0 lead early in the second quarter and an 80-yarder to cut the deficit to 24-22 midway through the third. He also played lockdown defense, making eight tackles and suffocating his man on virtually every snap.
In the end, of course, it wasn'€™t enough, but those who follow prep football in the Volunteer State will tell you there'€™s no shame in losing to Maryville. The most dominant team in the area over the past two decades, the Rebels are 267-17 since the start of the 1997 season and have appeared in 17 of the last 19 state championship games, winning 12.
If anything, this matchup was far more competitive than last year'€™s, a 49-18 Maryville win in the teams'€™ first meeting since 1986, but that was little consolation to Zack. And as he sat by his locker after the game, long after his teammates headed home for the night, his bloodshot eyes welled up again.
Anyone in attendance at Bob Black Field would tell you Dobson did everything possible to will his team to victory, and there'€™s a case to be made that it wouldn'€™t have even been competitive without him. But still, Dobson wondered if his valiant effort was enough.
"€œI just feel like I let my brother down,"€ a despondent Dobson said, his white Fulton visor turned backward and upside-down, staring off into the distance as the clock struck 1 a.m. "€œI felt like I could have done more. It hurts. I know he'€™s up there smiling still, and I know we gave our best, but I wanted this for him."
*****
To walk into the Dobson house in the city'€™s Lonsdale neighborhood is to enter a shrine to Zaevion.
To the left, as you step through the front door, there'€™s a pair of patterned chairs. Zaevion'€™s paint-streaked Fulton helmet sits on one of them, beside a stack of recruiting letters for Zack, a recent Middle Tennessee commit. On the other rests a gorgeous throw with a picture of Zaevion, looking dapper in a black tuxedo, stitched into the side.
On the first day of school earlier this month, Zenobia sat Zack down in that chair and offered her forlorn son a poignant reminder before he left the house.
"€œHe was sad,"€ Zenobia said. "€œHe was sad because they used to get ready for school together and talk all night about what they'€™re going to do the next day, and he felt like he didn'€™t have anybody to share his last first day of school with his senior year.
"€œSo I pointed over his shoulder behind him, and I said, '€˜You remember that Zaevion always has your back,'"€ she continued. "€œI reminded him that he always has an angel watching over him. And I know it'€™s hard. It'€™s difficult, and every day is different. It'€™s not an easy task. With Zaevion being absent, you know it — we know it. It'€™s just empty."
Across from the chairs, there'€™s a bookshelf packed with reminders of Zaevion, as well — pictures, trophies, cards from well-wishers, flowers, Zaevion'€™s Fulton student ID and other mementos — and next to that, a collection of large frames yet to be hung.
One of them holds Zaevion'€™s pink No. 24 jersey, worn once last season during a game honoring Breast Cancer Awareness Month in October. There'€™s also one featuring a No. 24 jersey given to the family by the University of Tennessee. Earlier this month, Tennessee defensive back Todd Kelly, Jr., announced that he, like Zack, would be switching to Zaevion'€™s No. 24 as a tribute to Dobson'€™s legacy.
Another frame has Zaevion'€™s football team picture from last year, his sophomore season, next to a tweet sent out by President Barack Obama in the days after the murder. Three weeks after posting the message, Obama commended Zaevion'€™s bravery during a speech on gun control.
"€œHe wasn'€™t in the wrong place at the wrong time, he hadn'€™t made a bad decision,"€ a teary-eyed Obama said as he addressed the nation. "€œHe was exactly where any other kid would be. Your kid. My kids."
There are frames with news clippings and one featuring a child'€™s depiction on Zaevion in Crayola crayon. There'€™s a plaque given to the family by Rock of Ages Baptist Church in nearby Morristown and another from the Boys & Girls Clubs of the Tennessee Valley, which honored Zaevion with the Will McKamey Spirit Award during the Greater Knoxville Sports Hall of Fame dinner in July.
In May, Zaevion was also honored by 100 Black Men, an organization whose mission is to empower African-American youth in the community. And in July, he posthumously received the Arthur Ashe Courage Award at the ESPYs, a tribute not only to his bravery, but his dedication to his craft.
"€œZaevion would get out there and grind,"€ Zenobia said. "€œHe would get out there and work, even if it was by himself. I would tell him, '€˜Zaevion, come on in,'€™ and he'€™d say, '€˜I'€™m not coming in right now.'€™ He always tried his best to be what he wanted to be."
At the rear of the living room, near the back door, there'€™s a weight bench surrounded by more images of Zaevion, including a large hand-painted mural of him among the clouds.
Perhaps there are some for whom such constant reminders would bring sorrow, but Zenobia wouldn't have it any other way. She says it'€™s worth the daily bouts of sadness, because they help fill the void Zaevion left behind.
"€œThe other morning when I woke up, I hadn'€™t looked at him yet, but I called to the other room, '€˜Zack, did you take a shower?'€™ and he said yes. Then I said, '€˜Zaevion, did you —'™ and then I caught myself,"€ Zenobia Dobson said."€œBut then I looked at his picture on my bathroom mirror and he was just smiling, letting me know he'€™s OK.
"€œI talk to him on the regular,"€ added Dobson, who visits her son'€™s grave every day. "€œI just tell him I love him and I miss him. I saw him in my dream not long ago. He walked right by me, and I said, '€˜Zaevion, when are you coming home?'™ but he just kept going."
In the bedroom Zack and Zaevion once shared, the absence is more palpable.
The boys used to call it their locker room, a haven for their friends to hang out and a place to stay up late talking and playing Madden or NCAA football on their Xbox long after they should have been asleep in bed.
Seemingly every surface in the room is occupied by trophies, pictures and memorabilia supporting the brothers'€™ favorite teams, and for several months after Zaevion'€™s murder, Zack left his brother'€™s side of the room untouched. Finally, in June, Zack rearranged the furniture, shifting the dressers around and pushing the two double beds together to make one king mattress.
It wasn'€™t uncommon for Zaevion to crawl into bed with his brother at night, anyway, so Zack figured this is what his brother would have wanted.
"€œI wanted to leave it, because Zaevion had his side of the room and Zack had his side,"€ Zenobia Dobson said."€œBut then I thought about what Zaevion said one time, that they should put their beds together. At the time I told him, '€˜No, you stay on your side and he'€™ll stay on his side,'€™ because I knew they'€™d argue.
"€œWhen Zack asked, at first I said no, too,"€ she continued, "€œbut then I thought about what Zaevion would want and I agreed."
There are other reminders of Zaevion in the bedroom too — a Broncos pennant, an Oregon flag and an Alabama banner. Zaevion was never a Vols fan, but Zack'€™s UT flag still hangs on the wall, and a framed, signed Tennessee jersey sits in a frame on the floor as well. Also visible are Zack'€™s gold medals from his back-to-back state championships in the triple jump and a "€˜brothers"€™ picture frame on top of the Xbox featuring a photo of the Dobsons together in their white Fulton jerseys.
And then there'€™s the hand-drawn sketch of Zaevion above the bed, with a dollar bill tucked into the bottom left corner of the frame. Zaevion gave Zack that dollar the night of his murder, and Zack has no intentions of spending it.
"€œI feel him all the time,"€ Zack said, staring down at the floor at the foot of the bed. "€œEverything I do is for my brother, and I feel like he'€™s there with me, he'€™s inside me giving me the strength to do it. It doesn'€™t feel like it'€™s been eight months. Every day I think about that night and how everything changed in an instant."
*****
The school has also become something of a living memorial to Zaevion, his face and his name seemingly around every corner as a reminder of all he'€™d left behind.
As you enter the campus off Woodland Avenue, just a few minutes north of downtown Knoxville, the marquee flashes "€œZAE #24"€ in bold red letters, and No. 24 decals and window paint reading #longlivezae can be found on cars throughout the parking lot, including the old silver Mercedes Zack uses to get to and from school.
In the front office, supporters can purchase baseball caps adorned with the Fulton "€˜F"€™ and Dobson'€™s No. 24, and teachers, coaches and administrators can often be spotted wearing one of many different shirts featuring Zaevion'€™s name.
On the football field, meanwhile, each player'€™s helmet has a No. 24 decal on it, and many players on the roster wear a compression layer underneath their pads that includes "€œZAE"€ prominently displayed on the left arm and "€œHonor, Courage, Zae"€ on the back.
When the team breaks down after practice, Zack leads the huddle in a raucous countdown that ends with the phrase, "€˜Ball like Zae,"€™ and when the players enter the field for games — doing so through the crowd rather than out of the tunnel, a tradition started in 2012 —€" a Dobson-inspired rap song by former Fulton player Terry Minor, better known as DJ Grand Mill, blares through the stadium.
Prior to kickoff, as the captains take the field for the coin toss, Fulton sends out three players instead of the customary four, leaving a space for Zaevion among Zack, quarterback Xavier Malone and linebacker Chaton Mobley.
"€œHe'€™s a guardian angel,"€ Zenobia Dobson said. "€œWe can'€™t see it, but Zaevion is there. And when I see that empty space, I know that'€™s true. It'€™s almost like I can see him there, and I know in my heart that he'€™s present."
It'€™s a touching tribute the team plans to use all season, and according to Black, the team'€™s head coach, Zaevion'€™s omnipresence is not an accident.
"€œWe'€™ve always been close here,"€ Black said of the campus, where his own father — for whom the football field is named —€" has taught and coached for 52 years, including more than three decades as the school'€™s athletic director.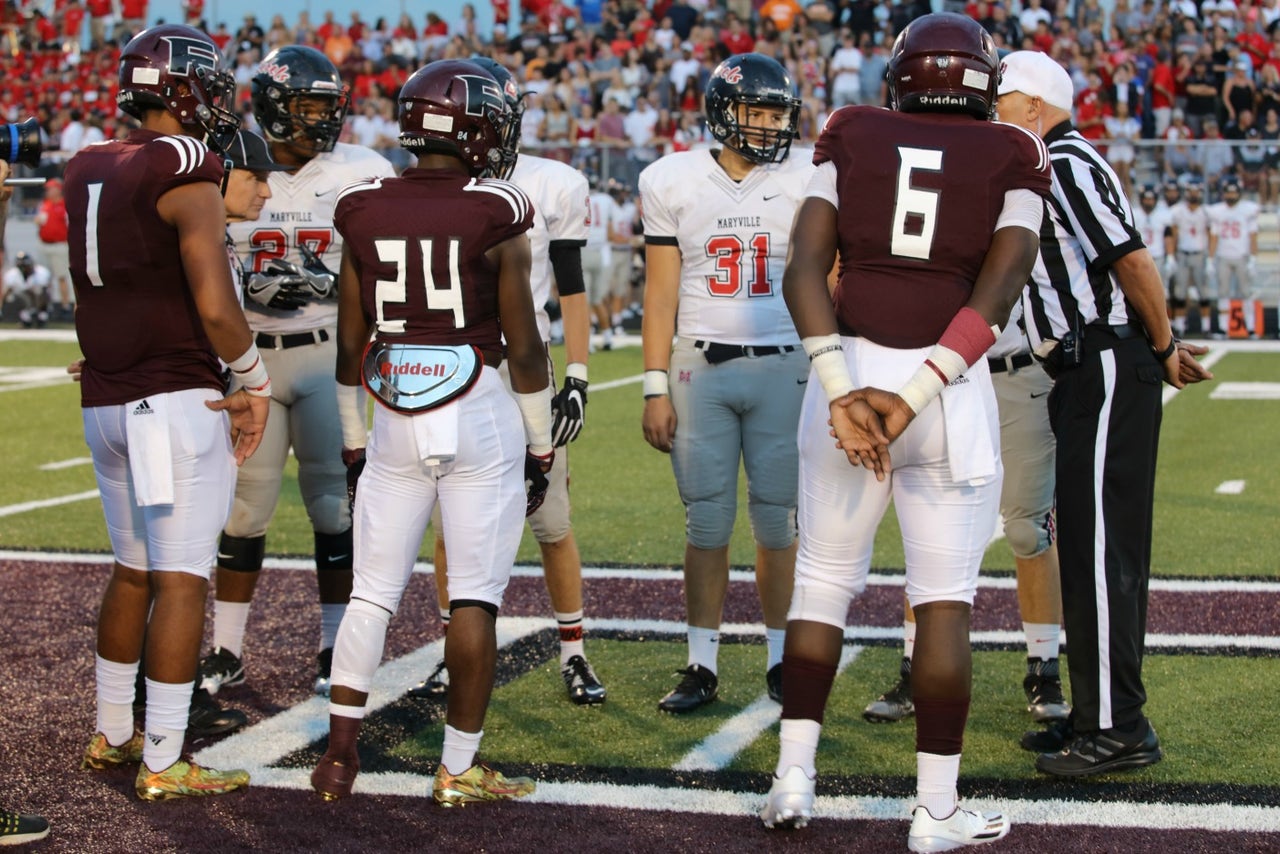 Fulton's captains leave a space for Zaevion at the coin toss.
"€œIf you spend enough time around here you'€™re going to hear the term '€˜Fulton Family'€™ or '€˜Falcon Family'€™ used a lot, and I think anybody who'€™s ever been associated with Fulton feels like a part of that family,"€ he continued. "€œIt'€™s usually a family atmosphere, but you see, or at least feel, that people are a little bit closer now.
"€œI want to have a 24 on our helmet and I want his name spoken and I want to hear his name in songs and I want you to see his number on the field,"€ Black added. "€œPeople know who Zaevion was and what he did even without all of that, but it helps remind us that he'€™s out there."€
Still, getting back to football without Zaevion has been tough for many of the Fulton players, something Black and his staff have had to keep a keen eye on as the season gets rolling.
"€œWe talk a lot about the hats that we wear,"€ Black said. "€œWe are football coaches and we are trying to win football games, but the bigger story is that we want to help turn these boys into young men, and to do that we have to mentor them sometimes.
"€œSometimes we'€™re a counselor, sometimes we'€™re just their football coach, sometimes you'€™re almost like an uncle, sometimes you'€™re standing in place for a father who might be absent from a young man'€™s life,"€ he continued. "€œSo there'€™s a lot of things, and we just work hard to try to identify the needs of our kids and then take care of them.
"€œFortunately for us, we have a ton of them that open up to us and say, '€˜Coach, I need to talk to you about this,'"€ Black added after pausing to collect his thoughts. "€œYou almost don'€™t have to read body language as much as they'€™ll come to you and let you know that they'€™re struggling."
And while Zack is typically stoic on the outside, he, more than anyone, has struggled to adopt his new normal — even if he won'€™t admit it.
"€œEvery day that Zack walks out with the No. 24 on, it gives me Zaevion'€™s image,"€ Black said. "€œI looked at him the other day and I thought, '€˜Man, adults have a hard time dealing with death sometimes. Adults aren'€™t even prepared to deal with that and we'€™re asking a young man, expecting a young man to deal with it?"
That'€™s a balance Zenobia has found hard to strike with her son, as well.
"€œWhen all this happened I told him that he doesn'€™t have to do this for Zaevion, because Zaevion'€™s race is already done,"€ she said of Zack'™s desire to keep playing football. "€œI said, '€˜If you do it, do it for yourself and your team, because Zaevion is OK. And if you don't want to play, you can tell me right now and you don'€™t have to."
"€œEven from the night that it happened, I'€™ve told him, Zaevion made that decision,"€ Dobson continued. "€œI said, '€˜That was between him and the Lord, so don'€™t beat yourself up because you ran. There'€™s nothing that you could have said or could have done."
At the end of the night, however, as the stadium lights power down and the team heads home, it'€™s clear that Zaevion'€™s spirit has done more to galvanize his team than is has to depress it — regardless of the result on the field.
"€œSome people don'€™t believe in momentum, and I'€™ve heard coaches say there'€™s no such thing, but to me there is, and I'€™ve just experienced it here,"€ Black said. "€œIn just a single game, alone, you can see a team playing in a certain way, and all of a sudden you make a couple plays and the momentum builds. It'€™s almost like you'€™re unstoppable."
There were times Saturday when it seemed like Zaevion might be orchestrating a miraculous victory.
You could feel it on each of Zack'€™s touchdowns, both of which he celebrated by pointing skyward as a nod to his brother. You could feel it in the fourth quarter, too, when a muffed punt gave Fulton the ball in prime position to score. And it was hard to deny that a greater power might be at work when DaShaun McKinney dragged several defenders into the end zone to cut the Rebels' lead to 16 with 4:41 to play.
Less than a minute later, a Maryville fumble — one of three lost fumbles on the night — gave Fulton the ball inside the Maryville red zone, and Dobson, running the offense out of the wildcat, appeared to guide the Falcons down inside the Rebels'€™ 10-yard line with 2:52 to go. But an unsportsmanlike conduct penalty backed Fulton up and ultimately thwarted any hope of a comeback.
"€œI feel that stuff,"€ Black said in his office after the loss. "€œIn the moment it'€™s kind of in the back of your mind, but we'll go in and watch some film and that'€™s when that type of thing will really pop in my head. I felt his presence last week (in a 67-7 win over Morristown East) and I felt his presence this week, too.
"€œMy hope is not that we use Zaevion for momentum, though,"€ Black added. "€œI just hope that guys play for him and what he stood for. And if that gives us some momentum, then it makes his story even stronger than it is."
*****
On Thursday, two days before Fulton took the field against Maryville, Knoxville police announced that they had arrested two men, Christopher Bassett and Richard Williams, on first-degree murder charges in connection with Zaevion'€™s death.
The news came as a surprise and a relief to Zenobia, who for months has hounded police and the district attorney's office seeking updates in the case.
"€œI don'€™t feel complete closure because I know there'€™s more to the story, but it does feel good to know that they'€™re held accountable for their actions, for what they did,"€ she said of the men, who are each being held on $1 million bond. "€œI knew there was going to be a day when the truth would be revealed, and it'€™s going to come out in the wash. It'€™s just a matter of time."
However, the update — like the game — was also bittersweet, as that morning, the Dobsons also learned that Zack'™s 12-year-old cousin, D.J., had died of heart failure in Ohio. That came on the heels of the murder of another cousin, 12-year-old Jajuan Latham, who was killed in a drive-by in April, hours after a charity basketball game played in Zaevion's memory.
These are just the latest in a series of devastating events for a family that certainly doesn'€™t need more heartbreak, but Zenobia Dobson says she'€™s used her faith to guide her through the tough times.
"€œYesterday I talked to Zaevion, and I said, '€˜Wow, it'€™s amazing to know that you, Jajuan and D.J. are together," she said late Friday night as she folded laundry on the living room floor. "€œAnd I told him, '€˜I know you welcomed him in, now save a place for me.'"
That being said, Dobson has at times found mercy hard to muster.
"€œWe all have to answer for our wrongdoing, and I keep asking God to allow my heart to forgive (the shooters), but I'€™m not there yet,"€ she said. "€œMaybe when everything plays out in court I'€™ll be able to get to that place, but right now I can'€™t understand why they would do that.
"€œWhen I saw one of the guys, I said, '€˜He looks like a kid,'" Dobson added of Bassett, who, along with Williams, is 21. "€œHe doesn't look like an adult, but he tried to take grown-man responsibilities, and since he thought he could do that, that'€™s on him. And that'€™s why I'€™ve drawn even closer to the Lord so he can let me know how to forgive."
Dobson also admits she'€™s struggled to allow herself to move on from Zaevion'€™s death.
"€œSometimes I feel like if I'€™m having too much fun I have to come back to reality, like, how can I be having fun when he'€™s not around?"€ Dobson said. "€œBut I found a poem that said you still have your life, go and live your life, I'€™ll always be watching over you. And when I read that, it was like Zaevion speaking to me, saying, '€˜It'€™s OK. I'€™m OK. While you'€™re on earth, you live your life."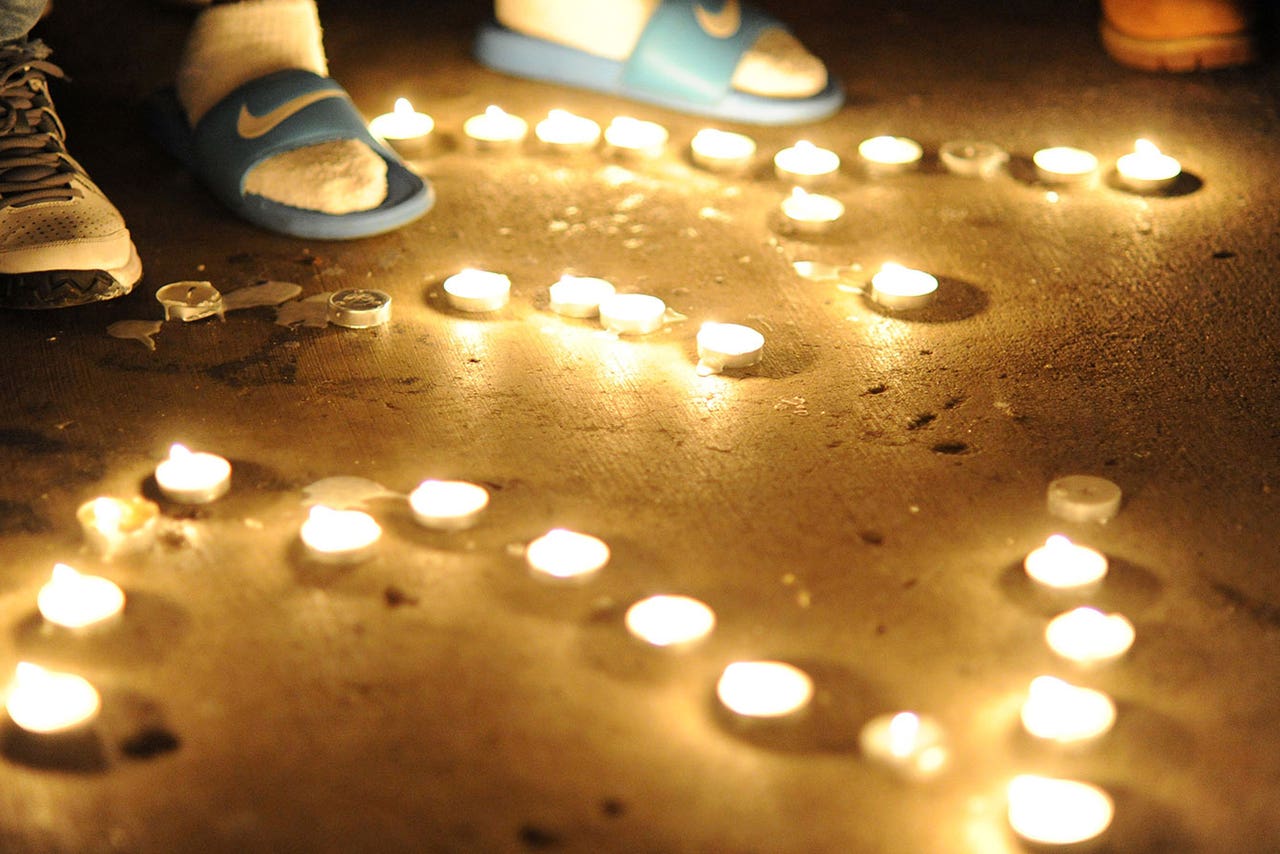 A candelight memorial was held shortly after Zaevion's death.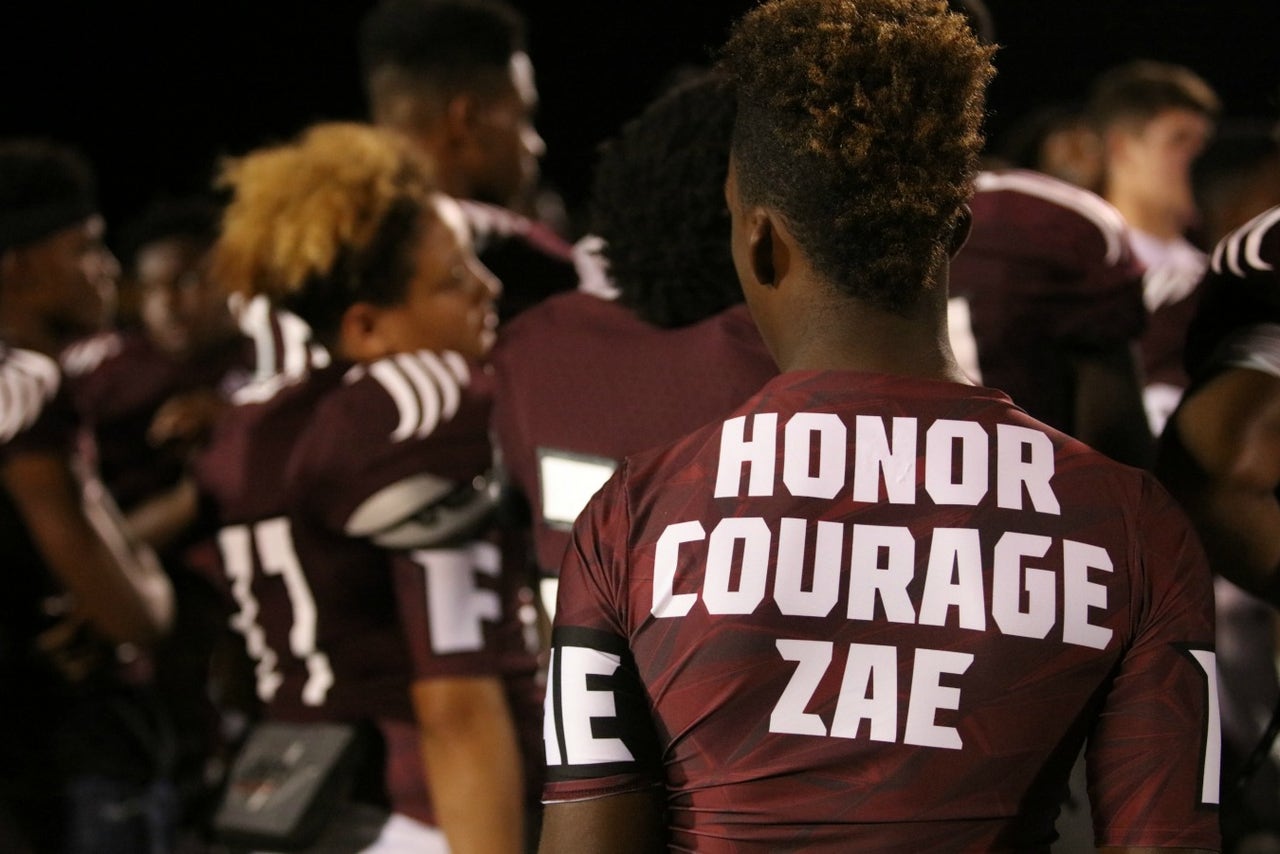 The team wears its heart on its shirts.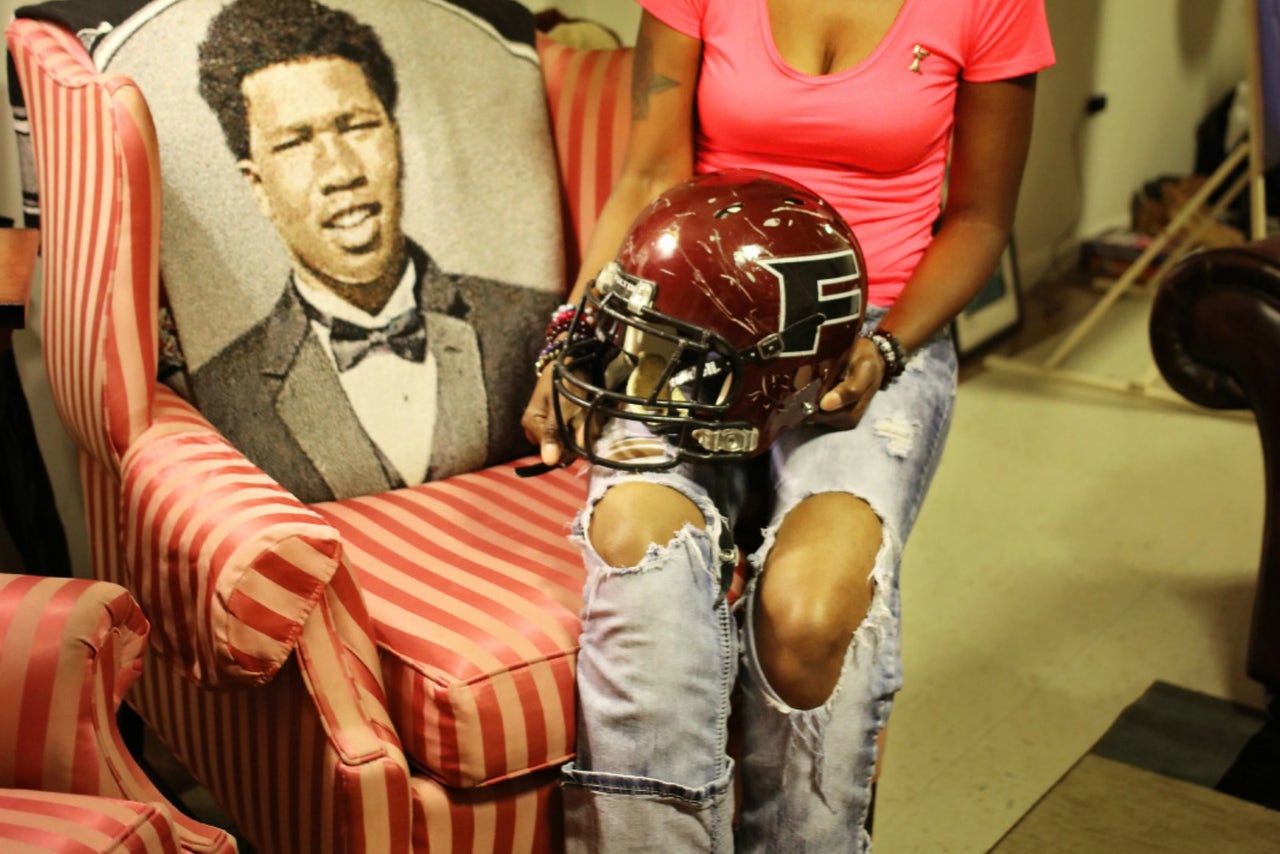 Zenobia Dobson is a proud mom.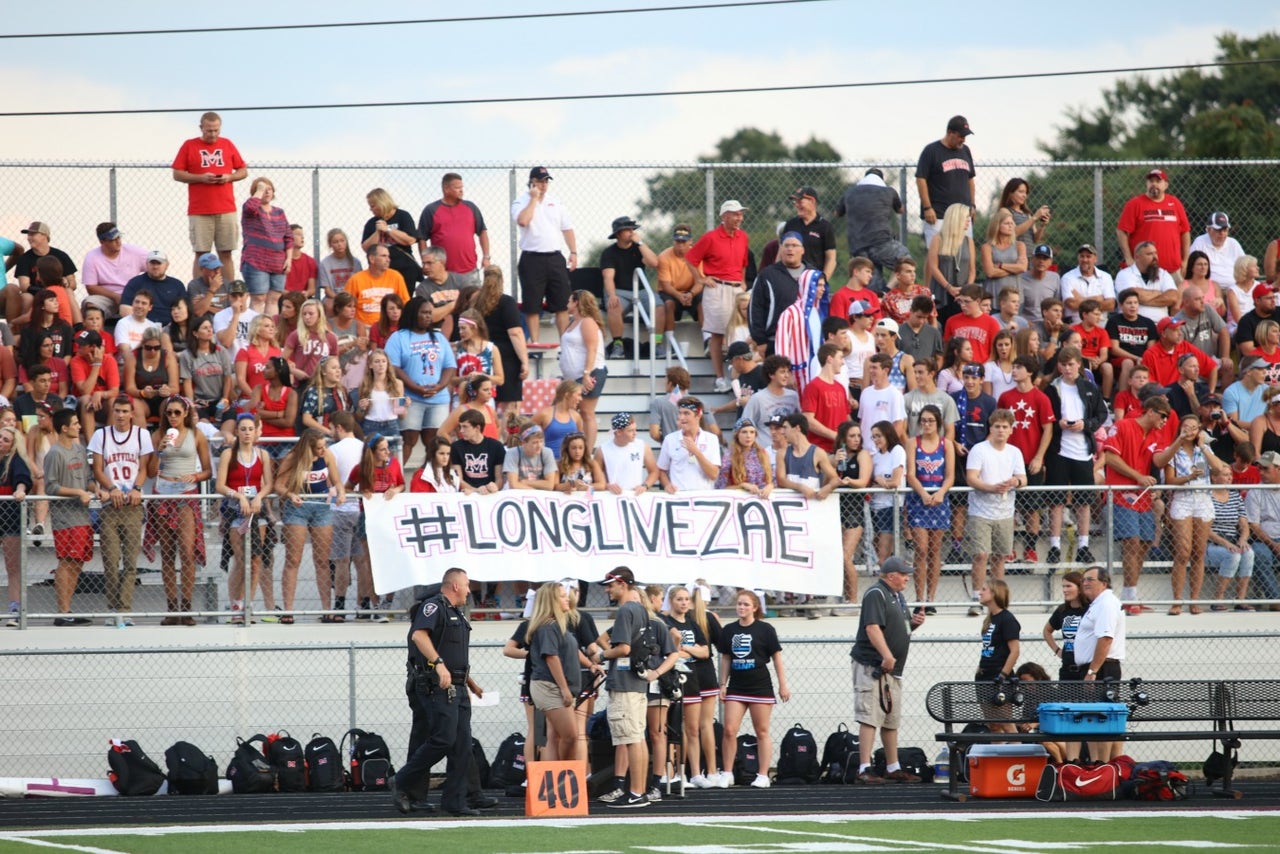 A banner at Saturday's game pays homage.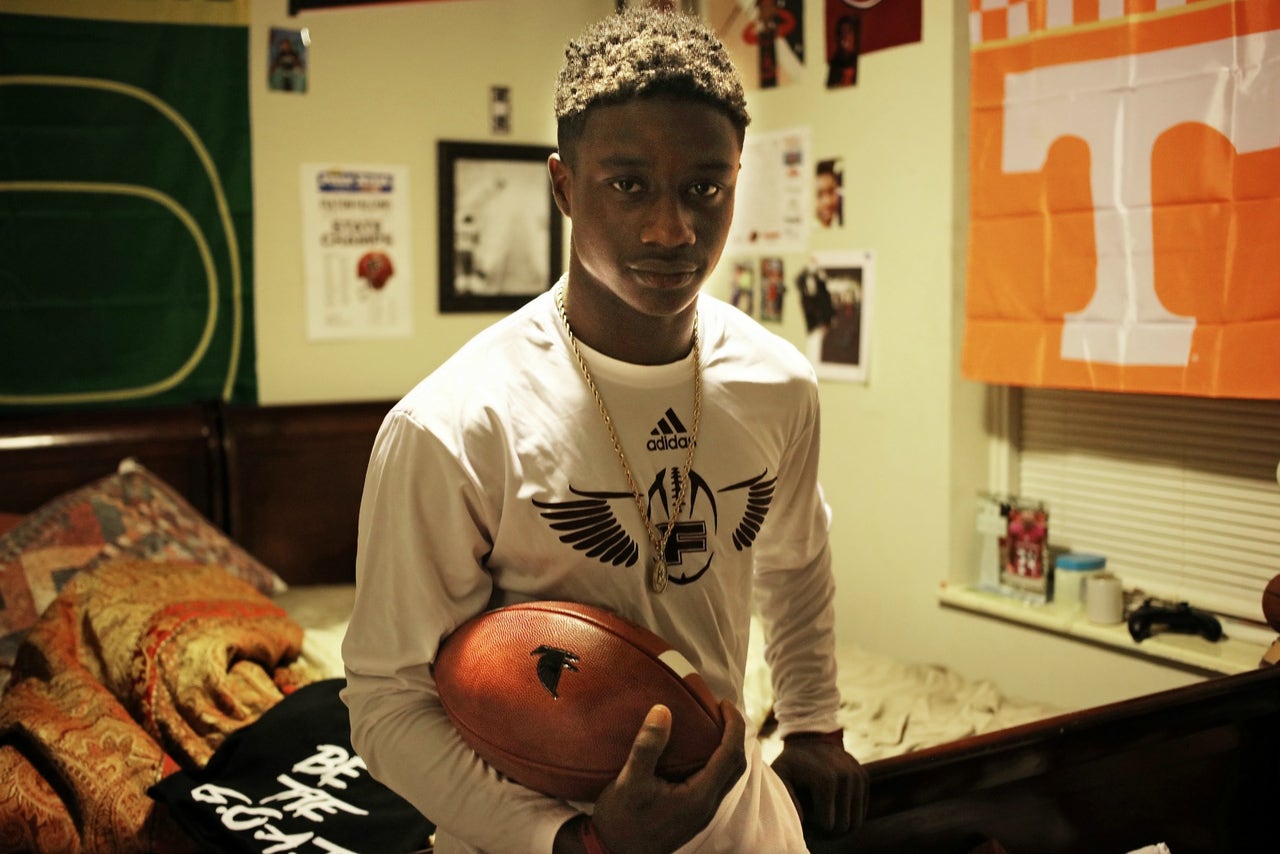 Zack Dobson in his room at home.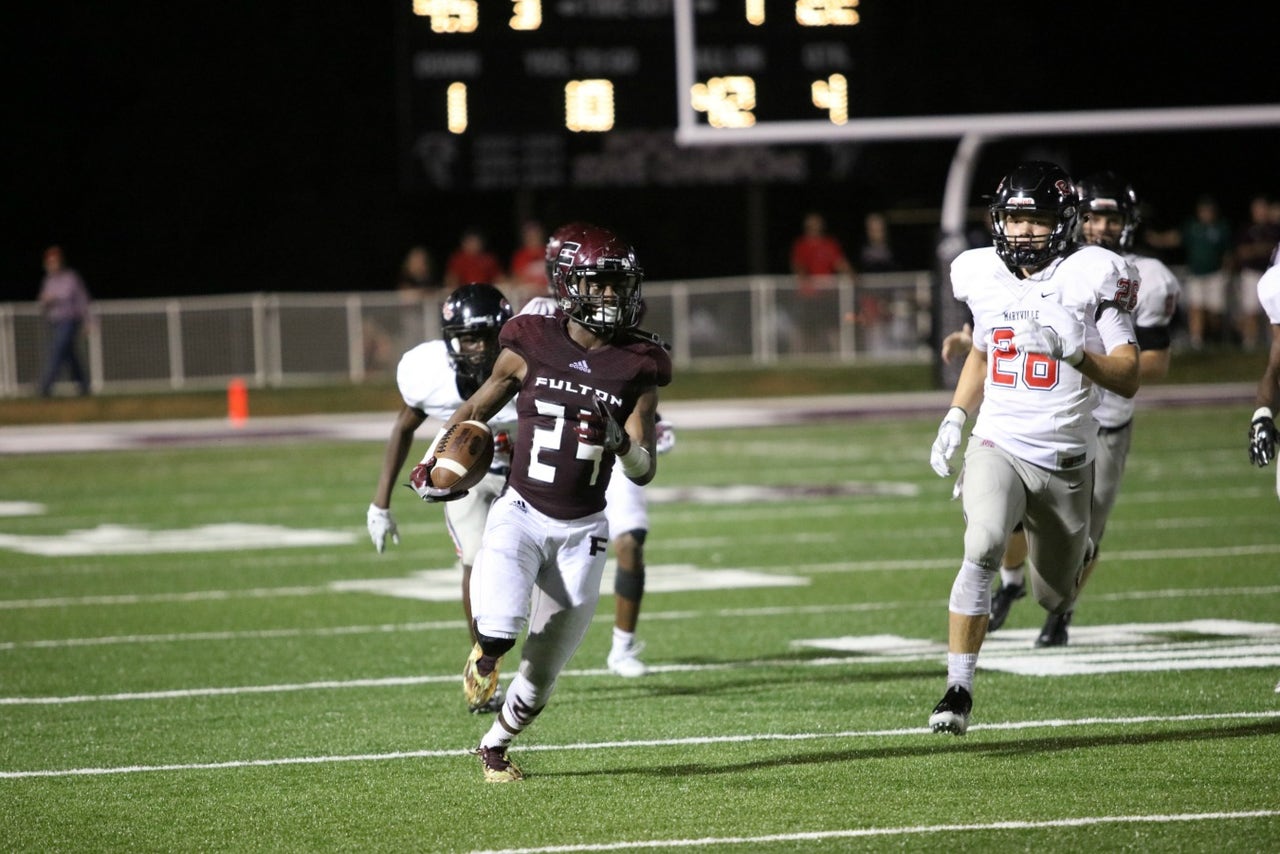 Zack Dobson heads for the end zone.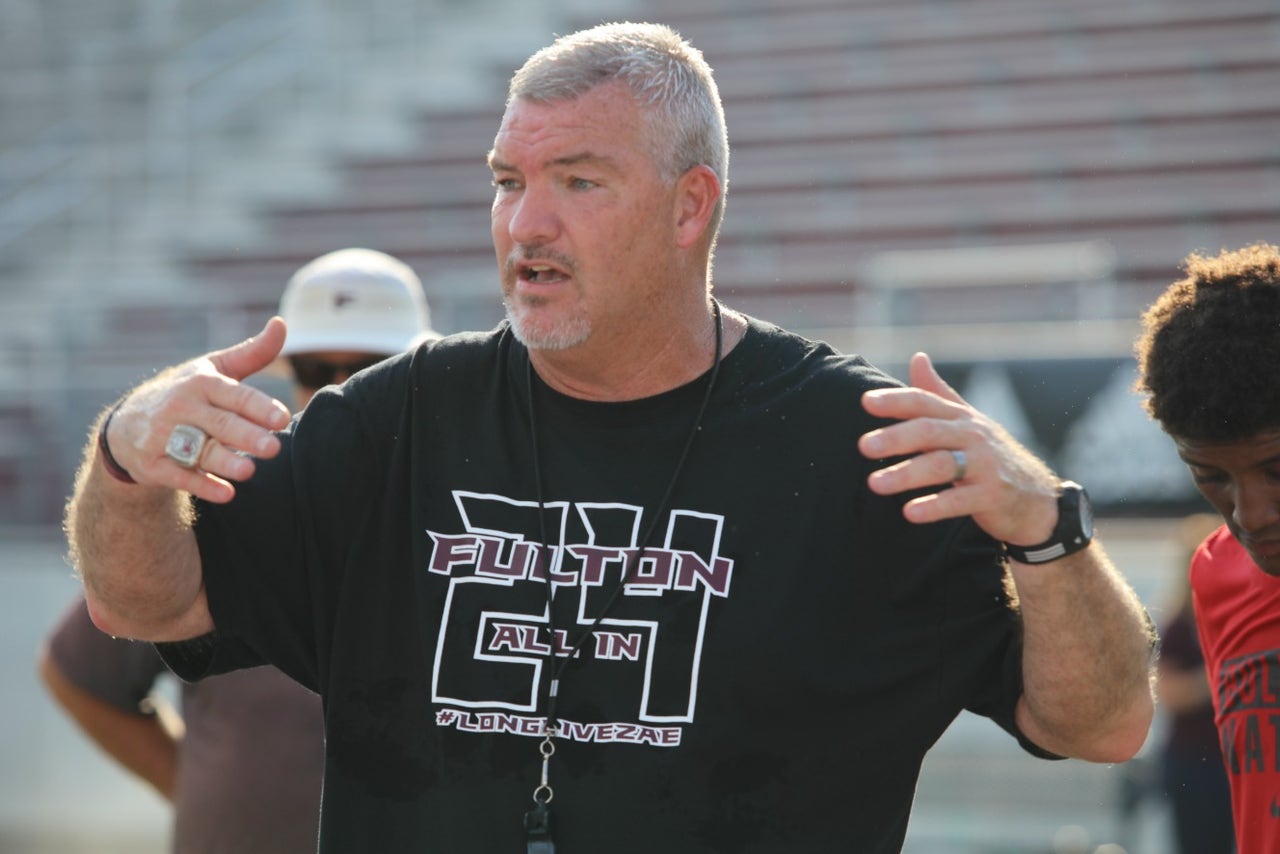 Coach Rob Black says Fulton is a tight family.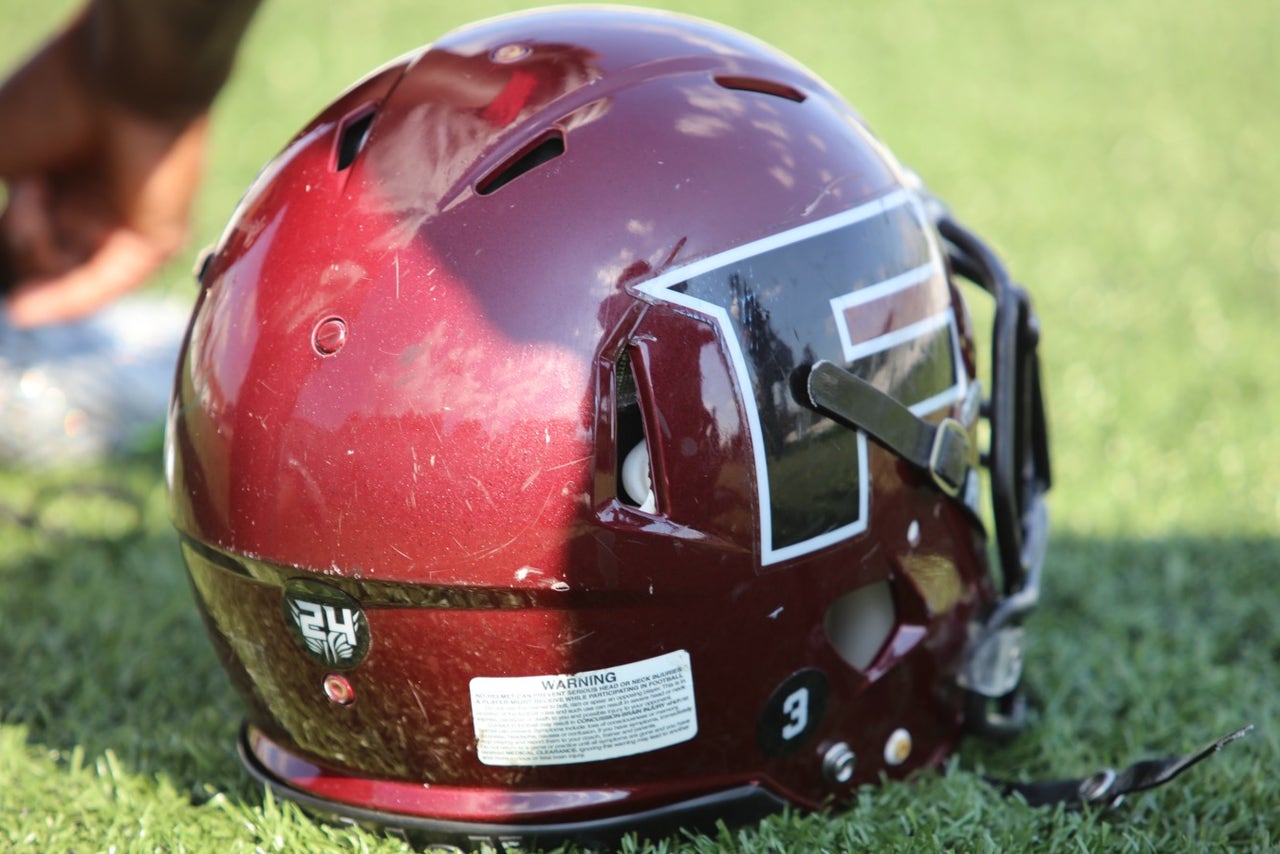 A Fulton helmet dons a sticker honoring Zaevion Dobson's No. 24.

Knowing that it'€™s OK to forge ahead doesn'€™t make doing so easy, but to those around Zenobia, her perseverance over the last eight months has been nothing short of remarkable.
"€œIn her eyes, along with the eyes of many others, she raised a hero,"€ Black said. "€œAnd to see his story and his life and his death not be in vain, and to see it make a difference in the lives of other people, and impact other communities in a positive way —€" she attributes that a lot to what Zaevion did."
"€œThat night that it happened, I didn'€™t even want to tell her,"€ Zack Dobson added of the murder. "€œBut she'€™s handled it so well, and she'€™s the foundation. That'€™s where I get my strength. She'€™s got to be strong for me and I'€™ve got to be strong for her, and we'€™ve all got to be strong for each other."
That task will only become tougher next year when Zack leaves for college —€" whether it'€™s a few hours down Interstate 40 in Murfreesboro or at some other farther-off campus — but for now, Zack remains focused on making the most of his last season at Fulton, while his mom continues to rejoice in Zaevion'€™s continued impact on his school and his community.
"€œIt amazes me to know that he'€™s thought of,"€ Zenobia said. "€œIt'€™s like he started a movement, you know? The younger generation, it'€™s like he has their attention. I see it every day. Kids want to change. They want to do what'€™s right."€
Because ultimately it's™ honoring Zaevion'€™s legacy that keeps the Dobsons moving forward.
"€œI would be selfish if I made it all about me, and I'€™m not going to be selfish,"€ Zenobia said. "€œWhen the trumpet sounds, there ain'€™t nothing nobody can do. I love Zaevion with all my heart, and I love him with all my soul, but God loved him more."
You can follow Sam Gardner on Twitter or email him at samgardnerfox@gmail.com.
---
---