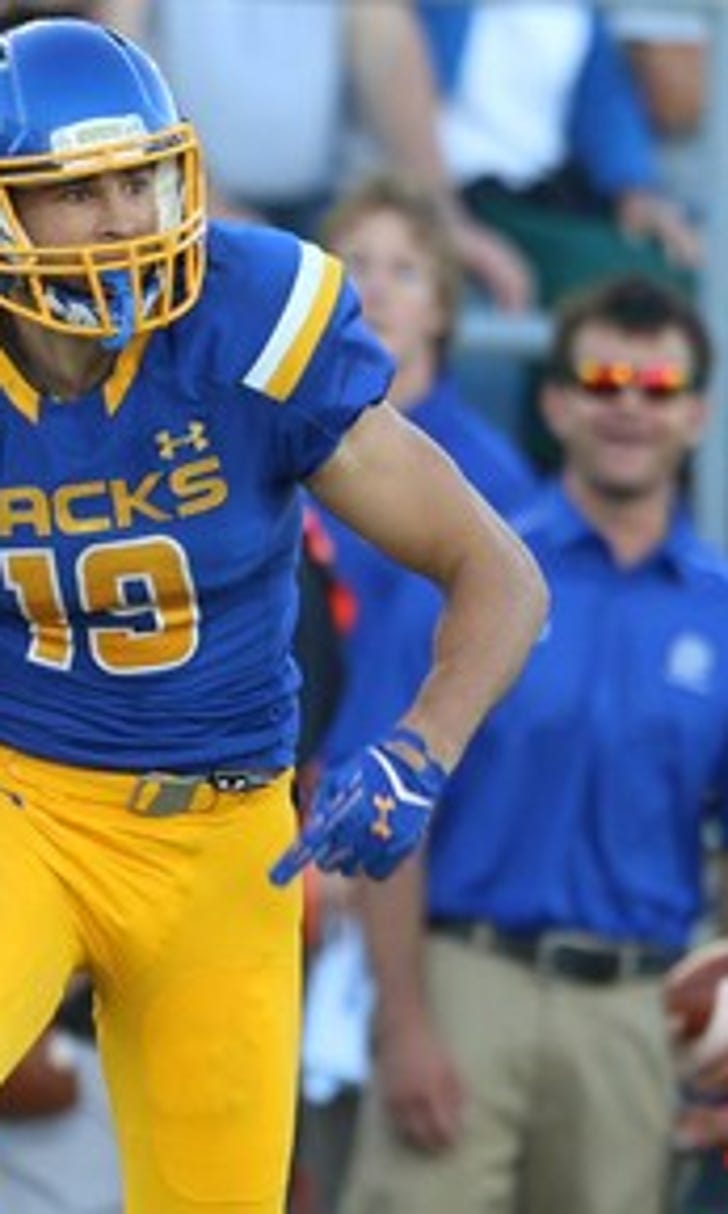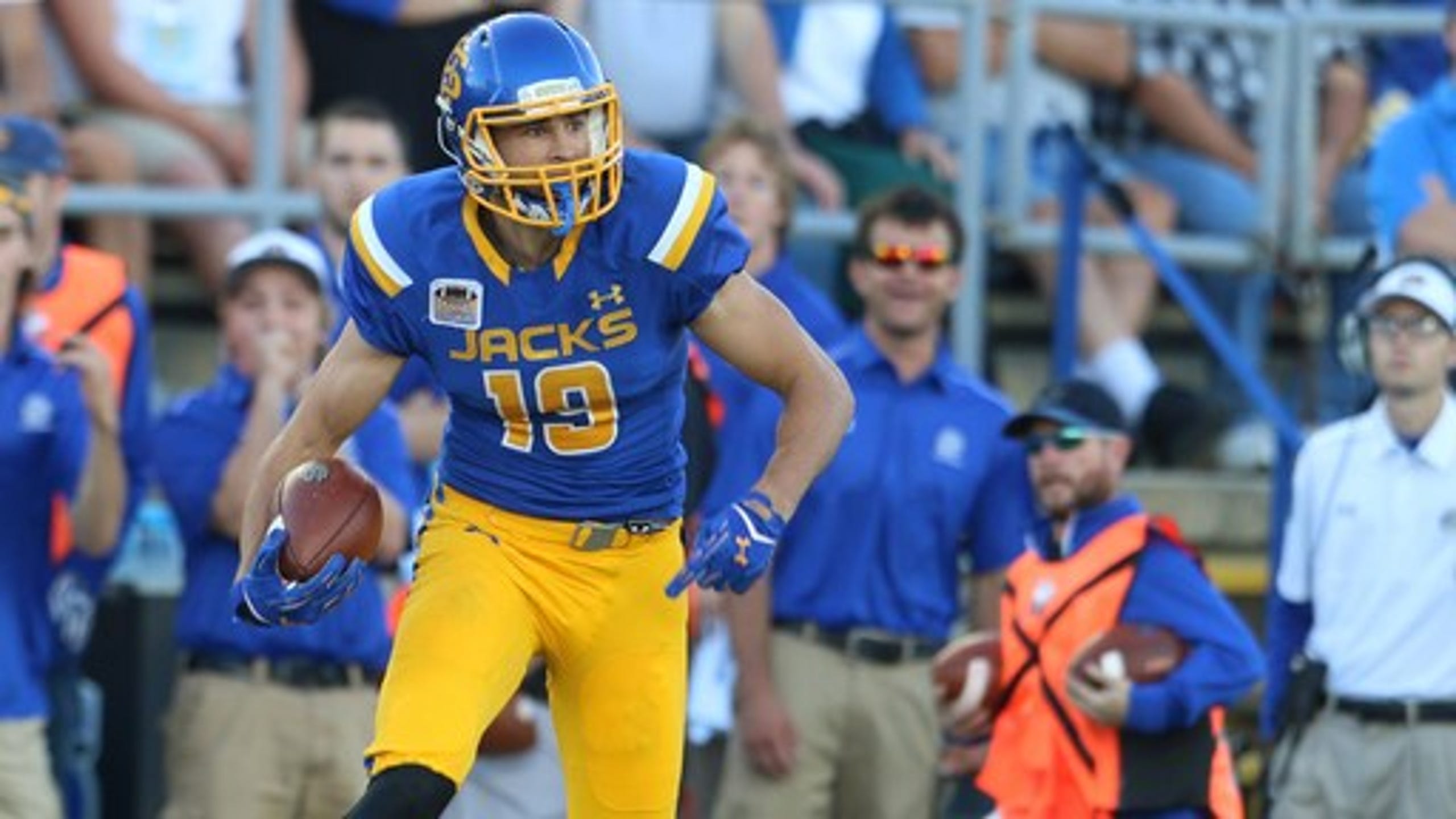 SDSU's Wieneke ready to catch on in NFL
BY AP • January 16, 2018
(STATS) - FCS fans wouldn't be surprised that Cooper Kupp caught two touchdowns in the only meeting between national powers Eastern Washington and South Dakota State.
Kupp was a redshirt freshman when Eastern Washington cruised to a 41-17 win in the second round of the 2013 playoffs.
The score surely would have been closer if a certain other wide receiver, Jake Wieneke, wasn't watching it from the South Dakota State sideline as a first-year redshirt.
Over the last four years, Wieneke has soared in Kupp's rarefied air.
Kupp went on to secure many of the major receiving records in the FCS, but Wieneke wasn't too far behind, if only by a year in school. Seeking to follow Kupp into the NFL, Wieneke is trying to take a big step this week at the 93rd annual East-West Shrine Game in St. Petersburg, Florida (3 p.m. ET Saturday, NFL Network).
Last year, more than 70 players in college football's oldest all-star game went on to make NFL rosters. Every team is in attendance at this week's practices leading toward the game at Tropicana Field.
"It's really exciting to have the opportunity to go to the NFL and just everything I have in my training," Wieneke said recently during a break from workouts in McKinney, Texas. "I'm excited to go the East-West game because I get to play against so many other great athletes and just go in there and compete and do the best that I can."
Kupp holds the FCS career records for receptions (428), receiving yards (6,464) and touchdown receptions (73). Wieneke ranks second in touchdown catches (59) and third in receiving yards (5,157) as well as 12th in receptions (288). But he passed Kupp in his final game to set the FCS mark with a reception in 53 consecutive games.
At 6-foot-3, 215 pounds, Wieneke has better size than the current Los Angeles Ram, who caught 62 passes as a rookie this season. Like Kupp, he's excellent at running routes and getting to balls thrown his way.
Wieneke said he feels a sense of camaraderie with Kupp. "He's just a great player. I think everybody knows it's awesome to see what he's doing and I've always been a big fan of his."
He feels the same toward Philadelphia Eagles quarterback Carson Wentz, the former North Dakota State standout whom Wieneke competed against during their college careers.
"I think that's kind of cool coming from the FCS - we all kind of cheer for each other and it's kind of cool to see a lot of FCS guys have success," Wieneke said.
CBS Sports and USA Today both recently ranked Wieneke in the top 20 of wide receivers entering the draft.
Wieneke will play on the West squad at the Shrine Game along with former South Dakota State teammate Jacob Ohnesorge, a center. Sam Houston quarterback Jeremiah Briscoe and defensive tackle P.J. Hall, Illinois State cornerback Davontae Harris, Delaware defensive tackle Bilal Nichols, Villanova cornerback Malik Reaves, North Dakota safety Cole Reyes, Wagner offensive tackle Greg Senat and Weber State tight end Andrew Vollert also are a part of the team.
FCS players on the East roster are Fordham running back Chase Edmonds, Northern Iowa wide receiver Daurice Fountain, Illinois State defensive tackle Dalton Keene, North Dakota State center Austin Kuhnert, William & Mary offensive guard Connor Hilland and Penn wide receiver Justin Watson.
Wieneke is scheduled to compete at the NFL combine next month in the buildup to the April 26-28 draft.
"I'm excited for the next chapter, but I'm definitely going to miss it," at SDSU, Wieneke said.
---
---