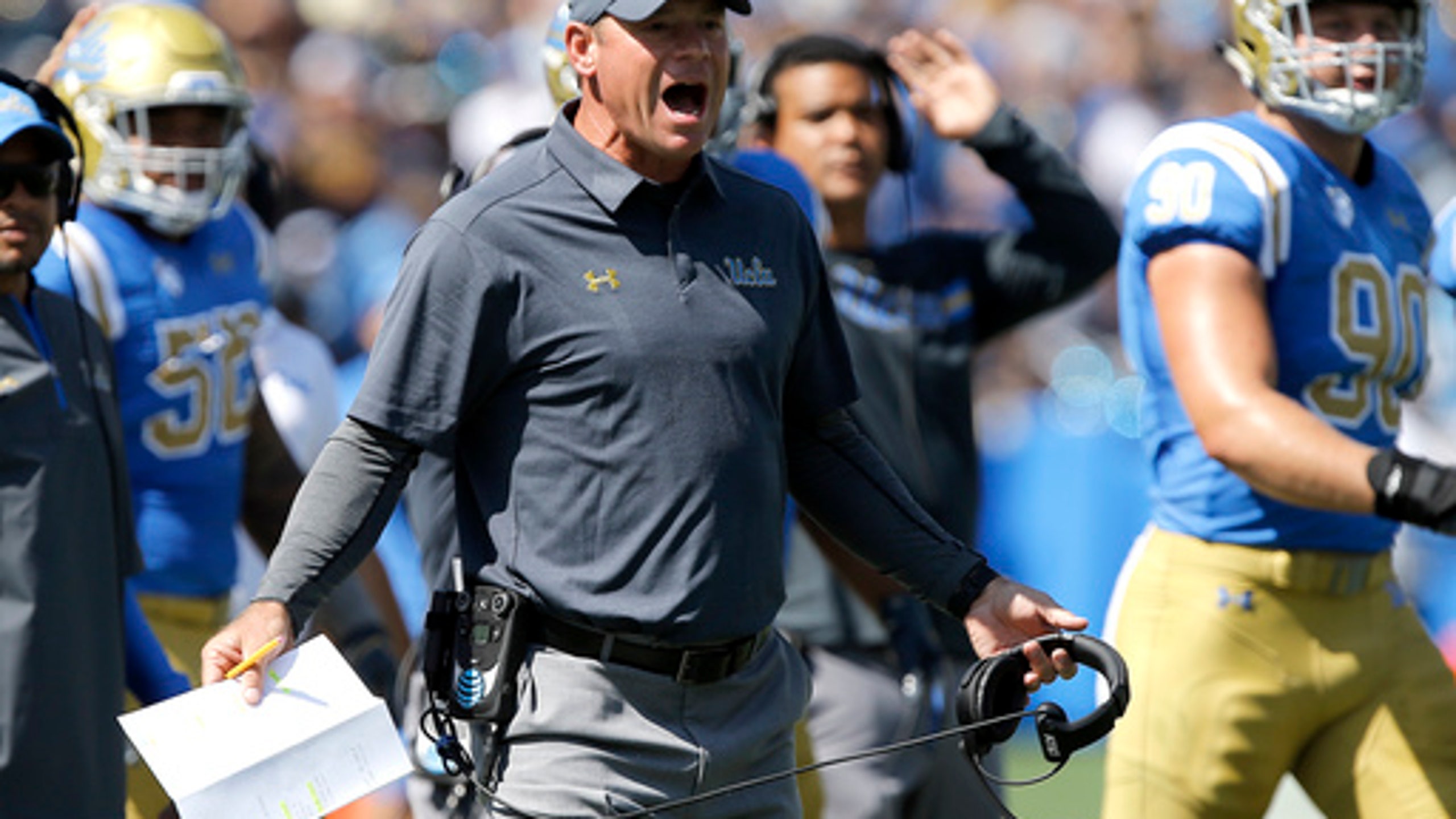 Rosen picks up where he left off as UCLA routs Hawaii 56-23 (Sep 09, 2017)
BY AP • September 11, 2017
PASADENA, Calif. (AP) Josh Rosen wants to play a perfect game every time he steps on the field.
Rosen and the UCLA offense came close on Saturday, picking up where they left off in their improbable comeback against Texas A&M in the season opener.
Rosen was 22 of 25 for 329 yards passing and found Darren Andrews for three of his career-high five touchdown passes as UCLA defeated Hawaii 56-23.
Theo Howard and Caleb Wilson each caught a touchdown pass. Demetric Felton and Bolu Olorunfunmi both had 1-yard touchdown runs for the Bruins (2-0), who have scored touchdowns on 12 of 14 possessions with Rosen at quarterback dating back to the third quarter of their 45-44 comeback win over Texas A&M on Sunday.
Over the last six quarters, Rosen is 41 of 51 for 621 yards passing and nine touchdowns without an interception.
''That's the standard you have to set for yourself,'' Rosen said. ''You have to strive for perfection and stumble upon greatness along the way. A&M, there was a little bit of rust that I kind of just needed to shake off, get used to getting hit again. Once we got rolling, that wasn't an anomaly, hopefully, as we proved today.''
A kneel down at the end of their season opener and time running out in the first half against the Rainbow Warriors (2-1) are the only non-scoring blemishes in this stretch, and those don't count as drives for UCLA offensive coordinator Jedd Fisch.
''I'm pretty happy with where he is in terms of leading the first offense,'' Fisch said. ''Now we just have to continue to do that and not lose any momentum.''
Rosen wanted UCLA's offense to treat the start of the game as a fifth quarter of its dramatic rally against the Aggies, and did just that. Rosen was 7 of 8 for 103 yards and two touchdowns passes in the opening quarter, with a 25-yard scoring toss to Andrews and a 26-yard connection with Howard.
UCLA started the game with a 99-yard drive, and even got its rushing offense on track with a 25-yard run by Nate Starks.
''This team, they took advantage of every opportunity we gave them and every mistake we made, and we didn't capitalize enough when we had opportunities to score,'' Hawaii coach Nick Rolovich said.
Dru Brown threw for 227 yards, with a 4-yard touchdown pass to Diocemy Saint Juste and a 2-yard score to John Ursua, as Hawaii (2-1) saw its winning streak end at five games. Brown also threw an interception that was returned 30 yards for a touchdown by freshman cornerback Darnay Holmes.
Hawaii backup quarterback Cole McDonald rushed for 75 yards and a touchdown, and Kaimana Padello sacked Rosen's backup Devon Modster in the end zone for a safety.
THE TAKEAWAY
Hawaii: They might be improved, but the Rainbow Warriors have work to do to match Power 5 opposition. The gap in athleticism between Hawaii and UCLA was evident, especially as the secondary tried to corral Bruin receivers in the open field. Hawaii's receivers also struggled to create separation, and Brown had to work hard for his production. Hawaii hasn't defeated a Pac-12 opponent on the road since defeating a Washington State team that finished the season 1-11 in 2009.
UCLA: The battle for title of best college quarterback in Los Angeles is back on. After getting lucky on some highly questionable throws in the fourth quarter against Texas A&M, Rosen was poised and polished against decidedly lesser competition. He has all the desired physical tools, and his receivers are much improved after struggling with dropped balls last season. The offensive line and run game are still inconsistent, but Rosen is more than capable of excelling in spite of those issues.
BRUINS BANGED UP
The UCLA defense took two major hits early in the game. Linebacker Kenny Young did not return after having his helmet knocked off on a brutal open field block by tight end Metuisela `Unga during a 37-yard catch-and-run in the first quarter. Defensive back Adarius Pickett then suffered an apparent right knee injury.
Defensive back Jaleel Wadood was shaken up on a hard hit in the second quarter, leaving UCLA without its three most experienced defenders at linebacker and in the secondary.
''That's why we try to develop depth along the way,'' defensive coordinator Tom Bradley said. ''You're not going to get through a whole season unscathed.''
Starting linebacker Josh Woods was ejected for targeting in the fourth quarter and will miss the first half of UCLA's next game.
ON THE RUN
Saint Juste rushed for 154 yards on a career-high 27 carries. The senior has rushed for more than 100 yards in four of his last five games, and ranks ninth in school history in career yards rushing.
''He grinds and grinds and then he pops one,'' Rolovich said.
Hawaii finished with 515 yards, including 281 on the ground, and out-gained UCLA in total offense by 10 yards.
UP NEXT
Hawaii: The Rainbow Warriors have a bye week before visiting Wyoming on Sept. 23 to open Mountain West Conference play.
UCLA: The Bruins travel to Memphis next Saturday for a game that kicks off at 9 a.m. Pacific.
---
More AP college football: http://collegefootball.ap.org and http://www.twitter.com/AP-Top25
---
---