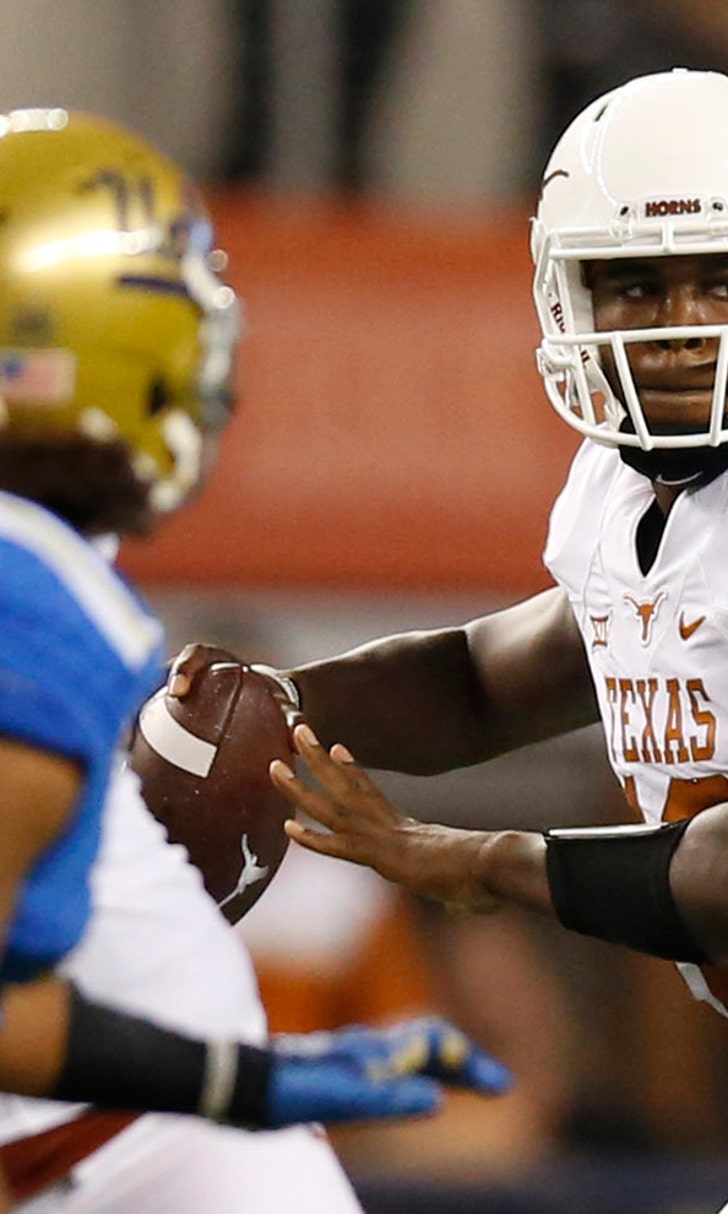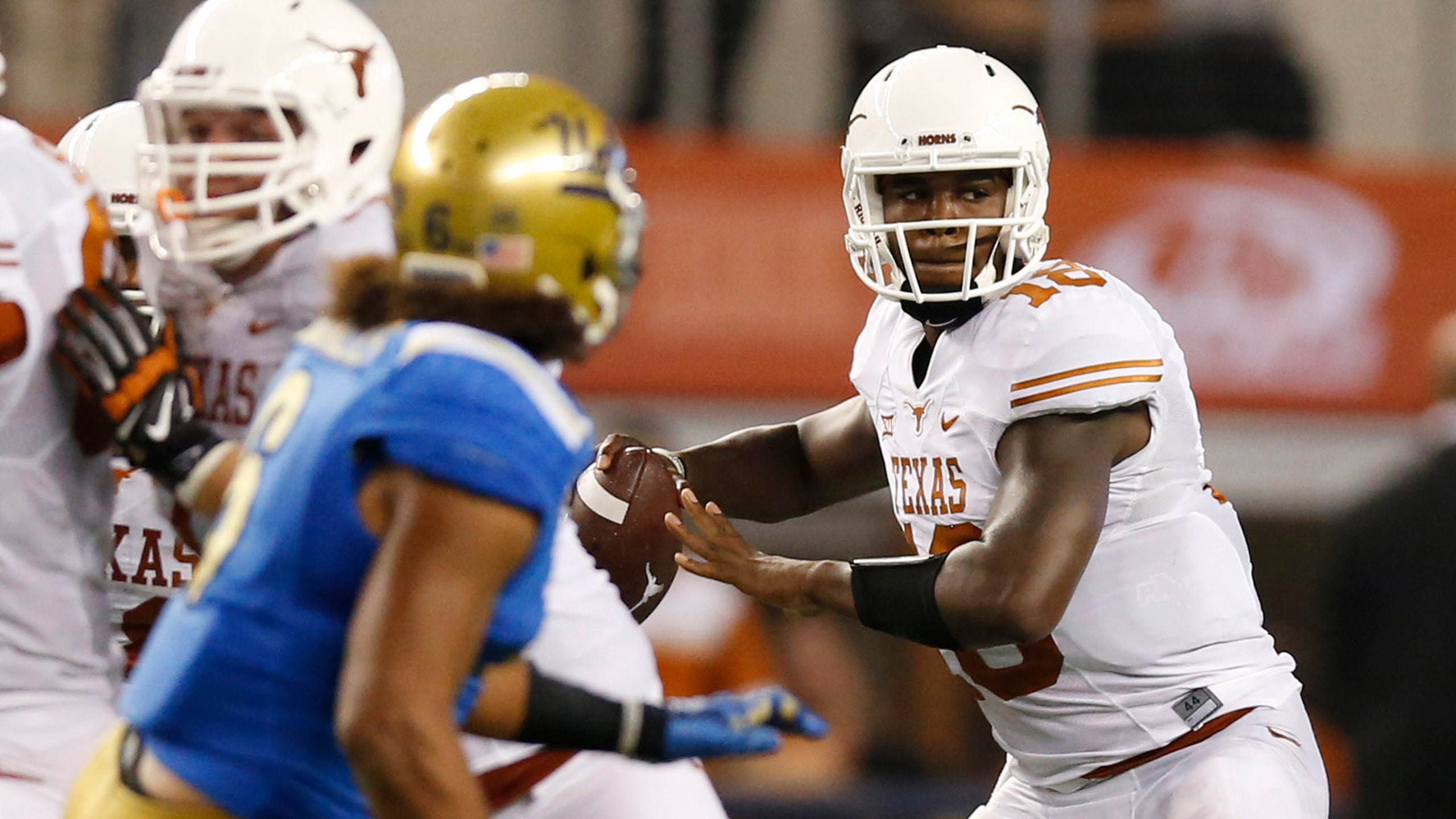 Room for offensive improvement, pressure sits with Horns' starters
BY foxsports • June 18, 2015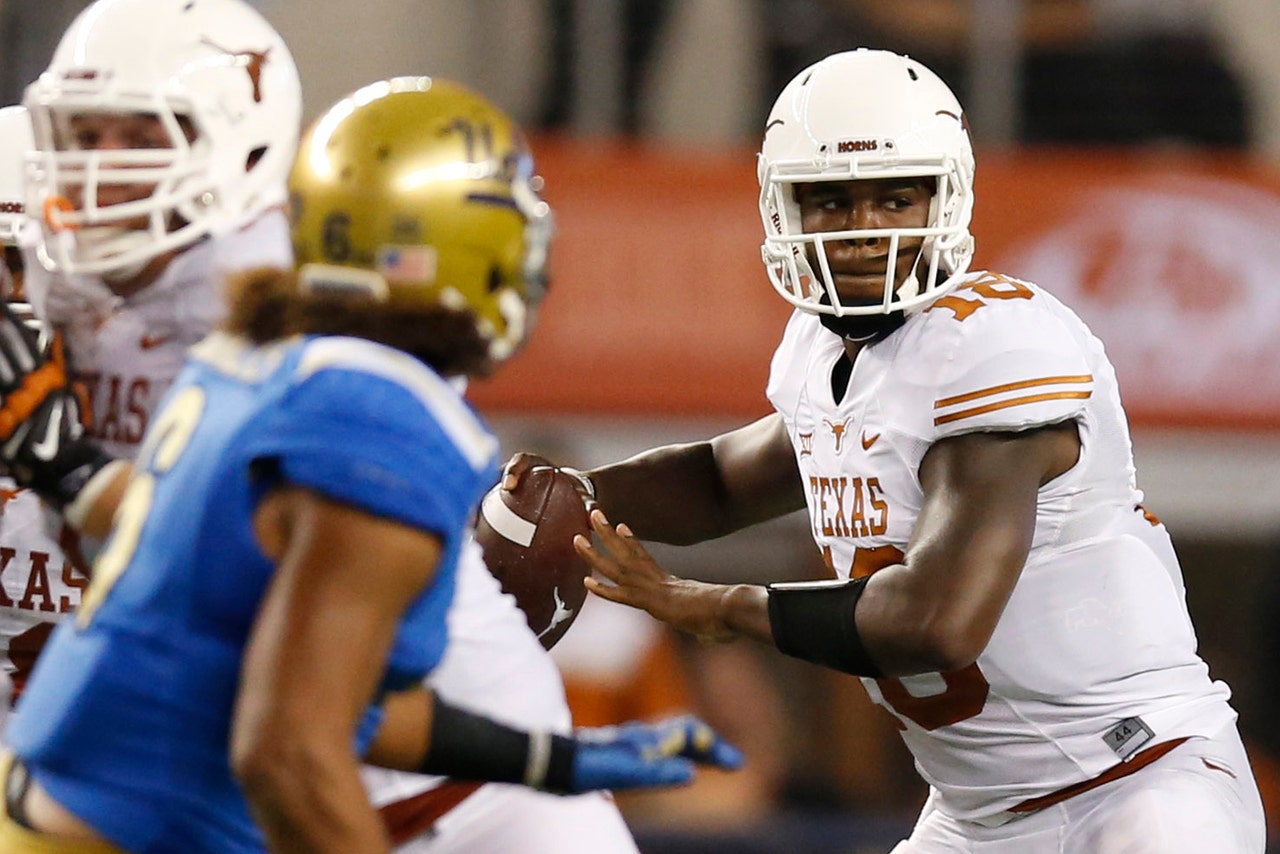 The Texas offense might be the most scrutinized in the nation entering 2015. So inept a season ago, there are few answers that pop up suggesting significant positive change is coming for this scuffing powerhouse.
Longhorns coach Charlie Strong isn't even sure, at least he hasn't said so publicly, who he will start at quarterback. Last year Texas was the only offense that failed to average at least 200 passing yards per game. Only Kansas had a lousier third-down conversation rate. And only the Jayhawks managed fewer first downs.
Texas has a lot of work to do. But what does Strong and his offensive coordinators Shawn Watson and Joe Wickline have to work with?
It's a difficult question to answer. Outside of senior running back Johnathan Gray, who will finally be the featured rusher, few players have any proverbial skins on the wall.
So which players will earn starting jobs come Texas' Sept. 5 season-opener at Notre Dame?
Again, a difficult question to answer. However, college football blogger Todd Davis of the Dallas Morning News took a stab at it. Here's Davis' current picks for the Longhorns' starting 11 on offense (plus kicker):
QB – Tyrone Swoopes, Jr.: Head coach Charlie Strong has said that he wouldn't be opposed to starting a redshirt freshman at quarterback. That would be Jerrod Heard. But considering Texas' challenging opener in South Bend, experience is likely the tie-breaker between the two candidates.
RB – Johnathan Gray, Sr.: The veteran running back has never put up the kind of numbers he enjoyed as a high school phenom at Aledo, producing only one 100-yard game in 2014. But, with Malcolm Brown out of the way, the chance for him to showcase his talents is in front of him.
WR (Z) – Marcus Johnson, Sr.: A knee injury kept him from showing the kind of progress the Longhorns are looking for in one of the most experienced players at the position. His eight catches in the final six games of 2014 is an example of why play-maker John Harris will be missed.
WR (H) – Armanti Foreman, So.: If not in this spot considering the emergence of Jacorey Warrick, the Longhorns will find somewhere for the spring game standout to shine. Foreman led receivers with six catches for 77 yards in the Orange-White scrimmage, albeit against the second-team defense.
WR (X) – Lorenzo Joe, So.: Dorian Leonard is a likely candidate, but his spring wasn't spectacular. Joe caught four passes for 65 yards in the Orange and White scrimmage, and though the two are almost identical as far as size and experience, Joe gets the nod here.
TE/FB – Alex De La Torre, Sr.: The Denton Ryan product is the likely choice, though Andrew Beck is another option. De La Torre has two catches in three seasons, so any contribution to the offense's stat sheet will be a pleasant surprise.
RT – Connor Williams, Fr.: The Coppell newcomer joined the team in January and has already made enough of an impact on coaches this spring to fill a spot that also has freshman Garrett Thomas as a contender.
RG – Kent Perkins, Jr.: The flexible Lake Highlands lineman made 10 starts at guard and three at tackle last season, helping the Longhorns grind out 137.4 yards per game on the ground.
C – Taylor Doyle, Sr.: Doyle has also played guard for the Texas front at times, but he finished 2014 with seven starts at center. He's an example of how the Longhorns' offensive line may have the most veteran leadership of any of Texas' units.
LG – Sedrick Flowers, Sr.: Flowers is another key lineman who returns to a spot he's familiar with. Flowers started every game in 2014 at left guard and was a frequently-used backup as a sophomore.
LT – Marcus Hutchins, Sr.: The veteran from DeSoto started all but one game on the left side of Longhorns' line after a move to the defensive line in 2013. He may have the most tenuous hold on a starting spot considering the potential of junior Brandon Hodges.
PK – Nick Rose, Sr.: He does more than backflips. Rose was the key kicker in 2014, with a 51-yarder to his credit against Iowa State and with a field goal success rate of 67%. He missed two extra points but proved he had plenty of leg this spring with a 52-yard field goal and 49-yard kick in April.
(h/t Dallas Morning News)
Photo Credit: Matthew Emmons-USA TODAY Sports
---
---