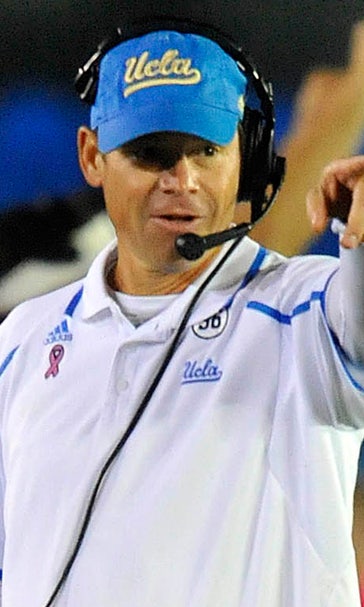 Pac-12 South Notebook: Has UCLA reached its full potential under Jim Mora?
November 17, 2015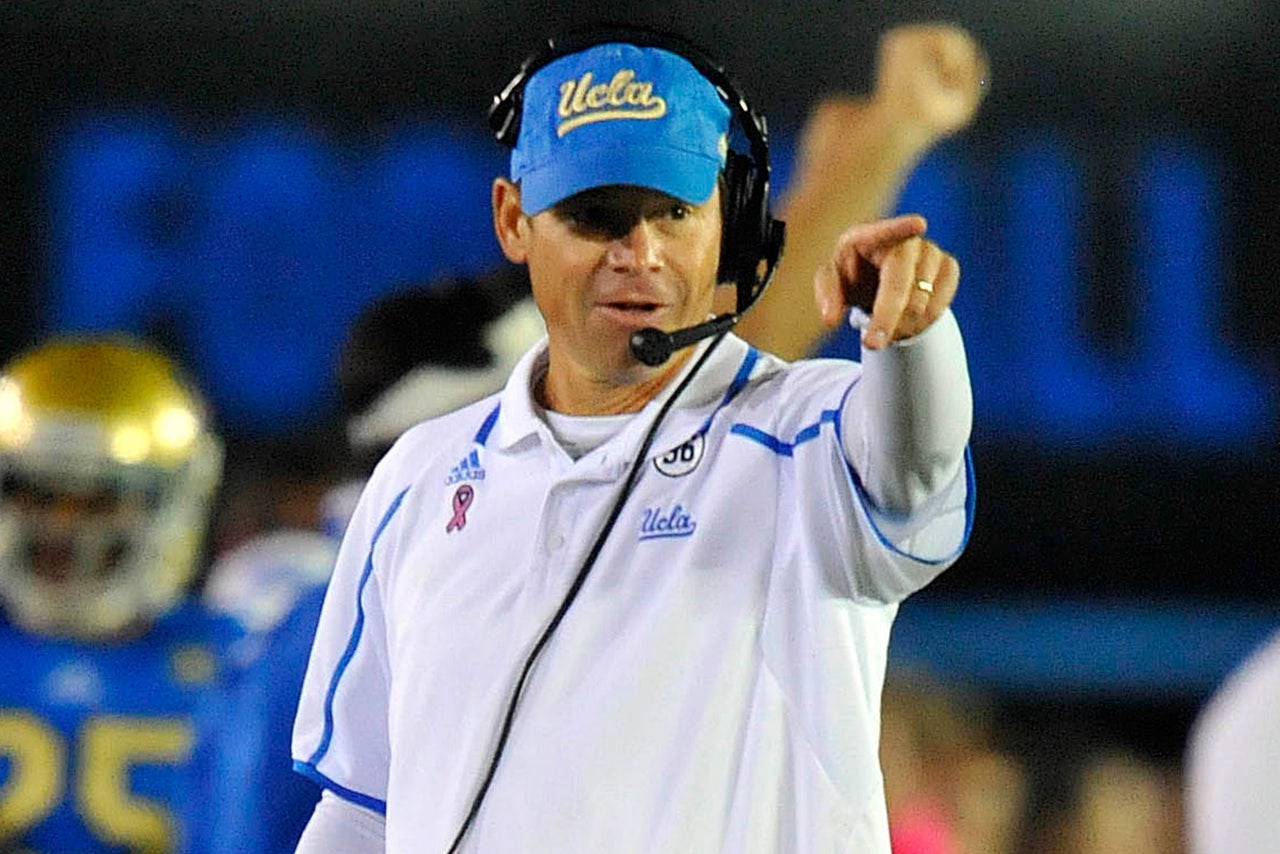 If UCLA can win both games left remaining on schedule against Utah and USC, the Bruins will represent the Pac-12 South in the conference championship game.   
With three losses, however, UCLA finishes with a ceiling of nine regular-season wins and the potential for another win or two during the postseason with bowl play and/or the conference championship. Last season, UCLA ended with a 10-3 record and a victory in the Alamo Bowl.
UCLA was also 10-3 with a win in the Sun Bowl in 2013; UCLA finished with a 9-5 record and won the Pac-12 South before losing in the 2012 Holiday Bowl during head coach Jim Mora's first season.
UCLA lost to Washington State this past Saturday after leading with just 1:09 remaining in the game. The loss dropped the Bruins from both the coaches' poll and the AP Top 25. The program will also likely not be ranked in Tuesday's College Football Playoff Top 25 rankings. 
Not only are the Bruins injury-riddled, but they are continuing to beat themselves, totaling 89 penalties this season. The mark is third-worst in FBS, behind just Hawaii and Miami. Last weekend, UCLA committed a season-worst 13 penalties (75 yards) during a 31-27 loss to WSU. 
"It's frustrating for everybody involved," Mora told the OC Register. "Anything that I can think of doing we're trying to do with regards to focusing on it, concentrating on it, emphasizing it, working on it in practice."
During their last two games, the Bruins have combined for 13 false-start penalties. Through 10 games, UCLA has allowed 77.1 penalty yards per game this season. If Utah can keep this trend alive, the Utes will have a much easier time taking home this extraordinarily necessary victory. 
Unfortunately, penalties have become a repeated problem since the Jim Mora era began in 2012. The LA Times reports UCLA (79.8 penalty yards per game) is second-worst in FBS for penalty yards allowed since Mora took over, behind only Baylor's 79.8 penalty yards per game. 
"We keep shooting ourselves in the foot," said running back Paul Perkins, via the LA Daily News. "Can't get over the penalty hump. Once we accomplish that, we'll be a team to look out for."
The Bruins are good. In order to take the next step and become "a team look out for," as Perkins suggested, more work needs to be done. That starts with limiting penalties.
But greatness for UCLA will only fall in place once the program can earn victories in games they're expected to win -- like against ASU and WSU. 
Can USC slow down Oregon, stay alive to win Pac-12 South?
Oregon is playing for its season Saturday at home against USC, keeping divisional title hopes alive after a dominant road victory over then-No. 7 Stanford. 
The Ducks are suddenly streaking upward, winning four in a row and five of their last six games. But if USC can beat Oregon and UCLA, the Trojans advance to the Pac-12 championship. USC can also advance with a win over UCLA so long as Utah loses to either UCLA or Colorado. Under interim head coach Clay Helton, USC has also won four consecutive games. 
"Both teams are hot right now," said Oregon offensive coordinator Scott Frost, via Comcast SportsNet Northwest. "Both teams are probably looking back at some games early in the year and wishing they could have it back. But I know it's two really talented teams on the field Saturday." 
After Oregon and USC were 3-3 to begin the season, many feared this game would become irrelevant. But instead, with only two games left in the regular season schedule, both teams are vying for a spot in the conference championship.
On defense, USC reportedly will be playing without two injured starting linebackers, freshman Cameron Smith and senior Lamar Dawson against Oregon. Smith was leading USC in tackles (78), interceptions (3) and passes deflected (6) before his season-ending injury. 
This isn't great for USC, as it likely allows Oregon to open up the running game. Oregon's rush attack was a highlight during the recent win over Stanford. The Ducks had 231 rushing yards and three rushing TDs against the Cardinal, led by Royce Freeman's 105 yards. 
Oregon's defense will be tested, however, against USC's potent offense. USC averages 465.4 yards per game (29th-best in FBS) and 6.69 yards per play -- which ranks second-best in the conference behind only Oregon's 7.03 mark. 
USC's offense has hit its stride behind freshman running back Ronald Jones II, who boasts 771 yards on 108 attempts for 7.1 yards per carry and six touchdowns. Through the air, sophomore receiver JuJu Smith-Schuster has not let a fractured bone and recent surgery on the injury have an impact on his play.     
"Juju could play with one hand and he'd still give us trouble," said Oregon defensive back coordinator John Neal, via KEZI.
Can Arizona or Arizona St. capitalize on momentum, win Territorial Cup?
Both Arizona and Arizona State began this year in the 2015 preseason AP Top 25. Arizona represented the Pac-12 South in the conference title in 2014 and many expected a return.
This season was disappointing for both teams. Arizona State is 5-5 but recently earned a big win against Washington. Likewise, Arizona is 6-5 and underperforming, but enters the game against ASU with significant momentum after a thrilling upset victory in overtime over then-No. 18 Utah.
While ASU won the Pac-12 South in 2013 and Arizona won last season, both are already eliminated this year.
Arizona State needs a victory (either against Arizona or Cal) to secure a fifth-consecutive bowl bid. More importantly, a win here would be huge for the ASU fan base.
"If you're a Sun Devil football player or Sun Devil fan, this is for the alumni,'' ASU quarterback Mike Bercovici told AZ Central. "This is the game you circle when you get your schedule. The message is clear. We know what we need to do."
Bryan Kalbrosky is a content producer for FOX Sports and tweets about other things, too. Follow him on Twitter.
---
---