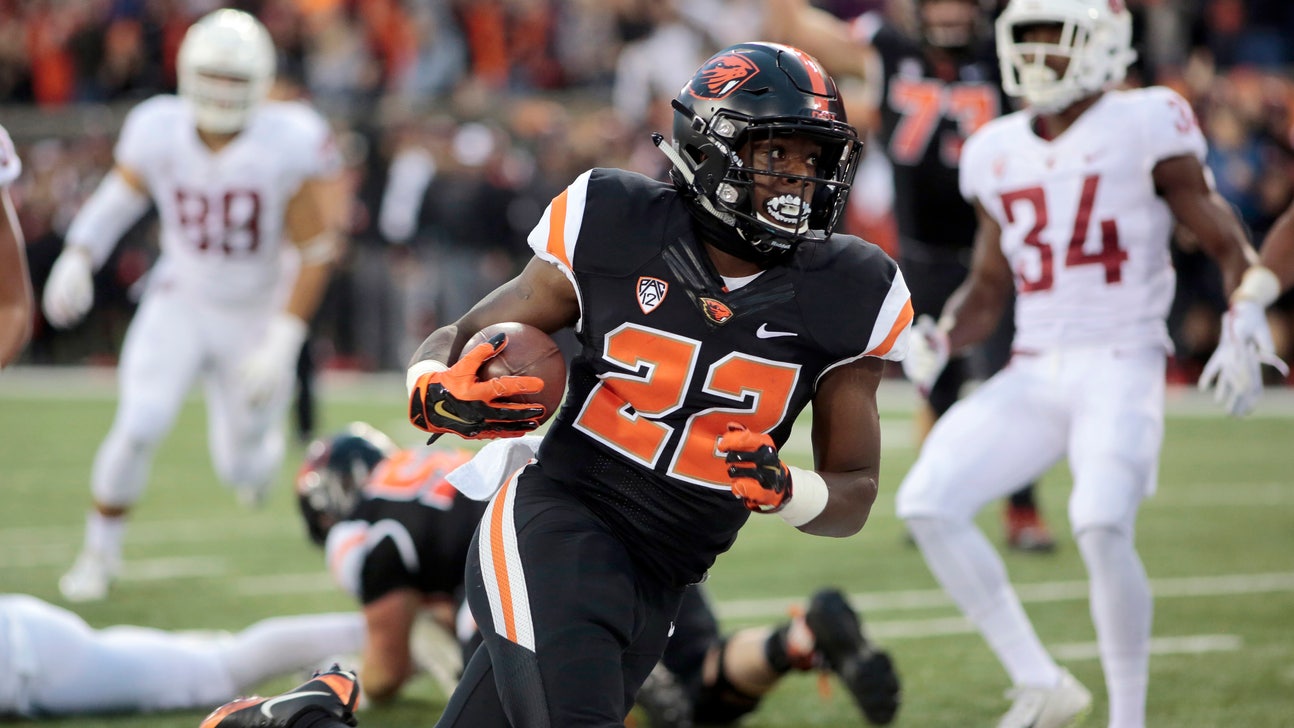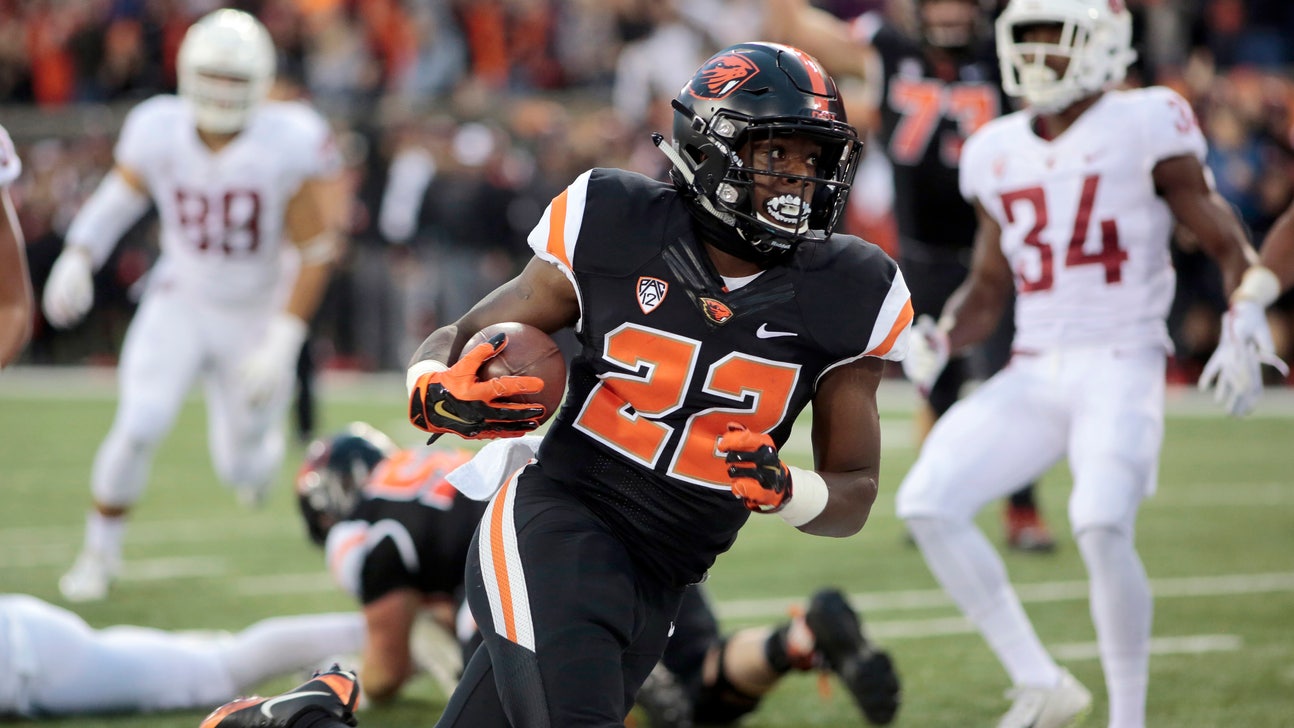 Pac-12 Freshman of the Year? Look to the Pacific Northwest
Updated
Mar. 4, 2020 12:43 p.m. ET
The Pacific Northwest appears to be leading the way in the Pac-12 for freshmen running backs who are having an impact.
A trio of talented backs, Oregon State's Jermar Jefferson, Oregon's CJ Verdell and Washington State's Max Borghi, are all taking on notable roles on their offenses as either true or redshirt freshmen.
Meanwhile, Arizona State seems to have cornered the market on freshman defenders. And there's USC's still-could-be-in-high-school quarterback JT Daniels.
Among the Pac-12 freshmen making a mark this season:
JERMAR JEFFERSON, Oregon State: Jefferson has rushed for 1,092 yards and 12 touchdowns this year. He's had five games with 100-plus yards rushing. But his progress was slowed a bit by injury that kept him sidelined for most of the Beavers' game against California, and USC was able to hold him to 58 yards rushing last weekend.
He ranks seventh in the nation for rushing yards, averaging 121.3 per game.
CJ VERDELL, Oregon: Verdell leads the Ducks with 690 yards rushing with five touchdowns. He's notable as the Ducks look to re-establish their running game: In the team's loss to Washington State, the Ducks rushed just 58 yards, then in the loss to Arizona they managed just 84. The team vowed to be more physical up front before last Saturday's 42-21 victory over UCLA, where they ran for 200.
"We made a decision," coach Mario Cristobal said. "The guys, we talked about it and it was about enough is enough; we are going to put our foot on the ground and we are going to recommit ourselves to being the physical team that we started the season as."
Verdell is averaging 76.67 yards a game, fifth among freshmen nationally. He rushed for 100-plus yards in his first three conference games.
MAX BORGHI, Washington State: As usual in Mike Leach's Air Raid offense, the Cougars' running backs often do some catching, too, and Borghi is no exception. He has 245 rushing yards for six touchdowns, along with 31 catches for 204 yards receiving and three touchdowns. His nine total touchdowns rank seventh in the Pac-12. He also has forced 10 missed tackles.
Landing Borghi was something of a coup for the Cougars because of a late recruiting push by Stanford.
JT DANIELS, USC: The future looks bright for the Trojans' true freshman quarterback, even if he's had to go through some challenges his rookie year. Daniels has thrown for 1,806 yards with nine touchdowns and seven interceptions. Just 18, he left high school a year early to enroll at USC and become just the second true freshman to start in the opener for the Trojans at quarterback, joining Matt Barkley.
He missed a game because of a concussion but returned last weekend in a 38-21 victory over Oregon State, throwing for 177 yards and a touchdown.
JEVON HOLLAND, Oregon: The true freshman safety sits atop the Pac-12 with four interceptions this season. He's tied for fourth in the nation and tied for first among freshman. He had two interceptions against Cal. Holland also had an interception in the end zone last weekend against UCLA.
Following the victory over the Bruins, teammate Thomas Graham Jr. crashed the postgame news conference to ask Holland how it felt to lead the team in interceptions. "It feels good. I've got some bragging rights," Holland replied before adding with a laugh: "I may need a ride home; don't leave."
MERLIN ROBERTSON, Arizona State: The 6-foot-3, 235-pound linebacker was named Pac-12 defensive Player of the Week following Arizona State's 38-20 upset against then-No. 16 Utah last weekend. Robertson had nine tackles, one for loss, and had his first career interception. Robertson leads the nation among freshmen this season with 27 defensive stops.
Arizona State's defense also features a pair of other talented true freshmen, linebacker Darien Butler and defensive back Aashari Crosswell. Crosswell also had an interception against the Utes. Coach Herm Edwards said the guys are nicknamed the fabulous freshmen.
---
---