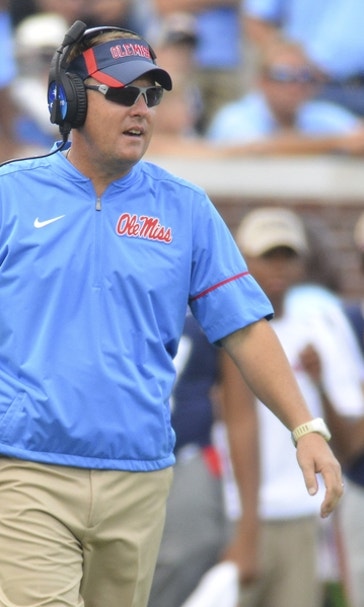 Ole Miss Football: Only Time Will Tell for Hugh Freeze
BY Fansided and Drew Moak/FanSided via Ole Hotty Toddy • December 17, 2016
Hugh Freeze and Ole Miss hired Phil Longo and Wesley McGriff as it's offensive and defensive coordinator, respectively, on Friday. What does it mean for the Rebels?
The first four seasons at Ole Miss were great for Hugh Freeze. He increased the win total by one each season. It all started with a 6-6 mark in 2012 and going to the Birmingham Bowl. The program was on the rise all the way until last season, which ended in a Sugar Bowl win over Oklahoma State.
However, since then everything that can go wrong has seemingly gone wrong for Hugh Freeze. First, there were the reports of wrong doing by Freeze's staff in addition to what occurred under Houston Nutt with the NCAA. Next, was the draft night fiasco with Laremy Tunsil in a hacked tweet showing him with a bong and admitting he took money from the Ole Miss coaching staff.
Then came the 2016 season.
There were high expectations coming in from the fan base. Some were hoping to make the playoff, others to win the SEC West. Most predicted at least eight or nine wins and another good bowl game at the very least.
However, none of those goals were met this season. Instead, the worst case scenario happened and the Rebels went 5-7.
Freeze called it the toughest year in his coaching career. Who's to doubt him?
After only two assistant coaches had left the staff in the previous four years, Freeze is now having to replace at least five and maybe more.
Yesterday, Freeze hired Phil Longo as his offensive coordinator and Wesley McGriff as his defensive coordinator.
Most don't want to say this out loud but I will do it for them: Hugh Freeze has hitched his Ole Miss coaching career to both Longo and McGriff.
Whether you like or don't like the hires is immaterial at this point. The fact of the matter is if they produce on the field, Freeze will be at Ole Miss as long as he wants to, if not his stay in Oxford won't last much longer.
These hires will be critiqued by both the Ole Miss fans and college football fans across the country. But at the end of the day, the results they produce on the field is all that will matter.
More from Ole Hotty Toddy
This article originally appeared on
---
---