Offense needs playmakers and Texas roster is rife with candidates
BY foxsports • June 14, 2015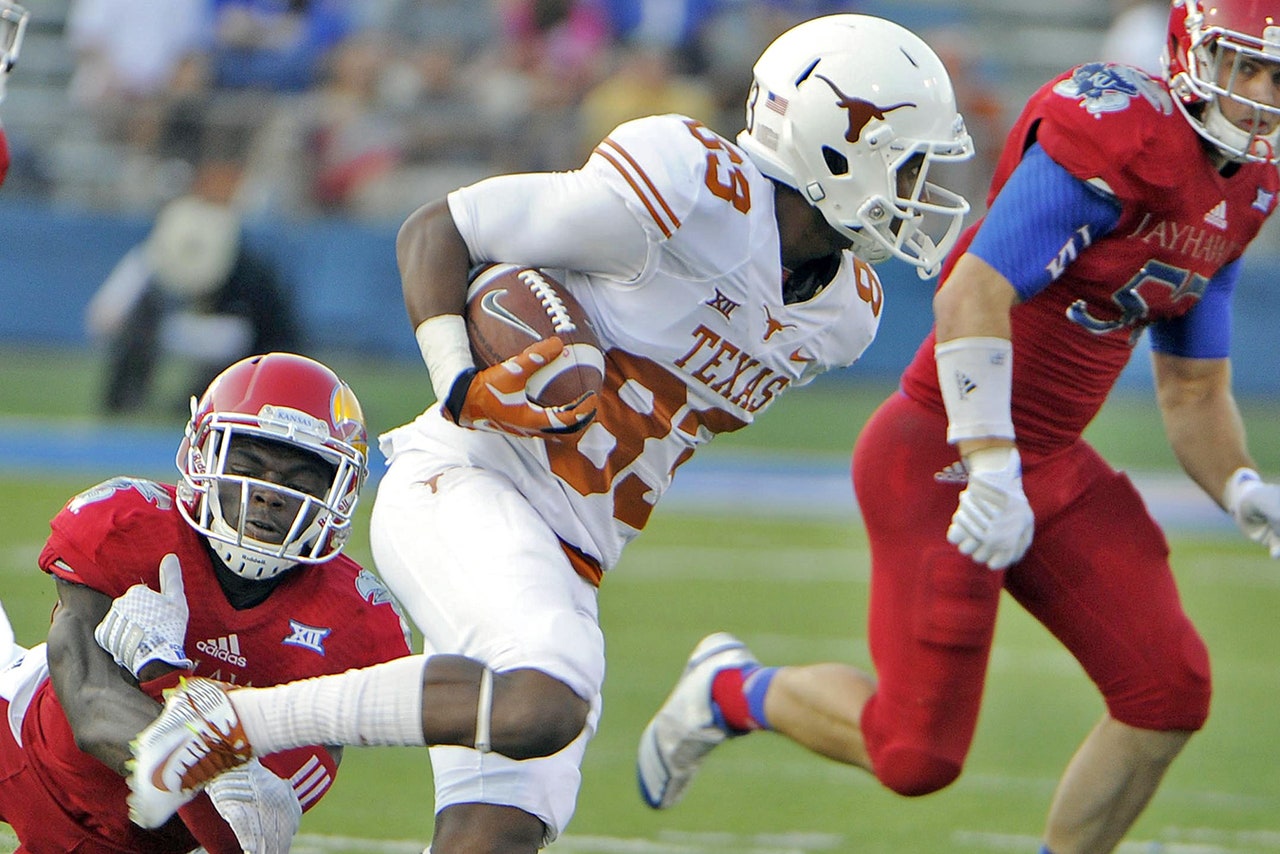 The Texas Longhorns' defense certainly has big shoes to fill in 2015, but concerns on offense outweigh anything on the other side.
The Longhorns lack a single proven offensive playmaker, unless you count senior running back Johnathan Gray, who has been slowed by injuries in past years. But that doesn't mean the season will end with such a void.
Texas certainly has candidates at the skill positions who can make a significant impact and help turn last season's inept offense into a more lethal attack.
College football blogger Todd Davis of the Dallas Morning News took a look at five Texas players who could have breakout seasons in 2015. Four of them are on offense.
Here's Davis' breakdown:
Jerrod Heard, QB, redshirt freshman: Head coach Charlie Strong says there's a competition this summer at the position, and if the Orange and White Scrimmage is any indication, it's a tight race. Both Heard and Tyrone Swoopes completed 20 of 29 passes and ran for a touchdown in the offseason showcase, but Heard was facing Texas' top defense at the time. The Longhorns may prefer Swoopes' experience when they face Notre Dame for the opener, but Heard's potential may outweigh Swoopes' resume as the season progresses.
Armanti Foreman, WR, sophomore: If his 10 catches for 188 yards and two touchdowns from 2014 don't impress you, things are about to change. For one, John Harris, the undisputed No. 1 receiver is gone. And Foreman has his freshman year out of the way. Foreman caught four passes for 91 yards and a touchdown against TCU toward the end of the season and led pass catchers with six receptions for 77 yards in the spring game. He is also a special teams threat, but that could change if he excels on offense.
Poona Ford, DT, sophomore: Yes, senior Desmond Jackson likely stands in his way on the depth chart, but Ford made the most of his chance to shine in the spring while Jackson recovered from the foot injury that cost him his 2014 season. Defensive end Shiro Davis pointed out that Ford's height (5-11) and speed helps him elude blockers, and Ford proved it with a sack in the spring game.
D'Onta Foreman, RB, sophomore: Don't let an uneventful 2014 season (15 carries, 73 yards) influence your read on D'Onta, or the fact that seasoned veteran Johnathan Gray is the undisputed starter. Strong had plenty of nice things to say about Foreman's progress this spring, and his size (6-2, 231) makes him a valuable change of pace, especially around the goal line.
Andrew Beck, TE, sophomore: Texas has a void at tight end, and Beck, who moved to the position last season after being a successful high school linebacker, may reap the benefits. The big target from Tampa is coming back from a hip injury, but the opportunity is there considering the inexperience of the contenders at the spot. Position coach Jeff Traylor is also in charge of the special teams and has commended Beck's work ethic as a contributor there.
(h/t Dallas Morning News)
Photo Credit: Matthew Emmons-USA TODAY Sports
---
---