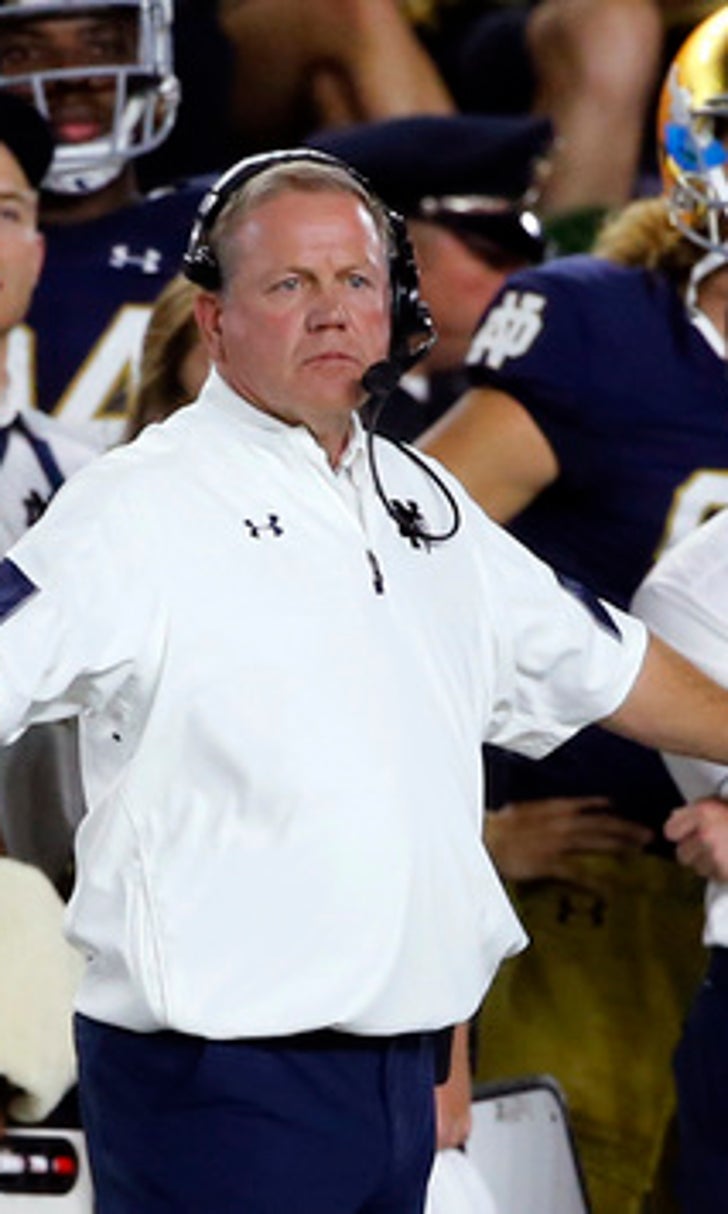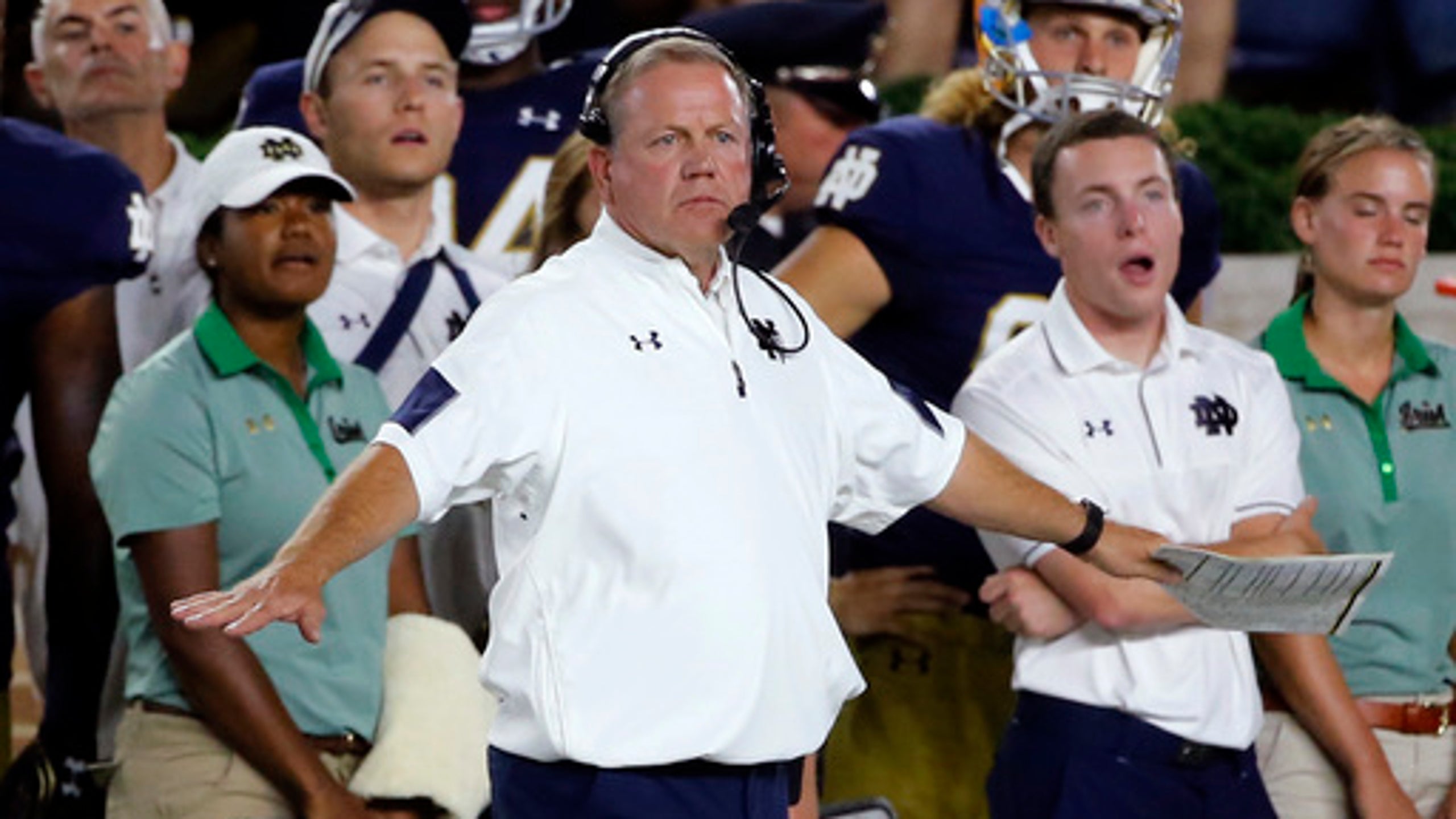 Notre Dame hosts Temple in opener full of new faces
BY AP • September 1, 2017
SOUTH BEND, Ind. (AP) When Temple and Notre Dame kick off their seasons Saturday in refurbished Notre Dame Stadium, they might as well be looking in a mirror.
With new coaching staffs and new quarterbacks, the Owls and Fighting Irish have plenty in common, though they are coming from different directions from 2016. Temple, champion of the American Athletic Conference, went 10-4; Notre Dame was a woeful 4-8.
Coach Brian Kelly is back for his eighth season at Notre Dame with a revamped staff - six on-field assistants, including coordinators for offense, defense and special teams, and a new conditioning coach.
''I don't remember anything about last year,'' Kelly said. ''I'm excited about our preparation, our total preparation in all areas, and excited to play.''
Off a successful defensive coordinator stint at Florida, Geoff Collins takes over at Temple for Matt Rhule, now at Baylor.
''I've been waiting a long time for this opportunity,'' Collins said. ''We're going to be tough, be physical. We won't back away from anybody, any challenge. We'll play anybody anywhere anytime.''
Collins did not release a depth chart for the game, preferring to list players as ''Above The Line.'' Four were listed as ''ATL'' quarterbacks: junior Frank Nutile, sophomore Logan Marchi, redshirt freshman Anthony Russo and true freshman Todd Centeio. It now appears the starter will be either Nutile or Marchi, who have 11 career passing attempts between them.
Junior quarterback Brandon Wimbush, who redshirted last season and was limited to mop-up duty as a freshman, knows Notre Dame has a rich tradition at the position that includes, among them, a couple of Joes named Theismann and Montana.
''I look forward to upholding that, the standard those guys have left here,'' said the 6-foot-2, 228-pound Wimbush, who has a strong right arm to go along with nimble feet.
Some things to watch for in Saturday's opener:
DEFENSIVE IRISH
Calling plays for Wimbush and Co. will be former Memphis coordinator Chip Long, a new arrival. But it's his counterpart who might be under the most scrutiny along with Kelly: Mike Elko was hired away from Wake Forest to fix a defense that lost its way for much of last season. Notre Dame hasn't ranked higher than No. 70 against the rush since 2012, and last year was a dismal 104th in takeaways. Elko's Demon Deacons were 10th in takeaways last season. Kelly said he had to adjust the practice schedule to make sure the defense had time to work on forcing turnovers. The Fighting Irish ranked 103rd in the country last season in tackles for loss at 5.08 per game - another stat that needs to improve.
THE $400 MILLION MAKEOVER
A renovated Notre Dame Stadium is part of a $400 million Campus Crossroads Project that added academic and student activity buildings to the stadium's east, south and west walls. A two-inch widening of bleacher seats, the addition of suites and premium seating, and a new entrance that links the visiting locker room to the field will reduce the old capacity of 80,795 fans. There are new locker rooms and interview areas for both teams and new amenities for fans, including a giant, high-resolution videoboard overlooking the south end zone.
Fans will enjoy some replays on the big board probably more than the players might.
''Certainly for us, I know (defensive line assistant) coach (Mike) Elston likes having the Jumbotron because you can get a full replay of what's happening on the field and he doesn't have to rely on our word as much as he used to,'' joked starting left tackle Mike McGlinchey, who along with left guard Quenton Nelson have received preseason All-America mention from The Associated Press.
COOL HAND BRANDON
McGlinchey's assessment of new starting quarterback Brandon Wimbush: ''I think he's the coolest kid I know just in terms of just the aura about Brandon Wimbush.''
Junior running back Josh Adams agreed, but when asked about that ''aura'' cracked: ''Well, I'm not seeing him physically glow (laughter) but he definitely has that confidence.''
TV TWEAKS
Mike Tirico is taking over as play-by-play announcer for Notre Dame football games on NBC this season, joining analyst Doug Flutie. Tirico replaces Dan Hicks, who did Fighting Irish games for the past four seasons. Kathryn Tappen will be the sideline reporter for a fourth season and former Texas quarterback Chris Simms, the son of former quarterback and NFL analyst Phil Simms, is joining the Notre Dame broadcasts as a studio analyst.
THE MARATHON MAN
This will not be Collins' first time on the field at Notre Dame. In 2003 as the defensive coordinator of his alma mater Western Carolina, Collins traveled to South Bend to compete in the Sunburst Marathon, which started in downtown South Bend at the former home of the College Football Hall of Fame and ended at the 50-yard line of Notre Dame Stadium.
''A great moment for me,'' said Collins, who finished the 26-mile, 385-yard course in 3 hours, 39 minutes and 23 seconds.
---
More AP college football: http://collegefootball.ap.org and https://twitter.com/AP-Top25
---
---