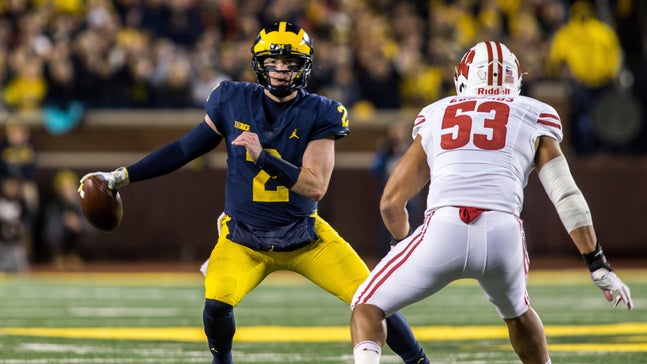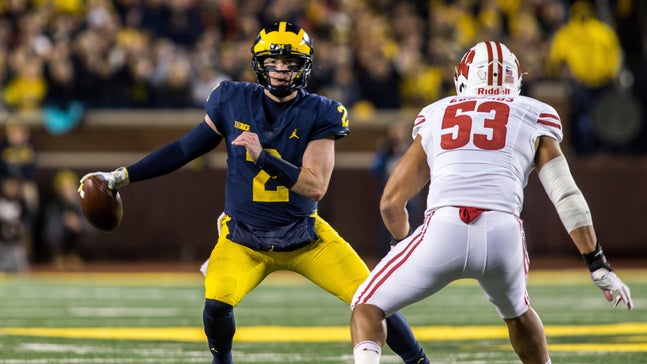 No. 4 Michigan prepares for expected rout over Rutgers
Updated
Mar. 5, 2020 1:16 a.m. ET
Michigan is on the cusp of reaching the heights expected when it hired Jim Harbaugh.
It took four seasons and a handful of crushing defeats to get here but the fourth-ranked Wolverines (8-1, 6-0 Big Ten, No. 4 CFP) are poised to win their first conference title since 2004.
Stay out of the loss column, and the Wolverines could play for their first national title since 1997.
Rutgers (1-8, 0-6) should provide nothing more than a simple tuneup Saturday in New Jersey, as will Indiana next week at the Big House before Michigan closes the regular season at No. 8 Ohio State.
The Wolverines, who haven't lost since the season opener against No. 3 Notre Dame, would have to beat the Buckeyes for just the second time in 15 years to keep any hope at a national title alive. It might take a miracle for Rutgers to beat Michigan, but the Wolverines (48½-point favorites) also don't want to mess around and play a close game against one of the worst teams in FBS.
Northwestern was the last team to come close to beating the Wolverines, jumping out to a 17-0 first-half lead on Sept. 29. Since then, Michigan has outscored the opposition 163-48.
Not bad, but consider Michigan probably could have hit that scoring mark against Rutgers the last time it traveled to Jersey: the Wolverines humiliated Rutgers 78-0 and the fear around Piscataway is that it could happen again. Michigan had nine rushing touchdowns and 600 total yards (vs. 39 for Rutgers) in the rout and Harbaugh leads an even better, dangerous team into town this season.
Michigan was 111th in yards passing per game last season and the Wolverines dipped to 8-5. Former Mississippi star Shea Patterson has provided Harbaugh the quarterback he has been looking for since coming back to his alma mater. Patterson is coming off his fourth, three-touchdown game of the season and was named a finalist this week for the Davey O'Brien Award. Patterson has thrown for 1,667 yards with 14 touchdowns and is on the board at Las Vegas with the third-best odds to win the Heisman Trophy.
"I'm not surprised that the improvement has taken place," Harbaugh said. "He's just getting comfortable with playing in this system. It's been all good since the first day he got here."
Patterson just may be the QB that Michigan has needed to win the national championship.
"He brings a level of focus and mental toughness, a level of intensity to the position that few do," Harbaugh said.
Here are other items of note for Saturday's game:
YIKES
How bad is Rutgers? Kansas, which beat the Scarlet Knights 52-3 in September, will let go coach David Beaty at the end of the season. The hottest ash around Rutgers could be the hot seat that coach Chris Ash sits on as the season winds down. Ash couldn't even muster an underdog rallying cry for his team to knock off the Wolverines, simply stating he just wanted the Scarlet Knights to improve. Hey, at least a field goal will do the trick from the last home game two years ago.
"They're probably playing as good as any team in the country," Ash said. "In the years that I've coached against Michigan, it's probably one of the best teams they've had."
IT'S NOT ALL BAD
Harbaugh actually didn't have to reach to pay Rutgers a compliment.
"Their kickoff coverage is really impressive," he said. "One of the best in the nation."
Guess what? It's true! The Scarlet Knights have allowed a tight 14.88 yards per kick return. Only Eastern Michigan has been stingier on stuffing teams on the kickoff.
It's the rest of the game of football that gives Rutgers fits. The Scarlet Knights are 128th in total offense and 82nd in total defense out of the 130 FBS teams. Rutgers will host a top-five opponent for the 13th time in program history. The Scarlet Knights haven't beat a ranked team since a win over No. 23 USF in 2009.
JERSEY BOYS
Nine Wolverines are from New Jersey: OL Juwann Bushell-Beatty, OL Kraig Correll, DL Michael Dwumfour, DL Rashan Gary, DB Brad Hawkins, DL Ron Johnson, DB Hunter Reynolds, OL Cesar Ruiz and OL Jon Runyan.
BACKUP PLAN
If Michigan has a big lead in the second half, the backup QB may get some much-needed snaps. Patterson's backup, Dylan McCaffrey, broke his collarbone in last week's win over Penn State. Harbaugh said Brandon Peters and Joe Milton will compete for the job, adding he would rather have Milton save his redshirt eligibility.
---
---