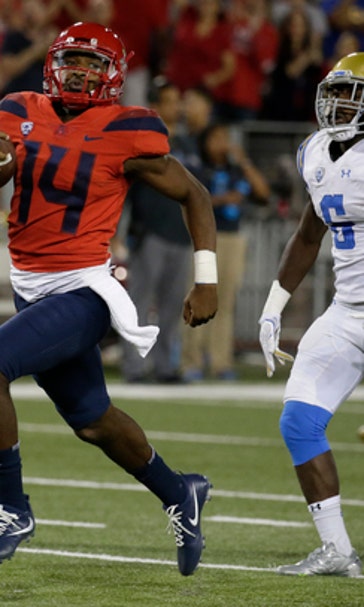 No. 17 USC hosts No. 23 Arizona for Pac-12 South lead
November 3, 2017

LOS ANGELES (AP) Khalil Tate made his first career start for Arizona last season against Southern California, and the 17-year-old quarterback struggled in the Wildcats' blowout loss.
A year later, the Inglewood native is about to show the Trojans how much he has grown.
Tate will be in the spotlight when the surprising 23rd-ranked Wildcats (6-2, 4-1 Pac-12) enter the Coliseum on Saturday night for a showdown with No. 17 USC (7-2, 5-1). The winner takes control of the Pac-12 South race and gains the inside track on a spot in the conference championship game next month.
Most observers expected the Trojans to be in this position. The Wildcats have joined them largely thanks to Tate, who had a spectacular October, leading Arizona on a four-game winning streak.
''He's doing a phenomenal job,'' USC coach Clay Helton said of Tate. ''Both running the ball, being a weapon in the run game ... but also I've been very impressed with his progress as a thrower over the last year.''
Tate didn't do much of either in his first meeting last season with USC, committing three turnovers and struggling to find his groove. Tate is looking great this season, averaging a whopping 13.4 yards per carry and improving his passing accuracy.
The Pac-12's highest-scoring offense (45 points per game) has put the Wildcats in position to challenge in the conference race during what could have been a make-or-break season for coach Rich Rodriguez. Arizona is ranked for the first time since 2015.
''We've made ourselves a little more relevant,'' Rodriguez said. ''We're entering November with a chance to still compete for the South championship, and that's where we want to be. ... Our guys have worked hard to be in that position, but you've got to keep winning to stay there.''
Helton respects Tate's role in the Wildcats' running game, but he appears to be even more worried about Tate's downfield throwing accuracy. Arizona is setting up a dangerous passing attack with its running prowess, and that high-tempo spread offense has been an increasing nightmare in recent weeks.
Yet the Trojans can score a few points of their own. Sam Darnold might lead the FBS in turnovers, but he's still 10-0 as a starter at home, and the Trojans are coming off a 48-17 road victory over Arizona State in which they appeared to recapture the dominant form that made them national title contenders before road losses to Washington State and Notre Dame.
Of course, Arizona scored 58 points in its win over Washington State last week.
''You've got the two best offenses in our conference coming together,'' Helton said.
Here are more things to know about the Wildcats' attempt to get their second win in the Coliseum since 2000:
LOCAL GUY: Tate is a product of the famed football factory at Serra High School, several miles south of USC's campus. He will see nine fellow Cavaliers on the USC roster, including receivers Deontay Burnett and Jalen Greene, cornerback Jalen Jones and linebackers Oluwole Betiku and Olajuwon Tucker. Past Trojans from Serra include Robert Woods, Marqise Lee and Adoree Jackson.
NOT HAVING IT: Don't try to tell Rodriguez that Darnold is having a disappointing season. ''The expectations were so high for a guy like Sam Darnold or (UCLA's) Josh Rosen that if they don't throw for 400 and four or five touchdowns every game, somehow it's a letdown,'' he said. ''Sam Darnold is still one of the best players in the country. He's still a first-round draft choice, and no question in my mind, he needs to go ahead and declare for the draft. Maybe he'll do that before Saturday. He's phenomenal.''
BIG PLAYS: Arizona leads the FBS with 36 plays of at least 30 yards, and Tate is primarily responsible. He has four runs of 70 yards or more.
STREAKS COLLIDE: USC has won 14 consecutive games at the Coliseum, while Arizona is 3-0 on the road this season. The Wildcats have scored 45 points in four consecutive games for the first time in school history.
STOPPING THE RUN: USC's run defense was poor last month against Notre Dame, but coordinator Clancy Pendergast's defense has generally proven quite adaptable during his tenure. The Trojans held Arizona State to just 79 yards on the ground last week. The Wildcats present a vicious challenge with the nation's fifth-best rushing offense putting up 338.6 yards per game. Along with Tate, whose dual-threat skills make him a rushing danger on every play, Arizona has three tailbacks with 100-yard games in the past month: Nick Wilson, Zach Green and J.J. Taylor.
---
More AP college football: http://collegefootball.ap.org and https://twitter.com/AP-Top25
---
---