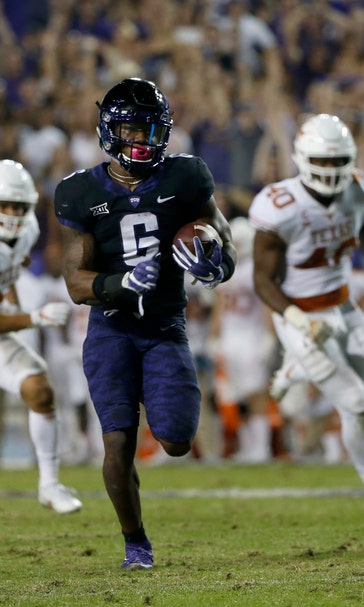 No. 17 TCU going for 5th straight win over Texas in Big 12
September 20, 2018
GAME OF THE WEEK
No. 17 TCU (2-1) at Texas (2-1). The Longhorns are coming off a big win at home over then-No. 22 Southern Cal, and will be looking to take down another ranked team Saturday in Austin. TCU is trying to do something it has never done in the series that dates back to 1897. The Horned Frogs are going for their fifth win in a row against Texas — and their sixth in seven years since moving into the Big 12. TCU has outscored the Longhorns 153-33 in the last four wins. The Frogs are coming off a 40-28 loss to No. 4 Ohio State, but had the lead early in the second half before three Buckeyes touchdowns in a four-minute span.
BEST MATCHUP
Rested quarterback Will Grier and West Virginia receivers against Kansas State's pass defense. Grier has a Big 12-leading nine passing TDs in two games after last Saturday's game at North Carolina State was canceled because of Hurricane Florence. K-State is second in the Big 12 in pass efficiency defense, with opponents completing only 46 percent of their 117 passes — only one league team has had more passes attempted against them. WVU receivers Gary Jennings (12 catches, 210 yards, 4 TDs) and Marcus Simms (10, 159) are among the Big 12 leaders for receptions per game, and David Sills V has two TDs are matching the national lead with 18 last year.
INSIDE THE NUMBERS
Texas is 900-400 all-time record after the 37-14 win over USC. The Longhorns joined Michigan and Ohio State as the only FBS programs with 900 wins. ... The Big 12 is the only FBS league in which 90 percent of the teams have at least two wins. ... Kansas is the national leader with a plus-four turnover margin . The Jayhawks have forced 13 turnovers (seven interceptions, six fumbles) and lost just one fumble. ... Texas Tech quarterback Alan Bowman set Big 12 freshman records with 43 completions for 605 yards and five TDs in a 63-49 win over Houston.
LONG SHOT
No. 5 Oklahoma (3-0) has won more Big 12 titles over the last 19 years (11) than it has home losses (10). The Sooners are a more than four-touchdown favorite for their first game against Army since 1961. Oklahoma has gone 108-10 at home since the start of the 1999 season, which was former coach Bob Stoops' first with the Sooners. It is the best home winning percentage among Power Five teams in that 20-season span, and they've won those games by an average margin of 42-16.
PLAYER TO WATCH
Iowa State junior WR Hakeem Butler had five catches for 174 yards, with TDs of 51 and 57 yards, against Oklahoma. He has six career catches of 50-plus yards and his 26.1 yards per catch this season ranks fourth nationally. He has a catch in 17 consecutive games.
---
---