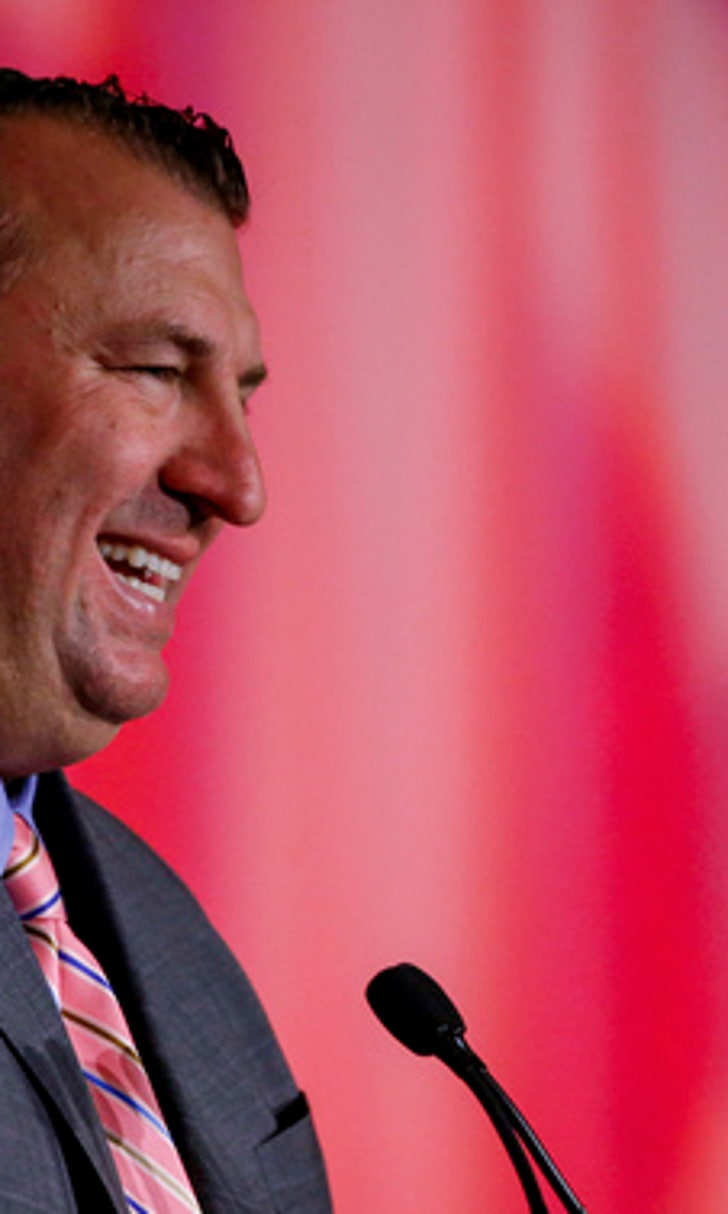 New dad Bielema focuses on making Arkansas better
BY AP • July 10, 2017
HOOVER, Ala. (AP) Arkansas coach Bret Bielema has a lot going on in his life these days.
Barely 48 hours after becoming a new father, Bielema was on the podium Monday at Southeastern Conference media days, waxing on fatherhood, embarrassing pocket dials and - of course - the upcoming football season for the Razorbacks.
Bielema, the fifth-year Arkansas coach, has quickly become one of the most quotable coaches in the league. He's spent much of the past few days responding to well-wishers who congratulated him on the birth of his daughter.
Bielema said shortly after his daughter was born, he was walking out of restaurant after getting some food for his wife Jen.
He looked at his cellphone and was surprised to see SEC Commissioner Greg Sankey's name.
Bielema thought it was great the commissioner had called him: ''This is pretty cool, the commissioner is Face Timing me, that's pretty unique!''
Sankey's response: ''Why are you calling me?''
Bielema: ''Oh, I'm sorry. I must have butt-dialed you.''
The Arkansas coach has a few more weeks to enjoy being a dad before his schedule gets a little busier. The Razorbacks are trying to improve on a 7-6 record in 2016, which was especially disappointing considering they started the season with a 5-2 record.
Arkansas returns senior quarterback Austin Allen, who threw for 3,430 yards, 25 touchdowns and 15 interceptions last season.
The Razorbacks are especially focused on playing better in the second half. Arkansas blew big second-half leads in losses against Missouri and Virginia Tech at the end of the season.
''They've owned and embraced what we didn't do well at the end of the year,'' Bielema said. ''Focused on what we can do well. We're going to focus on winning games in the second half, not losing them, putting our best personnel on the field, no matter how that comes about, and then really trying to play and understand what it means to be at Arkansas and have that come through.''
-----
More AP college football: http://collegefootball.ap.org and http://www.twitter.com/AP-Top25 .
-----
Follow David Brandt on Twitter: www.twitter.com/davidbrandtAP .
---
---