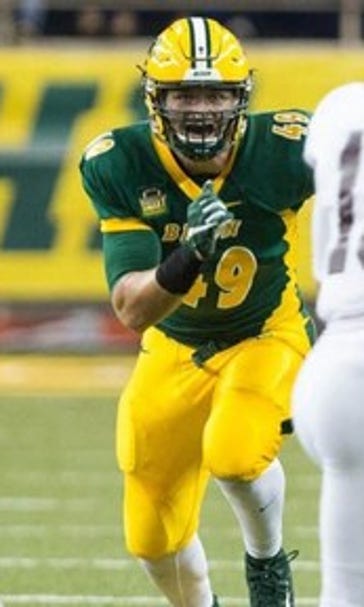 NDSU's DeLuca has the drive of an NFL player
April 5, 2018
(STATS) - Nick DeLuca hasn't been the recipient of those surprising, sometimes inappropriate questions NFL teams ask prospects during the build up to the draft, but the linebacker was honest when asked about his biggest fear.
"For me, it's just not reaching my full potential," he said, "essentially my fear of failure, not being what I could be. That's a realistic fear that I have."
Well, then, Nick, how do you overcome your biggest fear?
"Just continuing to work. The more prepared you are, the less question you have (asking), are you going to fail?
"Loving the details, that's the biggest thing that is going to separate me."
Contrived? Hardly. It basically depicts the North Dakota State program that DeLuca played in and how he developed into a first-team FCS All-American. The Bison have won six of the last seven national titles, with DeLuca a part of four of the teams and a starter in three championship games.
As a result of the incredible success, Bison players are more in demand with NFL teams than ever before. Last year, they had eight players on NFL rosters - the second-most among FCS schools - led by Philadelphia Eagles Pro Bowl quarterback Carson Wentz.
DeLuca was a teammate with each one except Buffalo Bills linebacker Ramon Humber. Along with Tre Dempsey, Austin Kuhnert and other NDSU prospects, he's been drawing upon their advice.
"They've been awesome resources," he said. "They've laid the foundation; there's been a lot of guys in the past that have come out of here. It is almost a standard now that guys go to the NFL. It's been awesome to rely on them, kind of pick their brain on certain things and have them to talk to."
The group of players often reference the grind of an NFL season - something NDSU players get a feel for with deep playoff runs that usually extend their team into January and to 15 games. The kind of work ethic needed is what DeLuca thrives on.
At 6-foot-3, 248 pounds, DeLuca has NFL size for inside linebacker. In a draft class deep at linebacker, his heady ability to diagnose a play and put himself around the football is still exceptional. He had 329 tackles and seven interceptions in his college career, showing an ability to defend both the run and the pass. His straight-on flow could allow for him to contribute on special teams right away.
Although he lacks elite foot speed, he dropped his sluggish 4.85 40-yard dash at the NFL Combine by one-tenth of a second at North Dakota State's recent pro day. Just as concerning, he was plagued by injuries in college, including to his shoulder and knee, but he never shied from playing through pain.
"Instinctive. I think I play fast. I work extremely hard," said DeLuca, who played in the Reese's Senior Bowl after the Bison's national championship season. "I've always prided myself on the details. That's what kind of separated me throughout my career, I think."
Generally projected as a late-round prospect, DeLuca is seeking an NFL team "with a defense that I fit in the scheme and I feel comfortable with. Being able to establish myself as a hard worker and a rookie that coaches and my teammates can rely on."
There's no reason to fear that scenario.
---
---