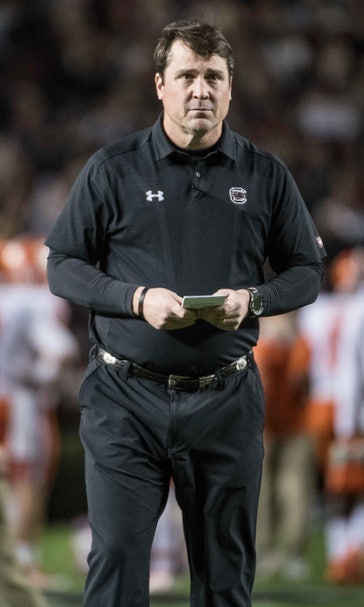 Muschamp takes steps to keep South Carolina moving forward
August 16, 2018
COLUMBIA, S.C. (AP) — South Carolina coach Will Muschamp wants to learn from history, not repeat it.
Muschamp had seemingly set Florida back on a championship course in his second year with the Gators at his previous coaching stop, winning 11 games and reaching the Sugar Bowl. Things fell apart, however; his final two seasons as Muschamp went 10-13 before Florida let him go.
This time around, after South Carolina's best season in four years, Muschamp overhauled his offense to install a faster and he hopes that will improve an attack that ranked 12th in the Southeastern Conference the past two years. Muschamp named receivers coach Bryan McClendon his new offensive coordinator, replacing Kurt Roper.
"You'll see a noticeable change in our offense as far as the tempo is concerned," Muschamp said.
Early results are positive . The Gamecocks and quarterback Jake Bentley rallied from 16 points down in the final 20 minutes of the Outback Bowl last January to defeat Michigan 26-19. Bentley, who is 13-7 in his year and a half starting, and the offense has so far taken to the quicker pace.
"I think Jake plays better when he plays faster," Muschamp said.
It will surely help the offense to have healthy playmakers back in receiver Deebo Samuel and tailback Rico Dowdle when the season starts at home against Coastal Carolina of the Sun Belt Conference on Sept. 1.
Samuel was the most dynamic player in the game with six touchdowns in the first three weeks before he was lost for the season with a broken bone in his leg. Dowdle is a speedy junior who has only played 17 games in two years because of injuries.
"We feel ready to go," Samuel said.
Muschamp could've stayed the course and called on more experienced players to grow into Roper's schemes. The more experienced Muschamp did not want to wait.
"I think you live and learn every day on the job," he said. "Certainly I'm a much better coach today than I was that first year."
Things to watch at South Carolina:
BENTLEY BREAKOUT: Junior quarterback Jake Bentley has been the face of the franchise since his expected redshirt season in 2016 was disrupted by the Gamecocks needing a spark. Bentley figured to take a big step forward last fall, but instead saw his passing percentage drop and threw 12 interceptions. With a big year, Bentley could put himself in the NFL draft picture. It's something he's aware of, but won't dwell on too much. "Coaches keep telling us, be where you're feet are," Bentley said. "Be present in the moment."
RUNNING GAME REBOOT: South Carolina has struggled the last two seasons to find any footing on the ground. Some of that has been due to Dowdle's injuries, some to spotty offensive line play and some to the tailbacks' lack of consistency. The Gamecocks averaged 122 yards a game last fall, something Muschamp knows much change for continued success.
PASS RUSH: South Carolina hopes to put more pressure on opposing quarterbacks this year. The Gamecocks were 11th in the SEC with just 26 sacks, in large part to a shoulder injury to defensive end/linebacker Bryson Allen-Williams that led to him missing 10 games. Allen-Williams had two sacks in three games which still left him tied for fourth on the team. Allen-Williams says he's healthy and ready to perform. The Gamecocks are looking to defensive end D.J. Wonnum, who led the team with six sacks, to be even more active this season.
KEY GAMES: South Carolina starts in the deep end when it opens SEC play against conference champion and national runner-up Georgia followed by rising Mississippi State. The good news for the Gamecocks is both contests are at home. The bad news is they have not beaten either team since 2014. Strong showings in those games could set the stage for a strong run through the SEC Eastern Division. The regular season concludes against state rival Clemson, which has won four straight in the series and is a favorite to make the College Football Playoff.
SEASON OPENER: South Carolina starts on Sept. 1 against second-year FBS member Coastal Carolina. The teams only meeting was a 70-10 drubbing by the Gamecocks when the Chanticleers were still an FCS program.
---
---