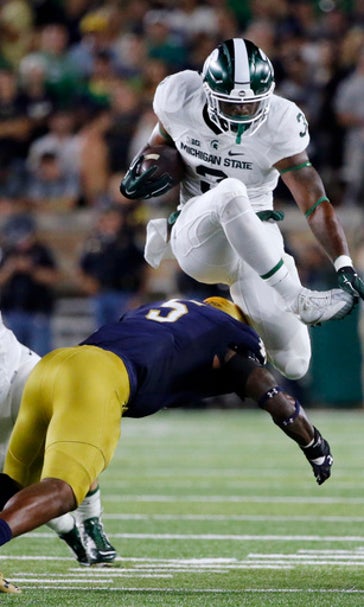 Morgan and Irish defense prep for No. 11 USC
October 19, 2017

SOUTH BEND, Ind. (AP) Nyles Morgan smiled at the question
He knows the Notre Dame defense is playing better this season.
''(The new defensive scheme) lets you play free; it's a little more simplified so guys can just fly around,'' said Morgan, a senior team captain. ''You have one job to do - do it hard, do it fast, and the ball should come to you.''
No. 13 Notre Dame (5-1) has adjusted just fine. Through six games, the Fighting Irish have already matched last season's total turnovers (14) with a margin of 1.17, tied for ninth nationally. The defense has only allowed one touchdown in the red zone. Notre Dame is one of seven FBS teams to rank among the top 30 nationally in both red zone offense (19th) and red zone defense (27th).
With this week being one of the biggest games of the year, as it always is whenever Southern California (6-1) is the opponent, the Irish know they have no choice but to go hard the entire game.
Coach Brian Kelly knows the USC offense is going to be one of the toughest his team is going to face all season.
''It's run/pass recognition,'' he said. ''We are going to get challenged in the passing game. We're going to have to play really well at that position (the linebackers).''
Morgan, who leads the team with 44 tackles and a sack, is looking forward to that challenge and the animosity this game always brings.
''You've got to come out and play hard because you know the guys in front of you (USC) are going to play hard,'' he said of the 11th-ranked Trojans.
Morgan has come a long way since his freshman season.
''Coming in as a freshman with our old scheme, there's a lot of pressure on the linebacker. You have to make all the checks, all the calls. My learning curve was very, very steep,'' he said.
A year ago, Kelly fired defensive coordinator Brian VanGorder after a loss to Duke left the Irish at 1-3. The season was a disappointment as the team finished 4-8, but the defense played better. Notre Dame now has Mike Elko running the defense and Clark Lea is in charge of Morgan and the rest of the linebackers. Both arrived in the offseason from Wake Forest.
With USC quarterback Sam Darnold coming off his second straight 300-yard, three-TD game, the Irish won't be able to take any plays off Saturday. Neither team can afford another loss and realistically remain in the mix for the College Football Playoff.
As for the revived defensive line, Morgan and the rest of the crew will have to focus on running back Ronald Jones II, who has scored a touchdown in the last 13 games.
''We expect to handle them like we do everybody else. Everybody is faceless, everybody is nameless - everyone is going to get our very best,'' Morgan said.
---
More AP college football: http://collegefootball.ap.org and https://twitter.com/AP-Top25
---
---