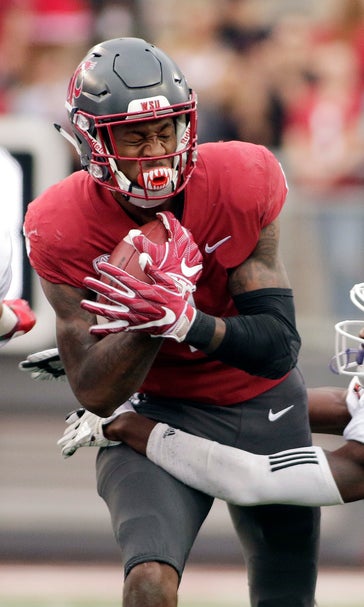 Minshew leads Washington St. over E. Washington 59-24
September 16, 2018
PULLMAN, Wash. (AP) — Graduate transfer quarterback Gardner Minshew didn't start playing with his Washington State teammates until fall drills, but you wouldn't know it from his production.
Minshew threw for 470 yards and two touchdowns as Washington State beat Eastern Washington 59-24 on Saturday night to avenge a 2016 loss to its FCS neighbor.
"We have a bunch of new receivers and a new quarterback," Washington State coach Mike Leach said. "All of it is tuning into one another."
"Those guys are getting tuned in together," Leach said.
Tay Martin caught 13 passes for 149 yards for Washington State (3-0), which piled up 565 yards of offense.
Gage Gubrud threw three touchdown passes but was intercepted three times for Eastern Washington (2-1), which upset the Cougars 45-42 in Pullman in 2016.
Eastern Washington came in leading the FCS with an average of 623 yards per game, but was limited to 372 yards.
Minshew, who played for East Carolina last year, completed 45 of 57 passes, two for touchdowns, and was not intercepted.
"It's awesome," Minshew said of throwing 57 times. "It's so much fun."
"We are getting better as an offense each week," Minshew said.
James Williams rushed for three Washington State touchdowns, despite getting just six total carries.
"We've just got to make plays when we get opportunities," Williams said.
Despite the final score, this one was close for three quarters.
"We counter-punched at times," Eastern Washington coach Aaron Best said. "We just didn't have enough juice in our counter punches. We turned the ball over four times."
"We shot ourselves in the foot," Best said.
Jalen Thompson intercepted a Gubrud pass to give the Cougars the ball on their own 32. James Williams punched the ball over from the 1 to give Washington State a 7-0 lead.
Minshew's 14-yard touchdown pass to Easop Winston Jr. lifted Washington State to a 14-0 lead.
Eastern Washington drove to Washington State's 19, but had to settle for Roldan Alcobendas' 37-yard field goal.
Travell Harris ran the subsequent kickoff back 100 yards for a touchdown.
Gubrud was intercepted near the goal line by Darrien Molton. Washington State drove 98 yards, and Williams plowed over from the 2 for a 28-3 lead.
But the Eagles were not going away.
Gubrud fired a 26-yard touchdown pass to Andrew Boston to cut Washington State's halftime lead to 28-10.
On the opening drive of the second half, Gubrud hit a wide-open Zach Eagle for a 34-yard touchdown pass to cut WSU's lead to 28-17.
Minshew completed seven consecutive passes as the Cougars drove from their 1 to the EWU 8. Williams covered that distance for his third touchdown and a 35-17 lead.
Gubrud replied with a 44-yard touchdown pass to Dennis Merritt to bring the Eagles within 35-24.
Gubrud was intercepted late in the third by Jahad Woods, giving the Cougars possession on Eastern's 27. But they had to settle for Blake Mazza's 44-yard field goal.
Minshew hit Martin with a 21-yard touchdown pass for a 45-24 lead with 9:47 left in the game and the Eagles did not threaten again.
THE TAKEAWAY
Eastern Washington: Coming into this game, the Eagles had won three of their past eight games against FBS opponents. They clearly belonged on the field with the Cougars for most of this game.
Washington State: Washington State's Air Raid offense gave the Cougars an early lead the Eagles could not overcome. Leach said his team played well in all three phases of the game. "We played kind of a complete game," Leach said.
ARE WE THERE YET?
Washington State had drives of 99 and 98 yards in the game.
BEVY OF RECEIVERS
In addition to Martin, Washington State's Jamire Calvin caught six passes for 70 yards. Winston caught six passes for 42 yards and Dezmon Patmon caught five for 57.
GAUGING GAGE
Gubrud had a huge game against the Cougars in 2016, throwing for five touchdowns and running for another. This time not so much. He completed just 14 of 36 passes for 231 yards. Zach Eagle caught four of the passes for 73 yards.
UNBALANCED OFFENSE
Washington State finished with 41 yards rushing and 524 yards passing.
UP NEXT
Eastern Washington hosts Cal Poly on Saturday.
Washington State faces its toughest test of the season when the Cougars travel to No. 22 Southern California on Friday night to open Pac-12 play.
---
---