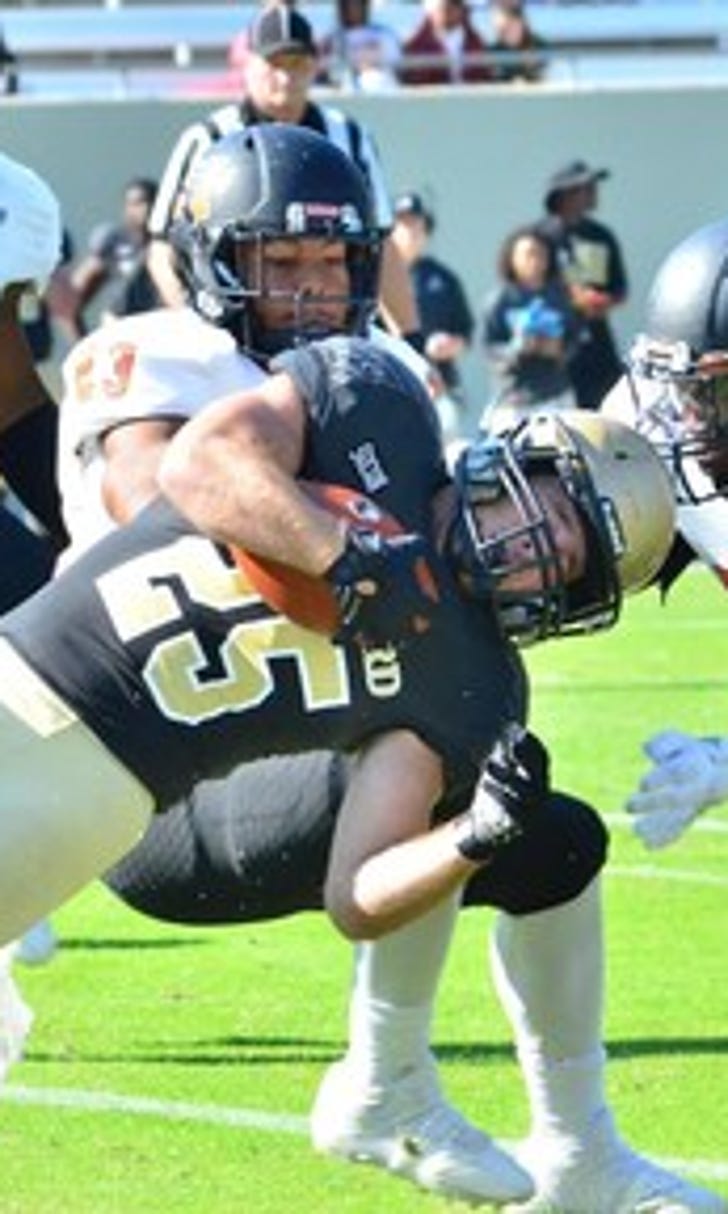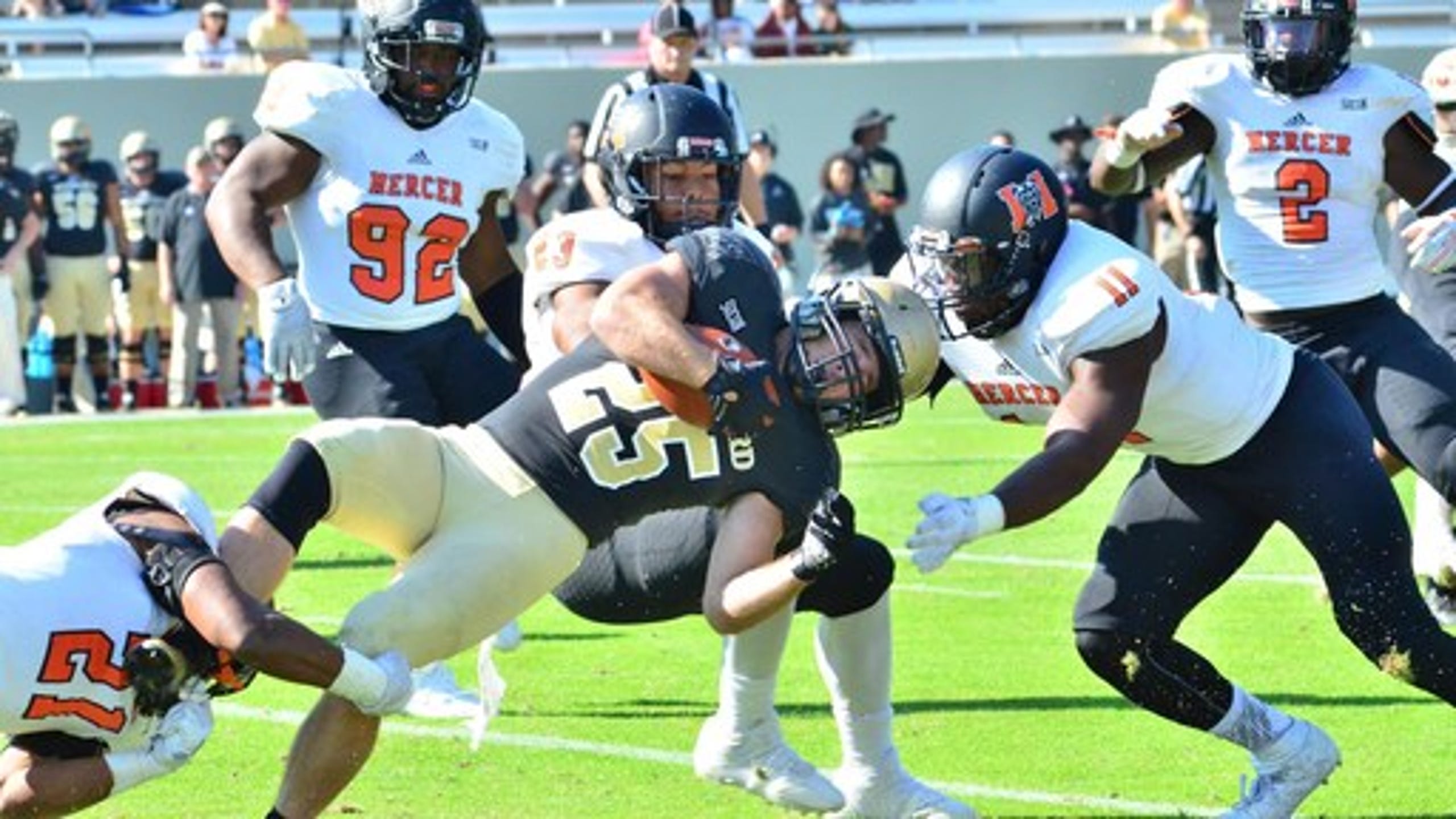 Mercer hopes to squeeze into SoCon title race
BY AP • July 18, 2017
(STATS) - One year after the Southern Conference had four teams qualify for the FCS playoffs for the first time, it seems the title race can't get any more crowded.
But the Mercer Bears are knocking at the front door and feel confident they can step into the mix.
Mercer is only in its fifth season since returning to football, but its program is maturing quite nicely, upsetting Southern Conference co-champion Chattanooga two years ago and going 4-4 in the conference last year. This season, the Bears are even stepping out of conference to face - gulp - Alabama and Auburn.
Not surprisingly, Mercer was ranked fifth behind the four 2016 playoff teams in this year's two SoCon preseason polls (head coach and media) at Tuesday's media day in Spartanburg, South Carolina. Wofford was installed as the preseason favorite followed by two-time defending champion The Citadel, Samford and Chattanooga.
Mercer finished fifth in last year's standings, losing to the four teams above it and beating the four below it.
"From a scholarship standpoint, this will be our first year with four scholarship classes in place. That puts us on a level playing field with everyone else," coach Bobby Lamb said. "We have a lot of guys who have played and have maturity on offense and defense. With those two factors, I think that puts us in the thick of things this year."
Mercer is a solid 27-19 over the last four seasons, including its return in 2013 as a one-year Pioneer Football League member. This year's team brings back 13 starters - seven on offense.
While the Bears are stocked in the skill positions, including Alex Lakes and C.J. Leggett at running back and Marquise Irvin, Avery Ward and Chandler Curtis at wide receiver, they'll have to replace four-year quarterback John Russ - presumably with either Tanner Brumby, a redshirt junior, or Kaelan Riley, a redshirt freshman.
"We're going to miss John Russ a tremendous amount for his leadership, intangibles and ability to play quarterback," Lamb said. "But we're excited about the guys we have on this year's roster at that position and believe we'll have success moving forward.
"Tanner Brumby is a big, physical kid who can also run it when necessary. Kaelan Riley is sneaky athletic; he might not have the quick burst that you want, but he's athletic enough to escape and make plays for us. Both of these young men have had every single rep in spring practice and will get every rep in preseason camp. We're looking forward to naming a starting quarterback the week before the game."
The strength of the defense will be at linebacker, led by seniors Lee Bennett and LeMarkus Bailey, who ranked second and third, respectively, in tackles last season, and pass rusher Will Coneway.
The next step might be the hardest for a relatively young program, but Mercer has an early chance to become a factor in the SoCon race. The Bears will host Wofford on Sept. 9.
Despite Chattanooga's fourth-place prediction in the preseason polls, the Mocs led the conference with nine players on the preseason first and second teams. The Mocs have a new head coach, Tom Arth, following Russ Huesman's departure for Richmond.
Preseason favorite Wofford was second with eight preseason selections, tying Samford for the most first-team picks with five each.
"Being selected No. 1 … that's nice," 30th-year coach Mike Ayers looked at the poll, "but let's wait to the end of November, and then we can start slapping ourselves on the back or kicking ourselves in the pants - whichever one."
The preseason players of the year were Samford junior quarterback Devlin Hodges, also the 2016 SoCon offensive player of the year, and The Citadel senior safety Kailik Williams, who gained the defensive honor.
---=
KEY SOUTHERN CONFERENCE GAMES=
Wofford at The Citadel (Oct. 14) - Last season's two games were memorable - a Citadel road win in overtime during the regular season before Wofford exacted revenge at the SoCon champ in the FCS playoffs.
Five More: Wofford at Mercer (Sept. 9); The Citadel at Samford (Sept. 30); Chattanooga at Mercer (Oct. 14); The Citadel at Chattanooga (Oct. 21); Chattanooga at Wofford (Nov. 4)
---=
SOUTHERN CONFERENCE FOOTBALL PRESEASON POLLS=
Head Coaches Poll
1. Wofford (7 first-place votes), 63 points
2. The Citadel (2), 54
3. Samford, 52
4. Chattanooga, 41
5. Mercer, 32
6. Western Carolina, 27
7. Furman, 26
8. East Tennessee State, 17
9. VMI, 12
Media Poll
1. Wofford (11), 178
2. The Citadel (6), 166
3. Samford (3), 156
4. Chattanooga (2), 152
5. Mercer, 101
6. Furman, 87
7. Western Carolina, 71
8. East Tennessee State, 49
9. VMI, 30
---=
SOUTHERN CONFERENCE PRESEASON TEAM=
Offensive Player of the Year: Devlin Hodges, QB, Samford
Defensive Player of the Year: Kailik Williams, DB, The Citadel
First Team
Offense
QB - Devlin Hodges, R-Jr., Samford
RB - Cam Jackson, Sr., The Citadel
RB - Detrez Newsome, Sr., Western Carolina
OL - Tyler Davis, Jr., The Citadel
OL - Matthew Schmidt, Sr., Furman
OL - Thomas Marchman, Sr., Mercer
OL - Josh Cardiello, Sr., Chattanooga
OL - Roo Daniels, Sr., Wofford
TE - Sam Walker, R-Jr., Mercer
WR - Kelvin McKnight, Jr., Samford
WR - Terryon Robinson, R-Sr., Western Carolina
Defense
DL - Ahmad Gooden, R-Jr., Samford
DL - Isaiah Mack, Jr., Chattanooga
DL - Miles Brown, Jr., Wofford
DL - Tyler Vaughn, Sr., Wofford
LB - Shaheed Salmon, Sr., Samford
LB - Dale Warren, Sr., Chattanooga
LB - Allan Cratsenberg, Sr., VMI
LB - Datavious Wilson, So., Wofford
DB - Kailik Williams, Sr., The Citadel
DB - Omari Williams, Sr., Samford
DB - Lucas Webb, Sr., Chattanooga
DB - Devin Watson, Jr., Wofford
Specialists
PK - Cole Fisher, Jr., Mercer
P - Ian Berryman, R-Jr., Western Carolina
RS - Detrez Newsome, Sr., Western Carolina
Second Team
Offense
QB - Alejandro Bennifield, Sr., Chattanooga
RB - Antonio Wilcox, Sr., Furman
RB - Richardre Bagley, Sr., Chattanooga
OL - Alex Rios, Sr., East Tennessee State
OL - Caleb Yates, Sr., Mercer
OL - Malcolm White, So., Chattanooga
OL - Nathan Dalton, R-Jr., Western Carolina
OL - Ross Demmel, Jr., Wofford
TE - Chandler Gouger, Sr., Wofford
WR - Marquise Irvin, Jr., Mercer
WR - James Stovall, Sr., Chattanooga
Defense
DL - Ken Allen, Jr., The Citadel
DL - Jonathan King, Sr., The Citadel
DL - Jaylan Reid, R-Jr., Furman
DL - Isaiah Buehler, R-Jr., Mercer
DL - Taylor Reynolds, Sr., Chattanooga
LB - Myles Pierce, Sr., The Citadel
LB - Dylan Weigel, R-Jr., East Tennessee State
LB - Ryan Francis, R-Sr., VMI
DB - Aaquil Annoor, Jr., Furman
DB - Trevor Wright, Sr., Chattanooga
DB - Greg Sanders, Sr., VMI
DB - Keion Crossen, Sr., Western Carolina
DB - George Gbesee, So., Wofford
Specialists
PK - J.J. Jerman, Jr., East Tennessee State
P - Austin Barnard, R-Sr., Samford
RS - Chandler Curtis, Sr., Mercer
---
---