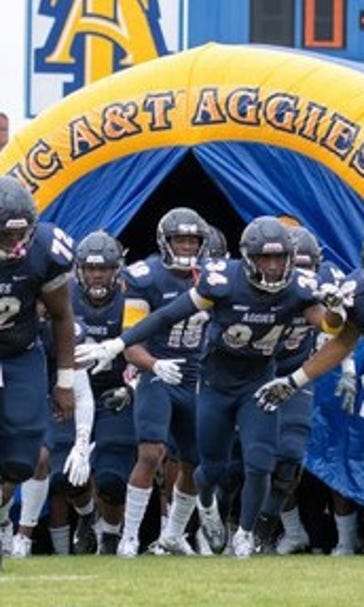 MEAC title race is a fight to the finish
October 21, 2017

(STATS) - The MEAC enjoyed one of its more fun days of conference action Saturday. The competitive action resembled the conclusion of the 2014 season, when five teams earned a share of the championship.
Well, maybe ...
Yes, the final month figures to be terrific, with the bid to the Air Force Reserve Celebration Bowl the prize. Five teams have zero or one conference loss heading toward the final weekend of October.
Unbeaten North Carolina A&T matched the best start in program history by rallying past Bethune-Cookman 24-20, while rival North Carolina Central's 18-game MEAC winning streak vanished in a 28-21 home loss to Norfolk State.
N.C. A&T (8-0, 5-0), ranked 12th in the FCS, won its thriller on Lamar Raynard's 4-yard touchdown pass to Trey Scott with 8:26 left in the fourth quarter, which erased a 20-17 deficit. Raynard finished with three TD passes and the Aggies matched the program's best start since the 1927 team finished 8-0.
"I don't care what level you're on, it is hard to win eight in a row," A&T coach Rod Broadway said. "Winning is hard enough, but when you're carrying a little extra weight with it, it makes it a little bit harder. We don't need to be focused on anything but the next game."
N.C. Central (5-2, 3-1), which has won a share of the last three MEAC titles, didn't recover from a 21-0 halftime deficit against Norfolk State (3-4, 3-1). Juwan Carter threw for four touchdowns to power the Spartans' upset, which left the 25th-ranked Eagles' conference winning streak three shy of South Carolina State's record of 21 straight from 2008-10.
Hampton (5-2, 4-0) also remained unbeaten in conference play with a 31-27 win over Florida A&M. Like Raynard, Hampton's Delmon Williams completed only 11 passes yet three went for touchdowns, including an 8-yard game-winner to Quinton Lee with 5:46 left to play.
Howard (4-3, 3-1) powered past Morgan State 39-14 to move into a third-place tie with Norfolk State and N.C. Central.
Complicating the race is the unbalanced schedule in the 11-team conference. The teams play eight conference games each, and N.C. A&T and Hampton won't face each other. But there are plenty of pivotal matchups ahead.
---
---