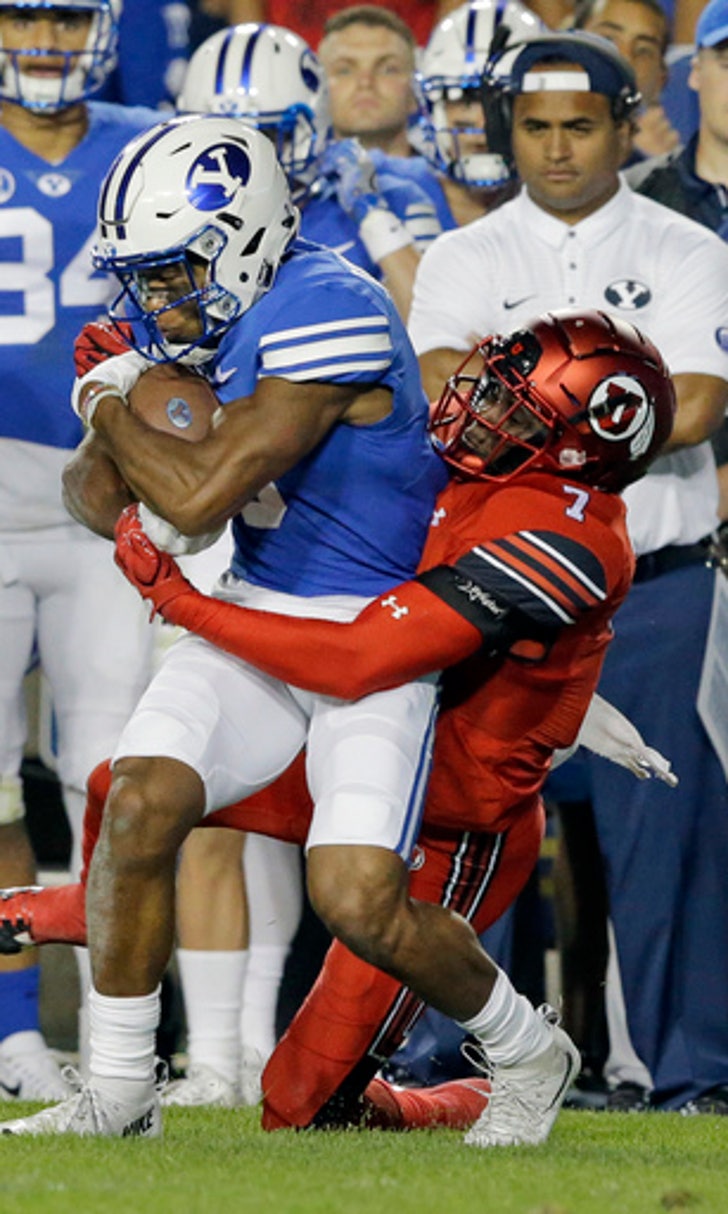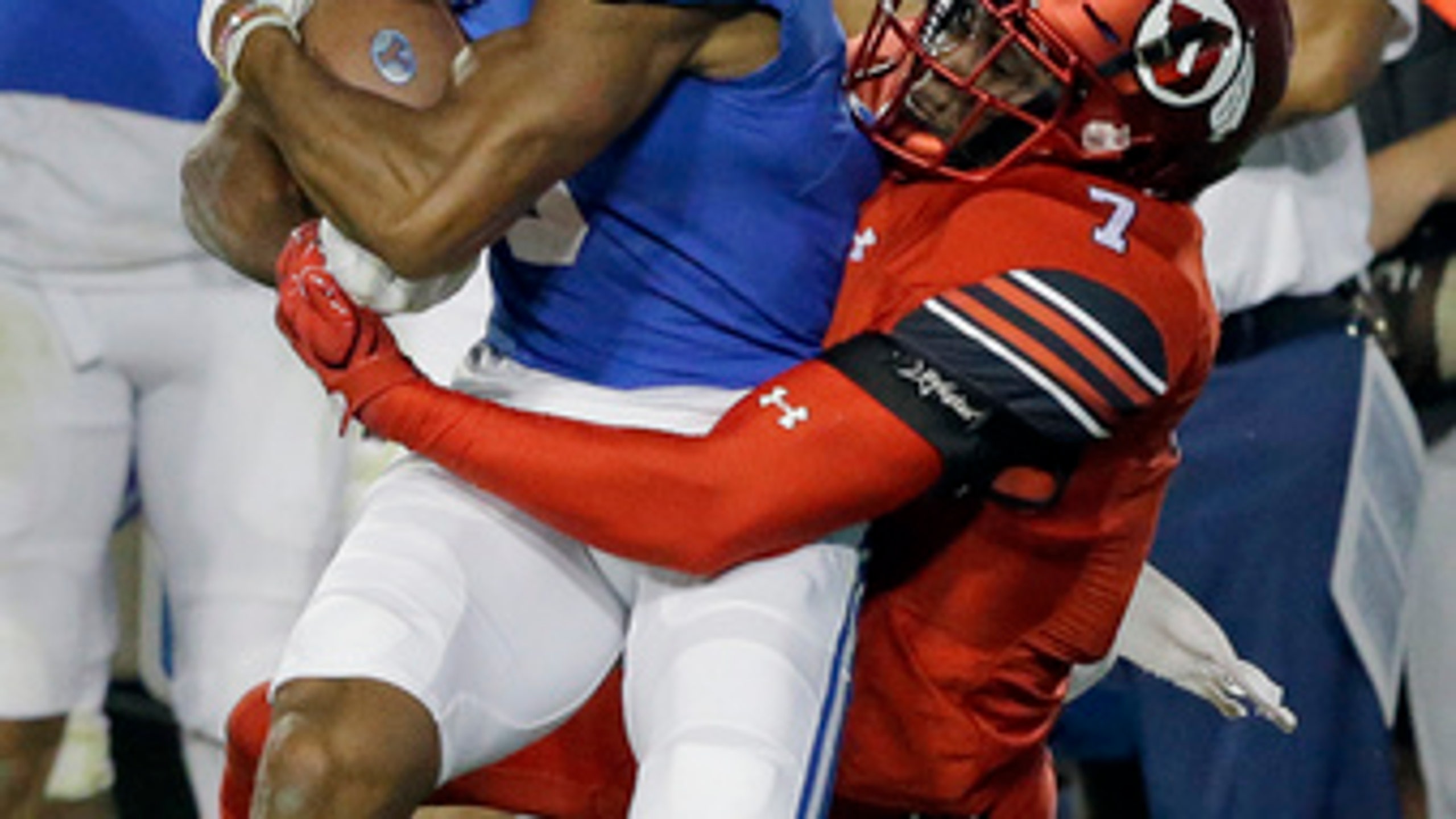 Mature freshman Jaylon Johnson shining at CB for Utah
BY AP • September 14, 2017
SALT LAKE CITY (AP) Jaylon Johnson could feel the anger growing inside after his parents started having difficulties in their marriage.
The household had been more than stable for the youngest of four but things began to change around middle school.
''I was a hot head when my parents were going through what they were going through,'' said Johnson, a freshman defensive back now making his mark at Utah. ''I definitely hit a wall at one point and just realized I have to change who I was as a person. I didn't want to be that bad kid that had a bad attitude and people didn't want to be around. So I definitely changed my whole perspective on life and I just wanted to be better as a person.''
Johnson's parents eventually split and the Fresno, California, native made one of many adult decisions that would in time send him to Utah, where he recorded his first career interception in his second collegiate game last week.
That angry period was out of character, according to those close to Johnson.
He always had a wise-beyond-his-years nature as the youngest of the family who intently listened to his siblings. His contemplative demeanor served him well in the classroom and in athletics. Johnson was one of the top cornerback recruits in the country coming out of high school and he committed to play at USC. He also received scholarship offers to play basketball in the Ivy League.
A coaching change at USC contributed to Johnson re-opening his recruitment and Utah cornerbacks coach Sharrieff Shah went to work on the 6-foot, 181 pounder with a blend of speed, smarts and physicality.
Utah's reputation as an up-and-coming Pac-12 program that has been adept at sending defensive backs to the NFL helped pique Johnson's interest. Utah had at least 10 defensive backs in NFL training camps this year and all but three have entered since the 2013 season.
Johnson's mom, Carmella, was confident her son would be successful on the field and in the classroom no matter where he went. She said Shah's interest in Johnson as a person and in his development as a man made the difference.
Still, the decision was Johnson's to make and he called his mom early during a visit to Salt Lake City to tell her Utah was better for his career than USC.
''Jaylon from a little child has always been a critical thinker,'' said Carmella, a therapist, college instructor and motivational speaker. ''I used to tell Jaylon, you need to go into law because you can argue a point to its minute essence with a blindfold and a muzzle.''
Johnson's maturation was part nature, part nurture, his parents explained. Education was always a priority and Carmella even home-schooled Johnson's siblings when they were young.
Johnny Johnson, a former Fresno State defensive back, was the football dad, coaching his kids from the time they were young and instilling an earn-it work ethic. Johnny Jr. is currently a graduate transfer at Fresno State after playing his first four years at UCLA.
Jaylon also watched family members fight through illnesses from a young age. He saw his older sister Jaleesa grow up dealing with ulcerative colitis and he helped feed Carmella when lupus kept her in a wheelchair for periods. He and Johnny Jr. would help lift her in the wheelchair up the stairs of their home since stress can caused the lupus to worsen.
''It was meant for me to grow up that early and ... just try to do my part and not add on to what we were going through,'' Jaylon said.
That maturity has helped Johnson get on the field quickly for the Utes. The Utah staff could tell he wasn't the average freshmen by the questions he asked during and since his recruitment. Johnson worked with the top units during camp and has been on the field early and often in both games this season.
''Being athletic enough to play the position is one thing, but being smart enough to understand concepts and be able to pick up the different things we ask our corners to do is another,'' defensive coordinator Morgan Scalley said. ''He has spent a lot of extra time leaning the defense on his own. That's what the great ones do. They don't want to be average or mediocre in anything they do. They're intent on learning the bigger picture, not just their position. Because of that, they understand how things fit together and where their puzzle piece fits in the grand scheme of things.''
---
More college football coverage: http://collegefootball.ap.org/ and www.Twitter.com/AP-Top25
---
---