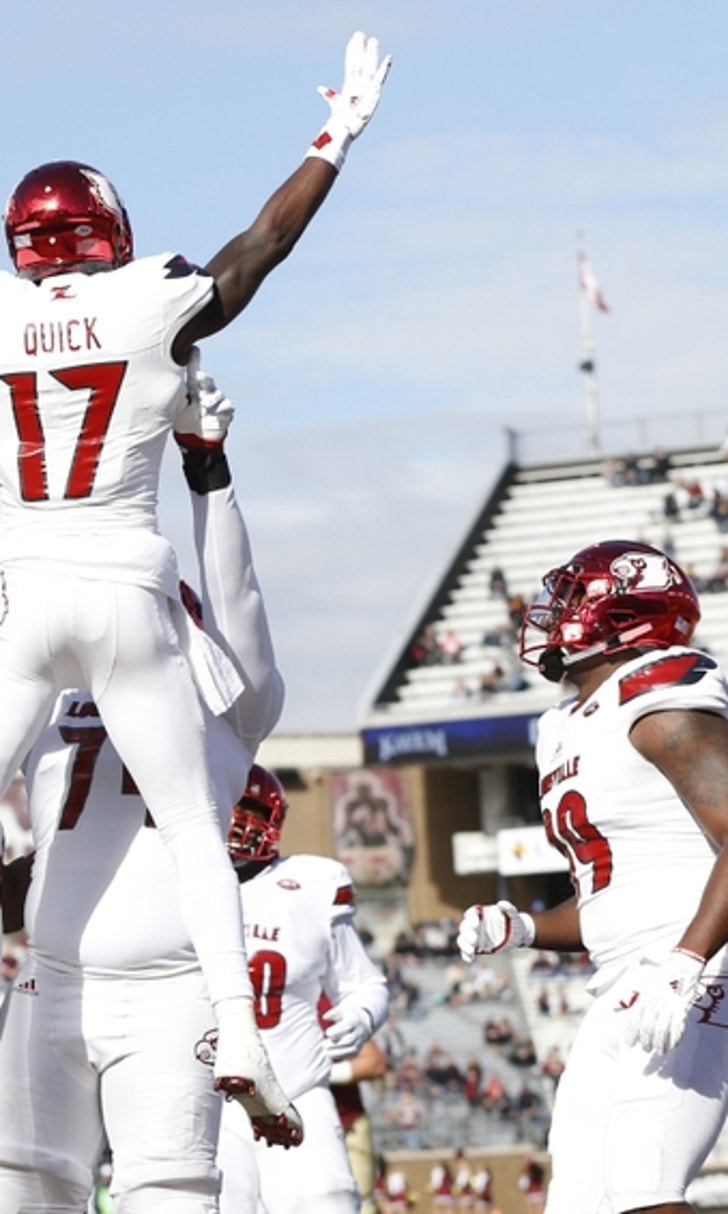 Louisville Football: 10 NFL Teams That Should Draft James Quick
BY Fansided and Derek Snyder/FanSided via Big Red Louie • December 25, 2016
We take a look at ten different teams in the NFL that should take a chance of drafting Louisville football player James Quick.
The Louisville football team will be wrapping up their 2016 season against the LSU Tigers ion Saturday afternoon. The Cards will be looking to avenge their late-season collapse and beat a very good SEC football team in the Citrus Bowl.
With the season coming to an end, it's only natural for us to start looking at the offseason and what that will hold for Louisville's seniors that will be entering the NFL draft, looking to make a name for themselves in professional football.
Here is James Quick's draft profile, according to Walter Football's website:
James Quick*, WR, Louisville
Height: 6-1. Weight: 191.
Projected 40 Time: 4.54.
Projected Round (2017): 4-6. 
12/3/16: Quick has been an effective receiver for Louisville and looks like he could be a nice value as a slot receiver in the NFL. He has 42 receptions for 688 yards and six touchdowns in 2016.
Walter Football is absolutely right, James Quick is going to have to be a slot receiver in the NFL in order to have the best chance of succeeding. He has all the talent in the world, but drops and bad mental decisions have come to haunt his senior season at Louisville.
However, a strong combine and handful try-outs could significantly sway NFL team's opinions on his ability to produce. With that being said, let's take a look at ten team that should consider drafting James Quick in this year's NFL Draft.
Dec 22, 2016; Philadelphia, PA, USA; Philadelphia Eagles running back Darren Sproles (43) runs for a touchdown against the New York Giants during the first quarter at Lincoln Financial Field. Mandatory Credit: Bill Streicher-USA TODAY Sports
10. Philadelphia Eagles
There's no doubt about it, if James Quick is going to be successful in the National Football League, it's because he will be playing the in the slot. He simply isn't big or physical enough to play on the outside, but with that being said, some players are just meant to play inside. It's just how things work out in football.
The Eagles would present a very good situation for Quick in his rookie season. They just drafted QB Carson Wentz last year, they don't have a solid slot receiver, and also have a tons of wide-outs who haven't established themselves as franchise players.
I believe that Quick's speed would be extremely appealing to Philadelphia. They have a few guys who can really turn on the burners and he would fit right in.
For now, the Eagles would be the tenth choice on our list.
Dec 18, 2016; Baltimore, MD, USA; Baltimore Ravens linebacker Terrell Suggs (55) gets introduced prior to the game against the Philadelphia Eagles at M&T Bank Stadium. Mandatory Credit: Evan Habeeb-USA TODAY Sports
9. Baltimore Ravens
This would present a little different situation for James Quick because I don't think he could come in and play right away for the Ravens in his rookie year. It might take a year or so to prove himself on the practice field before they would be comfortable playing him over some of their top receivers.
With that being said, Baltimore is a very solid organization that knows how to win. They truly know how to develop young football players and turn them into gold.
Not to mention, playing with a Super Bowl champion quarterback Joe Flacco wouldn't be a bad situation for James Quick either.
If I do have a hesitation with this choice, it's because of the physicality of the division the Ravens play in. Quick has never been a guy to love contact, but you never know how that might change when he becomes a professional football player.
Dec 11, 2016; Detroit, MI, USA; Chicago Bears head coach John Fox during the game against the Detroit Lions at Ford Field. Mandatory Credit: Tim Fuller-USA TODAY Sports
8. Chicago Bears
Personally, I think that Chicago would be a great situation for James Quick to walk into. Their team is currently a mess, but they have a head coach in John Fox who has been around forever and is a pretty darn good football coach.
Other than Alshon Jeffery, the Bears haven't had another receiver come in and establish himself this season. Yes, that includes former Louisville football player Josh Bellamy, but in his defense, he has done a solid job for what his talent ceiling is.
Quick would have an opportunity to be on a rebuilding football team that is looking to younger talent to come in and produce.
I wouldn't be surprised at all to see Chicago take a chance on Quick in this year's draft.
Dec 24, 2016; Seattle, WA, USA; Arizona Cardinals kicker Chandler Catanzaro (right) celebrates his game-winning field goal as time expired against the Seattle Seahawks at CenturyLink Field. Arizona defeated Seattle, 34-31. Mandatory Credit: Joe Nicholson-USA TODAY Sports
7. Arizona Cardinals
Here we go, James Quick could go from one Cardinals team to another after this season. Arizona hasn't been able to live up to the exceedingly high expectations places on them this season, which should mean that they will be critically examining their roster after the season is over.
The best part about this situation for James Quick is that it would give him an opportunity to learn under future Hall-of-Fame wide receiver Larry Fitzgerald. I truly believe that some of the best players in the NFL become who they are because of the leadership placed around them.
Whether that's players or coaches, Arizona has a great situation for a young wide receiver who is trying to make a name and career for himself.
While this may be a reach, the Cardinals would make a wise decision by drafting him this April.
Dec 24, 2016; Los Angeles, CA, USA; San Francisco 49ers quarterback Colin Kaepernick (7) celebrates scoring the game-winning two-point conversion with teammate San Francisco 49ers wide receiver Rod Streater (81) in the 49ers 22-21 win over the Los Angeles Rams at Los Angeles Memorial Coliseum. Mandatory Credit: Robert Hanashiro-USA TODAY Sports
6. San Fransisco 49ers
There's no doubt about it, the 49ers are a terrible football team right now that will probably get the second pick in the upcoming NFL Draft. Who knows what they're quarterback situation will look like next year, but what I do know is that they don't have more than two established receivers right now.
Not to mention, to even say they have two is a bit of a stretch.
Former Oregon Ducks head coach, also current 49ers head coach, loves speedy football players. His bases his entire roster off that trait and Quick would fit right in.
It would also be a scenario where he could come in and contribute in a hand full of ways. Whether that's returning punts or playing special teams, there's a place for James Quick on the 49ers football team.
Dec 18, 2016; Cincinnati, OH, USA; Cincinnati Bengals quarterback Andy Dalton (14) against the Pittsburgh Steelers at Paul Brown Stadium. The Steelers won 24-20. Mandatory Credit: Aaron Doster-USA TODAY Sports
5. Cincinnati Bengals
The Bengals would present another interesting situation for James Quick. It would give him a sense of comfort, since they are only over an hour from Louisville and they don't have a handful of established receivers on their team either.
They rely a lot on their two Pro-Bowl caliber players AJ Green and Tyler Eifert in the passing game, but other than that, they are still looking for guy to come in and contribute.
Like many of the other teams on this list, the Bengals would actually let James Quick be a part of this team from the start. There wouldn't be much waiting time for him as a rookie because of his speed and quickness.
James Quick would give Bengals' quarterback Andy Dalton one more target in his arsenal on offense.
Dec 11, 2016; Detroit, MI, USA; Detroit Lions quarterback Matthew Stafford (9) celebrates after scoring the game winning touchdown during the fourth quarter against the Chicago Bears at Ford Field. Lions win 20-17. Mandatory Credit: Raj Mehta-USA TODAY Sports
4. Detroit Lions
If the Lions want to consistently be competing for a division title, then they need to continue to build the depth on their football team. This definitely isn't a situation where James Quick would end up being a top receiver, but he could play a significant back-up role on a playoff-worthy football team.
The Lions have pulled in Golden Tate and Marvin Jones from free-agency over the past few season and they are easily his top targets in the passing game.
With that being said, Quick would be a viable option for Detroit as a back-up wide receiver.
It wouldn't be a very stressful situation either because the spotlight is never on Detroit, therefore dropping the football wouldn't become a huge distraction for the Lions.
Again, the Lions needs to build their depth, therefore drafting James Quick would accomplish just that.
Dec 24, 2016; Orchard Park, NY, USA; Buffalo Bills quarterback Tyrod Taylor (5) throws a pass during the second half against the Miami Dolphins at New Era Field. The Dolphins beat the Bills 34-31 in overtime. Mandatory Credit: Kevin Hoffman-USA TODAY Sports
3. Buffalo Bills
The Bills could have a different head coach by next season, which could completely change their plans in the draft, but I still believe that James Quick would be a nice addition to their football team. They tend to like speedy receivers that can make guys miss in open space.
If that's still what they're looking for next season, then James Quick would be an easy choice for Buffalo.
The Bills need more receivers on their roster that they can count on every game. This is a team that struggles with injuries and lack of talent at the wide-out position.
Not to mention, their head coach loves Louisville football players.
James Quick could be yet another former Cardinal for Bills' head coach Rex Ryan in 2017.
Dec 18, 2016; Minneapolis, MN, USA; Indianapolis Colts wide receiver Phillip Dorsett (15) celebrates his touchdown with wide receiver T.Y. Hilton (13) during the fourth quarter against the Minnesota Vikings at U.S. Bank Stadium. The Colts defeated the Vikings 34-6. Mandatory Credit: Brace Hemmelgarn-USA TODAY Sports
2. Indianapolis Colts
The Colts would be one of the best places that James Quick could end up next season. He wouldn't have the opportunity to play right away, but he would be a nice addition to an already strong receiver core in Indianapolis.
Colts' quarterback Andrew Luck demands a lot from his teammates and that just may be what it will take for James Quick to take his game to another level.
Just like Buffalo, the Colts struggle with injuries to their receiving core year in and year out. They need to keep bringing in receivers that can help their passing game continue to thrive because their window of dominating the AFC South is closing fast, if it hasn't closed already.
Do yourselves a favor Indianapolis and draft James Quick.
Dec 24, 2016; Los Angeles, CA, USA; Los Angeles Rams quarterback Jared Goff (16) throws a pass during the first quarter against the San Francisco 49ers at Los Angeles Memorial Coliseum. Mandatory Credit: Robert Hanashiro-USA TODAY Sports
1. Los Angeles Rams
There are two things that we know for sure about the Los Angeles Rams. They will have a new head coach next season and they aren't playing good football right now. This would be an amazing situation for James Quick to come in and play a ton next year.
The Rams do not have one receiver on their team that is a solid NFL player. Every one of their wide-outs have trouble holding onto the football and making simple plays for 2016 1st Overall pick Jared Goff.
With that being said, there's no reason that James Quick couldn't compete for a job on this team. He has every bit of the talent that any one of those guys have on the Rams.
This would be a great destination for a guy who is looking to play receiver in the NFL in his rookie year.
More from Big Red Louie
This article originally appeared on
---
---