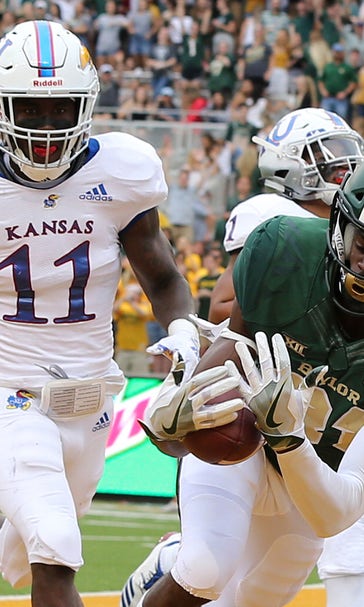 Kansas, K-State trying to find footing as Big 12 rolls on
September 25, 2018
LAWRENCE, Kan. (AP) — The prevailing thought surrounding Kansas last week was that the Jayhawks had finally turned the corner, and a lopsided win over a fellow Power Five school in Rutgers was proof coach David Beaty was making progress in his vast rebuilding job.
Just down Interstate 70, there was hope heading into the Big 12 schedule that Kansas State was on track after a win over UTSA following an embarrassing loss to Mississippi State.
So much for any of that.
The Jayhawks were thrashed by Baylor last Saturday, an offense that piled up 55 points against the Scarlet Knights at home rendered impotent on the road by the Bears. And the Wildcats were routed by West Virginia, their own offense looking nothing like the juggernaut of old under Bill Snyder.
Now, the two schools are each 2-2 overall and sitting in the Big 12 cellar.
"I don't think we played well enough," Beaty said, "and I certainly don't think we coached them well enough. I think we got out-coached on (offense), starting with me. And that's not acceptable."
The Jayhawks, who face Oklahoma State this weekend, ran for 400 yards against Rutgers and had more than 500 yards of total offense. They were held to 122 yards rushing and fewer than 300 total by the Bears, even though Beaty is himself an offensive-minded coach.
Freshman standout Pooka Williams ran 14 times for 89 yards, which may have been the biggest bright spot on the day. But the Jayhawks largely had to abandon the run after falling into a 23-0 halftime hole, instead putting any potential comeback on the shoulders of their quarterback.
Or more accurately, quarterbacks.
Perhaps the most troubling thing for Kansas is that four weeks into the season, Beaty still has not settled on a starter. Peyton Bender had taken the majority of the snaps but has done little to warrant the job, going 10 of 17 for 105 yards and a touchdown against Baylor. Carter Stanley was 4 of 6 for 37 yards against Baylor, and Miles Kendrick was 2 of 4 for just seven yards.
"We just have to focus and execute better," Kansas wide receiver Jeremiah Booker said. "We left a lot of plays on the field. We wish we could have it back, but we'll just watch film, break it down, and see if we can do it better next week."
Beaty did take some positives from the performance. The Jayhawks held the Bears to three points in the second half, and a program that was once dominated at every position proved it finally has athletes that can hang with other schools in the Big 12.
"I did not think we were outmatched. I'll tell you that," Beaty said. "I mean that with all due respect to Baylor. They have a really nice football team. Matt (Rhule) has done a really good job recruiting. But that's certainly not going to be an excuse. We had plenty to get it done."
Kansas State, meanwhile, may not have the athletes to keep up with its Big 12 rivals.
The Wildcats only lost a handful of starters on both sides of the ball, but they were some of their biggest playmakers, including wide receiver Byron Pringle and cornerback and kick returner D.J. Reed.
Their departures have left gaping holes that Kansas State has been unable to fill.
Throw in the inconsistency of returning quarterbacks Skylar Thompson and Alex Delton, who like the Kansas signal-callers have been unable to create any separation, and an offense that once marched up and down the field at will has struggled to find any sort of identity. That's disconcerting with red-hot No. 18 Texas coming to town on Saturday.
"You have to take your hat off to West Virginia. They did a nice job," Snyder said, "but we had some execution issues. We didn't always get ourselves into the right checks. There are a ton of things. We were just a bad offense period. Like sandlot football for a while."
Snyder saw it coming, too.
"We prepared poorly on Tuesday, and we prepared poorly on Wednesday," he said. "We had a good Thursday practice, but I shared with our players that we can't do it that way. We have to get better on Tuesday, Wednesday and Thursday if we're going to play well on Saturday."
That goes for both struggling schools in the Sunflower State.
---
---