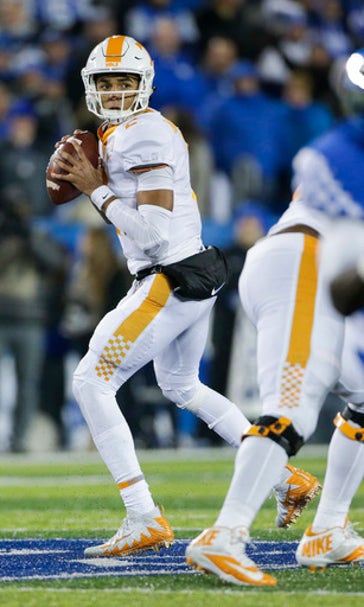 Johnson's TD run rallies Kentucky past Tennessee 29-26 (Oct 28, 2017)
October 29, 2017

LEXINGTON, Ky. (AP) Kentucky quarterback Stephen Johnson shrugged off the injured left shoulder that briefly sidelined him by returning to the game for even more punishment.
The senior showed his toughness on the game-winning touchdown run in which he dove for the end zone and landed backward on the non-throwing shoulder. Johnson happily bounced back up as if nothing happened, symbolizing the Wildcats' resilience against Tennessee.
Johnson ran for an 11-yard touchdown with 33 seconds remaining and hit Benny Snell with the 2-point conversion pass, Snell rushed for three first-half TDs and Kentucky rallied past Tennessee 29-26 Saturday night for its first win over the Volunteers since 2011.
''I mean yeah, I just tried to get in there and did,'' Johnson said of his TD. Cheered as he ran out of the tunnel following his examination, he added that there was no doubt he'd return to the game.
''I told him (the trainer) on the sideline to just get me in there to see what's wrong and get me right back out. I definitely was going to continue playing this game.''
Kentucky's diligence ultimately overcame a similarly-determined Tennessee squad.
Few teams lose four fumbles and win, but the Wildcats (6-2, 3-2 Southeastern Conference) persevered despite stalling at times in the second half. The defense limited Tennessee to three field goals off those turnovers and held firm late to give the offense one last chance to respond with a TD drive behind Snell, who rushed for 180 yards on 27 carries.
The sophomore's short run for first down at the Tennessee 11 set up Johnson's keeper two plays later for a 27-26 lead.
Johnson then took a double-reverse handoff and found Snell near the goal line for the needed cushion as Kentucky dealt Tennessee (3-5, 0-5) its fourth straight loss. The Wildcats' win was just their second in 33 series meetings, but good enough to spark a joyous on-field celebration on a cold and sometimes-snowy night.
The Wildcats became bowl eligible for a second straight year.
''How many times have we been on the wrong end of that (outcome) for 33, 34 years?'' Kentucky coach Mark Stoops asked afterward. ''There have been many times when we've played some good football and came up on the wrong end. It's really nice to be on that other end, to just hang in there.''
Tennessee quarterback Jarrett Guarantano completed a 48-yard Hail Mary pass to Jeff George that fell three yards short of the end zone as time expired.
Freshman Ty Chandler rushed for career bests of 120 yards and two second-quarter touchdowns to end Tennessee's offensive drought at 15 quarters. Brent Cimaglia kicked four field goals but missed two, keeping the Volunteers winless in SEC play.
THE TAKEAWAY
Tennessee: Needing a boost on many levels and without several key players, Chandler and Guarantano stepped up with big games that nearly pushed the Volunteers over the top. Guarantano completed 18 of 23 passes for 242 yards while Chandler filled a big void with leading rusher John Kelly suspended . Tennessee outgained Kentucky 445-371 but couldn't stop the Wildcats or Snell late. Missed opportunities bothered coach Butch Jones the most.
''We didn't capitalize on our turnovers,'' he said. ''We weren't able to capitalize on our great field position, missed two field goals.''
Kentucky: Snell's big first half included a 48-yard run. The Wildcats' defense was tested but held Tennessee to three field goals after the fumbles. They also sacked Guarantano seven times, including several crushing hits.
''We knew what we had to do and that there would be some ups and downs,'' said linebacker Josh Allen, who had seven tackles. ''The offense knew we had their backs.''
Snell came up big again in the clutch and Johnson came back from a left shoulder injury to mount the key rally. The QB rushed six times for 84 yards, a huge contribution as they outgained Tennessee 289-203 on the ground.
CHIPPY PLAY
Tensions were high as might be expected between border rivals and erupted into one first-quarter fight that drew offsetting unsportsmanlike conduct penalties and warnings of ejections. Two subsequent skirmishes led to ejections for Tennessee linebacker Daniel Bituli and Rashaan Gaulden, the Vols' fourth-leading tackler. Kentucky lost cornerback Davonte Robinson and wide receiver Tavin Richardson.
UP NEXT
Tennessee hosts Southern Mississippi on Nov. 4. The Golden Eagles lost 24-17 to Kentucky in the opener.
Kentucky hosts Mississippi on Nov. 4.
---
More AP college football coverage: http://collegefootball.ap.org and on Twitter at http://twitter.com/APTop25
---
---