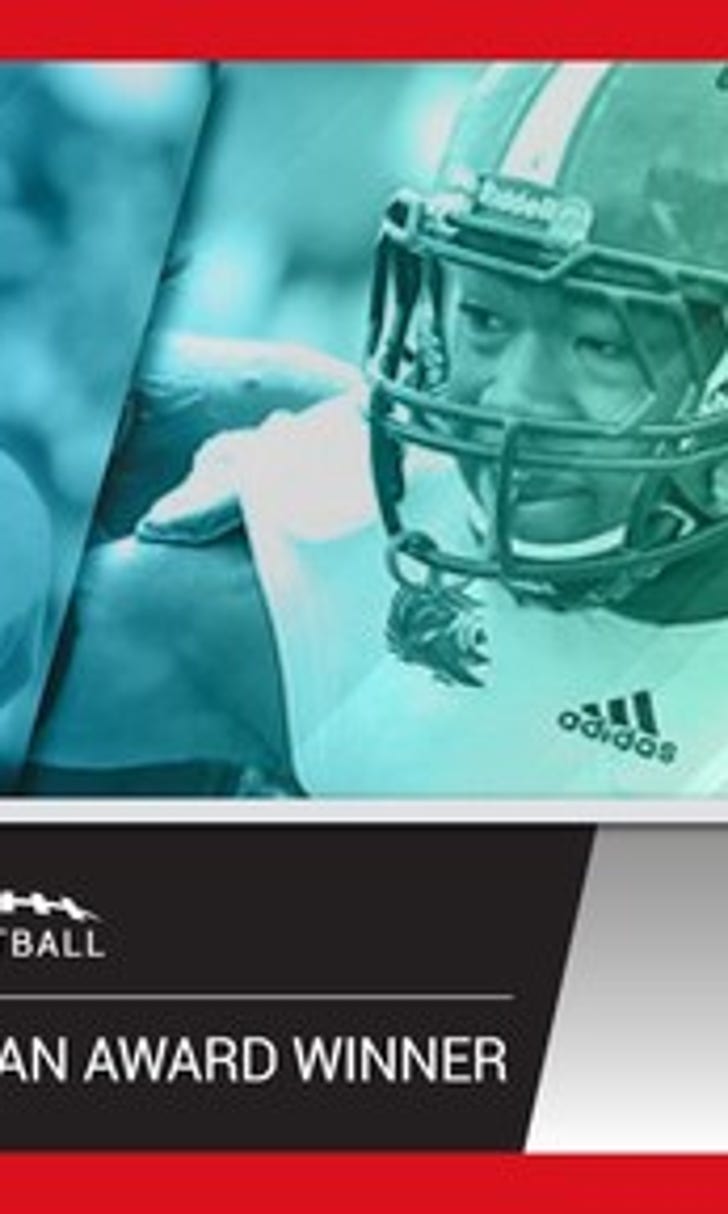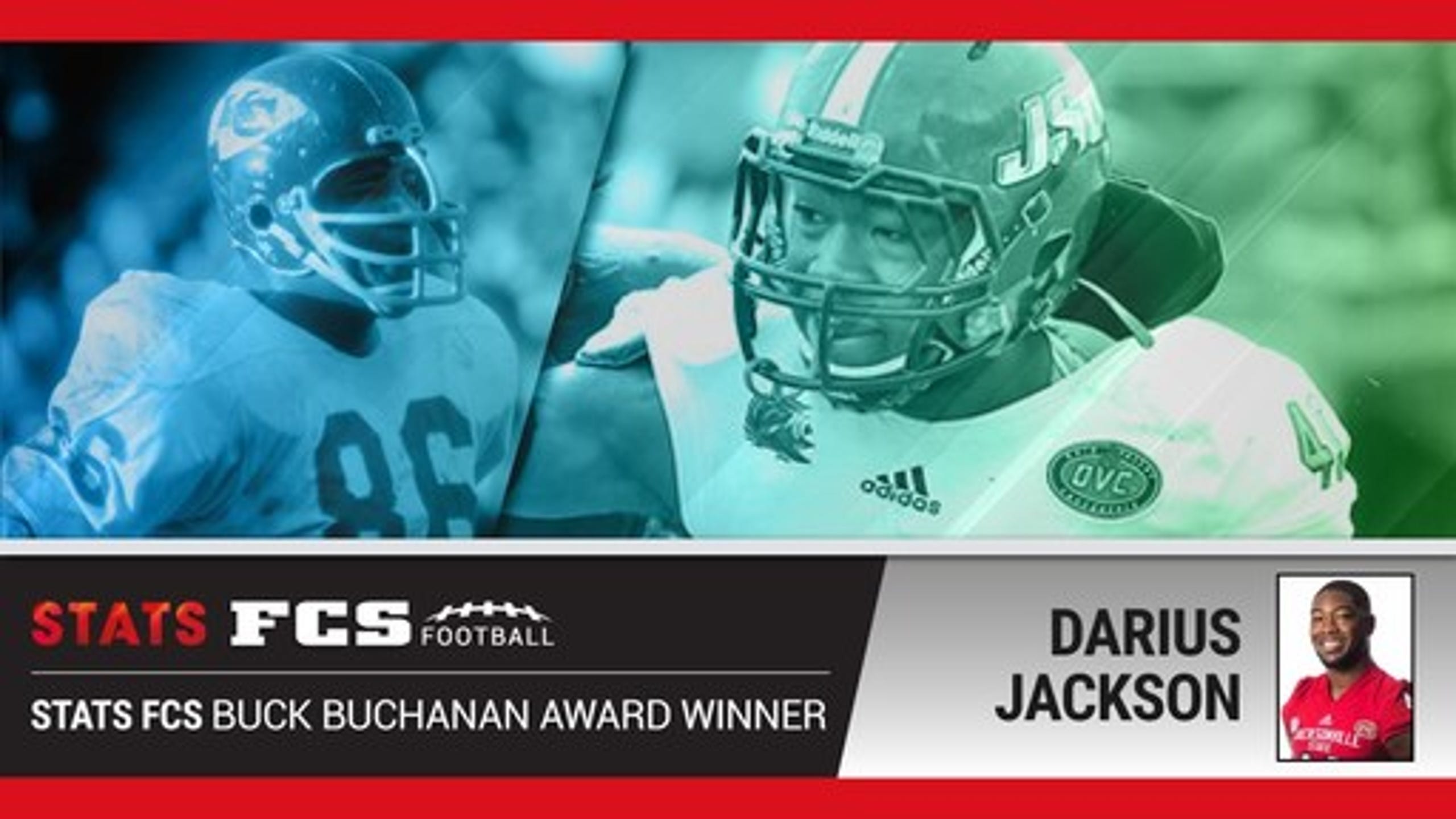 Jacksonville State's Jackson wins Buck Buchanan Award
BY AP • January 5, 2018
(STATS) - People are quick to describe Jacksonville State's Darius Jackson as easygoing by nature.
Those who don't know him may not say that after watching how the senior defensive end terrorize opposing offenses.
Jackson capped a stellar career Friday night by winning the 2017 STATS FCS Buck Buchanan Award at the national awards banquet in Frisco, Texas.
A national panel of 151 sports information and media relations directors, broadcasters, writers and other dignitaries selected Jackson as the FCS defensive player of the year in the narrowest vote possible, his 304 points edging Western Illinois senior linebacker Brett Taylor's 303, with James Madison senior defensive end Andrew Ankrah finishing third with 259 points.
"He's the same guy every day, brings a lot of energy and makes plays day in and day out," Jacksonville State coach John Grass said. "You've got to account for him and know where he's at on the field. And that opens up a lot of other things for us, too. And the leadership he shows day in and day out is huge. He always gives everybody a smile on their face - it's just good, positive energy."
Jackson, from Bessemer, Alabama, entered college as a safety/linebacker, but grew into a 6-foot-3, 237-pound defensive end. As a senior, the Ohio Valley Conference's first two-time defensive player of the year since Eastern Kentucky's George Floyd in 1980 and '81 broke his own school single-season record with 20 1/2 tackles for loss (for 116 yards). He also totaled 55 tackles, seven sacks, 23 quarterback hurries, three forced fumbles and two fumble recoveries.
He will leave Jacksonville State as its all-time leader in sacks (27 1/2), tackles for loss (60 1/2) and yards from tackles for loss (277). The Gamecocks went 43-8, never lost an OVC game and were the 2015 FCS runner-up in his four seasons.
Taylor, the Missouri Valley Football Conference's defensive player of the year, is ranked No. 1 in the FCS in tackles (162) and tackles per game (13 1/2). While leading WIU to the playoffs, the 6-2, 230-pounder also totaled 13 tackles for loss, 1 1/2 sacks, four pass breakups and two forced fumbles.
Ankrah, the CAA Football defensive player of the year, helped 2016 FCS champ James Madison return to the national championship game on Saturday. The 6-4, 248-pounder has 54 tackles, 15 1/2 tackles for loss, 8 1/2 sacks, two forced fumbles, two fumble recoveries, four quarterback hurries and a defensive touchdown.
Past winners of the Buck Buchanan award, named for the Pro and College Football Hall of Famer and presented since 1995, include Dexter Coakley, Rashean Mathis, Jared Allen, Arthur Moats and Kyle Emanuel.
The 2017 voting results:
1. Darius Jackson, DE, Jacksonville State: 29-18-20-11-5-304
2. Brett Taylor, LB, Western Illinois: 32-20-12-9-9-303
3. Andrew Ankrah, DE, James Madison: 23-22-12-8-4-259
4. Jonathan Petersen, DE, San Diego: 7-8-18-11-4-147
5. Darius Leonard, LB, South Carolina State: 9-12-6-11-10-143
6. Mike Basile, S, Monmouth: 6-10-9-13-6-129
7. Ahmad Gooden, DE, Samford: 2-11-10-13-9-119
8. P.J. Hall, DL, Sam Houston State: 7-8-6-6-11-108
9. Anthony Ellis, DE, Charleston Southern: 4-5-8-8-9-89
10. Warren Messer, LB, Elon: 5-4-6-4-9-76
11. Sione Teuhema, LB, Southeastern Louisiana: 7-3-3-5-1-67
12. Nick DeLuca, LB, North Dakota State: 5-2-6-5-2-63
13. Tremon Smith, CB, Central Arkansas: 3-5-2-6-7-60
14. Matthew Oplinger, LB, Yale: 3-4-2-5-8-55
15. Brandon Bryant, LB, Lafayette: 2-2-5-5-5-48
16. Jared Farley, LB, Northern Iowa: 2-1-5-7-4-47
17. Marlon Bridges, S, Jacksonville State: 0-6-3-4-5-46
18. Garrett Dolan, LB, Houston Baptist: 1-2-1-5-16-42
19. Jaison Williams, DE, Austin Peay: 0-2-3-6-7-36
20. Christian Rozeboom, LB, South Dakota State: 1-2-3-2-7-33
21. Josh Buss, LB, Montana: 1-1-2-1-8-25
22. (Tie) De'Arius Christmas, LB, Grambling State: 1-1-3-0-3-21
22. (Tie) Devontae Harris, CB, Illinois State: 0-1-4-2-1-21
24. Mario Jenkins, LB, Idaho State: 1-1-1-3-0-18
25. Malik Duncan, CB, Saint Francis: 0-0-1-1-1-6
A first-place vote was worth five points, a second-place vote four points, a third-place vote three points, a fourth-place vote two points and a fifth-place vote one point.
---
---