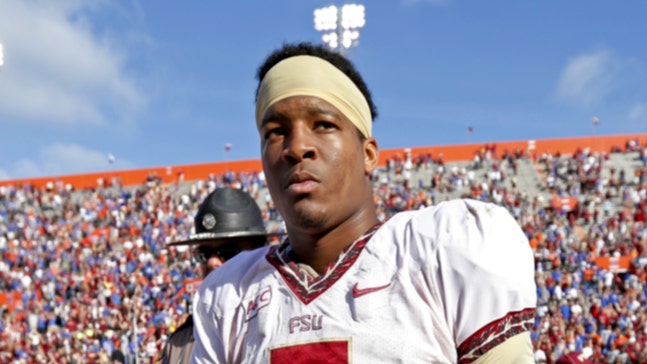 Investigator says FSU's Jameis Winston avoided store security
Updated
Mar. 4, 2020 10:39 p.m. EST

Florida State quarterback Jameis Winston was cited last week for shoplifting and said it was an honest mistake, but the incident report released Monday stated he intentionally avoided store security.
Winston was cited and subsequently suspended from the Seminoles baseball team (for which he is the closer) until he completed 20 hours of community service after last week's incident at a Florida grocery store. He completed that service and was reinstated Sunday.
In a statement, Winston acknowledged he walked out of the Ocala Road Publix with an order of crab legs and crawfish without paying, calling the mistake a "moment of youthful ignorance."
But in the incident report released by the Leon County Sheriff's Office and first obtained by Tallahassee.com on Monday, a deputy states Winston appeared to intentionally avoid security on his way out of the store.
After viewing the Publix surveillance video, the deputy wrote that Winston paused in front of store security as an attempt to avoid walking past, the report stated:
You can read the full report here.
According to the report, Winston then walked behind the deputy and past the registers without paying for his food.
The report states Winston took three pounds of crab legs, one pound of crawfish and a package of butter, valued at $32.72.
Winston told deputies he did not steal the butter, instead dropping it in a bin before leaving the store.
---
---