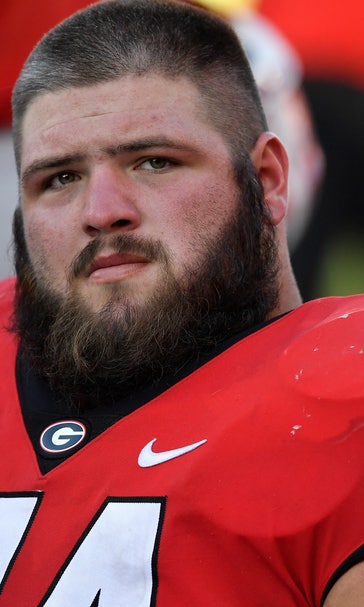 Injuries could provide test to No. 2 Georgia's OL depth
September 24, 2018
ATHENS, Ga. (AP) — Ben Cleveland and Andrew Thomas are two reasons the offensive line is considered one of No. 2 Georgia's deepest positions.
Injuries to the two could test that depth when Georgia (4-0, 2-0 Southeastern Conference) plays Tennessee (2-2, 0-1) on Saturday.
Coach Kirby Smart said Monday Cleveland, the starting right guard, is out indefinitely with a fractured left fibula suffered in last week's 43-29 win at Missouri . Thomas, the starting left tackle regarded as perhaps the unit's top player, left last week's game early after aggravating his sprained left ankle.
Thomas may play against the Volunteers.
Smart said Thomas "was no worse off with the ankle" and added he "felt like he probably could have gone back in if he had to in an emergency" against Missouri.
Cade Mays, a freshman from Knoxville, Tennessee, replaced Thomas. Sophomore Justin Shaffer filled in for Cleveland.
If coaches are confident Thomas can play a full game this week, Mays could compete with Shaffer and Kendall Baker to start at right guard.
This could be a big week for Mays, whose father, Kevin Mays, was an All-SEC guard for Tennessee and offensive captain in 1994.
No matter the new starting five, the loss of Cleveland (6-6, 340) will be felt. The Bulldogs gained momentum for their SEC championship run last season when Cleveland became a starter .
Smart said Cleveland and right tackle Isaiah Wilson had developed good chemistry on the right side of the line.
"I thought that Ben Cleveland was playing really well," Smart said. "He was playing fast. He was finally comfortable. He was moving around. ... He was very confident. You can kind of see the maturation process of the last two years of what all he's been through to get to the point he was. So you hate to see that injury, especially from a continuity part of him and Isaiah being there together."
Quarterback Jake Fromm said senior center Lamont Galliard's leadership will be important.
"He gets guys all moving in the right direction," Fromm said. "As long as they're doing that, we're in business."
Galliard said Shaffer "did very well" after Cleveland was hurt.
"He showed no doubt on his face," Galliard said. "Once he came in he was like 'Let's go.' I'm proud of him and all the young guys who have come in ready to play."
Tennessee has its own issues on the offensive line, which lost starting center Brandon Kennedy in the opening week of the season to an anterior cruciate ligament injury that will knock him out for the rest of the year.
Coach Jeremy Pruitt said Tennessee had "by far" its worst running game in last week in a 47-21 loss to Florida . Quarterback Jarrett Guarantano faced frequent pressure left the game in the third quarter after taking a hit to his left knee.
Tennessee offensive tackle Trey Smith said Guarantano "got hit way too much. He was on the ground way too much. ... We've just got to do a better job doing our job."
NOTES: WR Tyler Simmons (shoulder) could miss a week or two, according to Smart. Simmons started the first four games. ... LB Monty Rice (knee) is expected to play after missing last week's game. CB Tyson Campbell (shoulder, dehydration) also is expected to play.
---
---