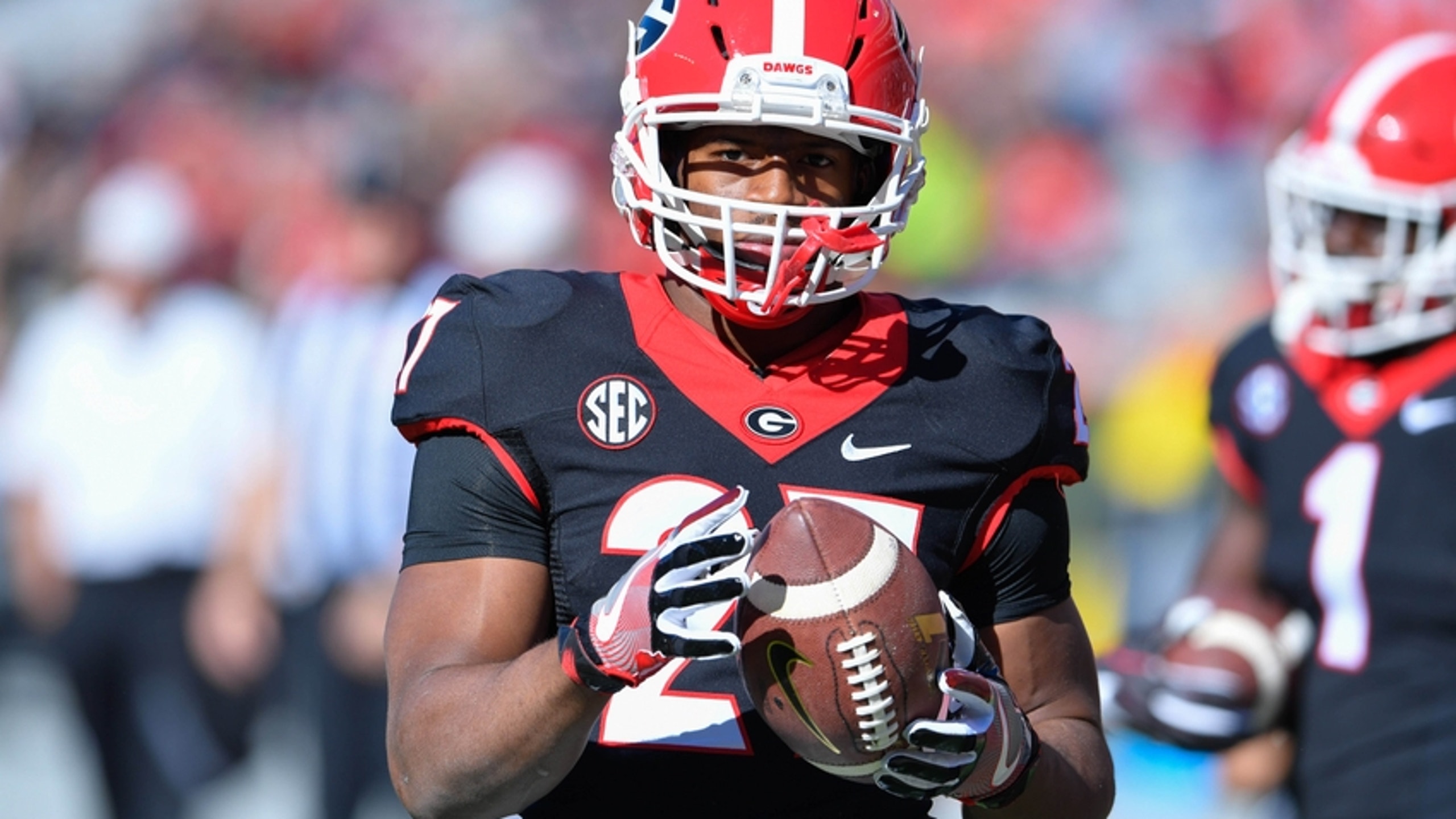 Georgia football fans got early Christmas presents this week
BY Fansided and Kyle Funderburk/FanSided via Dawn of the Dawg • December 15, 2016
Nick Chubb, Sony Michel, Lorenzo Carter and Davin Bellamy all announced that they plan to play for Georgia football next fall earlier today.
This is the season of giving and Georgia football was given a few gifts for their 2017 team this week.
The presents first arrived in the form of a signed letter of intent from junior college transfer D'Marcus Hayes on Wednesday. Hayes comes from Mississippi Gulf Coast Community College which is also where former Georgia nose guard John Jenkins and former Alabama nose guard Terrance Cody played before going to the SEC.
Hayes is ranked as the no. 15 JUCO player in America, the no. 2 JUCO offensive tackle in the country and the no. 6 JUCO player in Mississippi.
Georgia's offensive line class for 2017 is already stacked with commitments but National Signing Day is still months away so anything can happen. It's great that one of these great linemen are already signed and ready to play for Georgia football in 2017.
The giving did not end there. Thursday evening, Nick Chubb, Sony Michel, Lorenzo Carter and Davin Bellamy all announced that they would stay for their senior seasons.
Most Georgia fans aren't going to be surprised by Carter, Bellamy and Michel staying. They still all have a ton to prove and neither have been too injury riddled in their careers. But it's still a blessing. Michel staying insured that Georgia would have an experienced leader in the Bulldogs backfield behind what will be an all-new offensive line.
Carter and Bellamy staying means that Georgia will have an intact front seven returning in 2017. The group was already good and deep in 2016, but it was not a great unit. Georgia would probably have no problems finding new starters at outside linebacker, but leadership and experience are sometimes more valuable than talent.
But what Georgia fans did not expect however was Chubb deciding to stick around. Chubb has rushed for over 3,000 yards in his career but he's dealt with injuries for the past two years. Many thought he'd join the draft to go get a big contract in case his days playing football are numbered.
But to some players, money is not the deciding factor. We do not know why Chubb has decided to stay. But ESPN's Mel Kiper, an expert in the NFL Draft, said that Chubb [and Michel] should stay for their senior seasons unless they're okay with being third or fourth round picks.
More from Dawn of the Dawg
But regardless, this is great news for Georgia football which already looking to be stacked for 2017 with a great recruiting class already committed and more possibly committing by signing day.
Now four of the Bulldogs top players are staying for their senior seasons. Announcing now also lets the team stay 100 percent focused on TCU and the Liberty Bowl
---
---