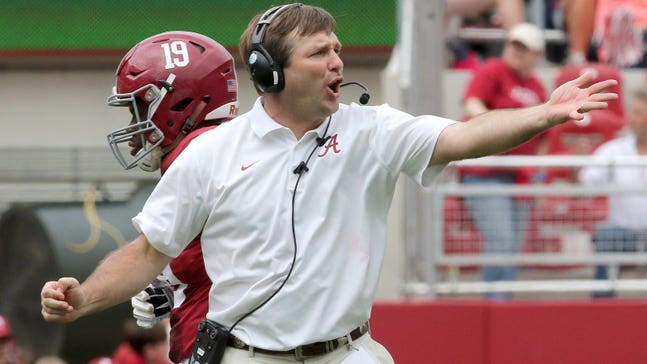 Georgia coach Smart to split time with Alabama through playoff
Published
Dec. 7, 2015 2:42 p.m. ET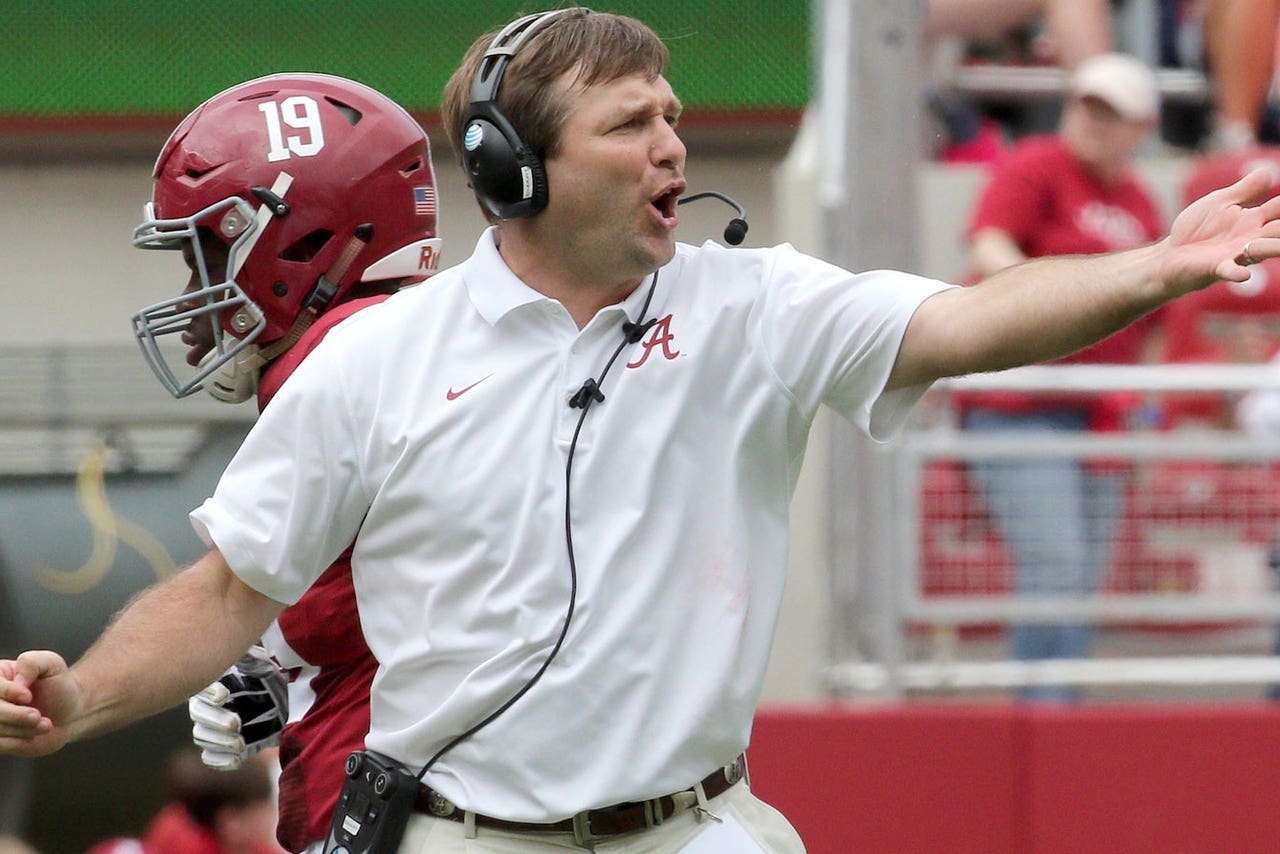 ATHENS, Ga. -- Kirby Smart wore a Georgia red tie on Monday for his introductory news conference as the Bulldogs' coach.
He'll have to keep his Alabama apparel for at least a few weeks, however.
Smart said he will continue in his current role as Alabama's defensive coordinator through the College Football Playoff as he also begins work as Georgia's coach.
Smart said University of Georgia President Jere Morehead and athletic director Greg McGarity "were very supportive of me doing this the right way" in splitting time between Alabama and Georgia.
"I don't think it would be doing justice to walk away from those kids. Regulating my time will be very critical in the next month. It will be a challenge, but a challenge I'm up to."
Smart, the former Georgia player and assistant, was named the successor to Mark Richt as coach on Sunday.
Georgia will get Smart's full attention for one week until No. 2 Alabama begins practice for the playoff semifinal against Michigan State in the Cotton Bowl on New Year's Eve.
"I'm working on recruiting for the University of Georgia full-time," he said. "That's my heart and passion now. When I get back over to Tuscaloosa and I put on my other hat ... I promise you, I'll be working as hard as I can to win a national championship."
If Alabama advances to the national championship game on Jan. 11, Smart won't be free to devote his full attention to Georgia for more than a month.
Smart said he's eager to talk with Georgia recruits. He planned a flight Monday to Washington state to visit quarterback Jacob Eason, who has committed to Georgia. Eason, ranked as one of the top quarterbacks in the nation, quickly scheduled a visit to Florida last weekend after Richt was fired.
"I'm going and I'm going fast," Smart said when asked Eason.
Smart began recruiting for Georgia on Sunday, immediately after he was formally approved during a meeting by the Georgia athletic association executive committee.
Another key Georgia recruit, offensive lineman Ben Cleveland of Toccoa, Georgia, used his Twitter account to post a photo of his Sunday visit from Smart, who already was wearing a Georgia jacket.
Smart met with Georgia players Sunday night. He said he could empathize with their loss of Richt as coach. Smart played for the Bulldogs when Georgia fired Ray Goff and hired Jim Donnan before the 1996 season.
"It was definitely something I didn't realize," said Georgia quarterback Greyson Lambert, who attended the news conference. "... He just said basically he understands the uncertainty."
Lambert said the meeting with Smart was short.
"He held up his fingers and said it wasn't that much difference between being a good and a great team," Lambert said. "But that much is a beast. Those were his exact words."
Smart's hiring came one week after Richt's 15-year run as Georgia's coach ended. Like Smart, Richt also returned to his alma mater when he was hired as Miami's new coach.
Bryan McClendon, who was Richt's assistant head coach and also works with the receivers, will serve as Georgia's interim head coach for the TaxSlayer Bowl matchup against Penn State in Jacksonville on Jan. 2.
Smart was an administrative assistant at Georgia in 1999 before returning as running backs coach under Richt in 2005.
Smart's parents, wife Mary Beth and three young children attended the news conference. Smart's voice cracked with emotion as he thanked his family including his father, Sonny Smart, who was his coach at Bainbridge (Georgia) High School.
Hired by Alabama in 2007, Smart has been Nick Saban's defensive coordinator since 2008.
Sonny Smart said it was important that his son was with Saban "every step of the way" as Saban built the Alabama program.
"To see how that process went I think is instrumental," said the elder Smart. "And now he's ready. ... He's as ready as he'll ever be."
Alabama's defense consistently ranked among the nation's best under Smart. Alabama won its second straight Southeastern Conference championship on Saturday night in Atlanta, beating Florida 29-15.
Smart was interviewed by McGarity on Saturday night and by Morehead early Sunday.
The athletic association then ratified Smart, who agreed to a six-year contract worth at least $3.75 million a year. He could earn performance bonuses of up to $1.6 million if the Bulldogs win a national championship.
Smart was earning $1.5 million per year at Alabama as the highest-paid defensive coordinator in the country.
Richt was 145-51 with two SEC championships in 15 seasons at Georgia, but none since 2005.
McGarity said he looked for a coach "who would focus on a specific, defined process of developing championship football teams on and off the field."
As a star defensive back at Georgia, Smart had 13 interceptions, the fourth-most in school history. He graduated with a degree in finance and added a master's degree from Florida State in 2003.
---
---