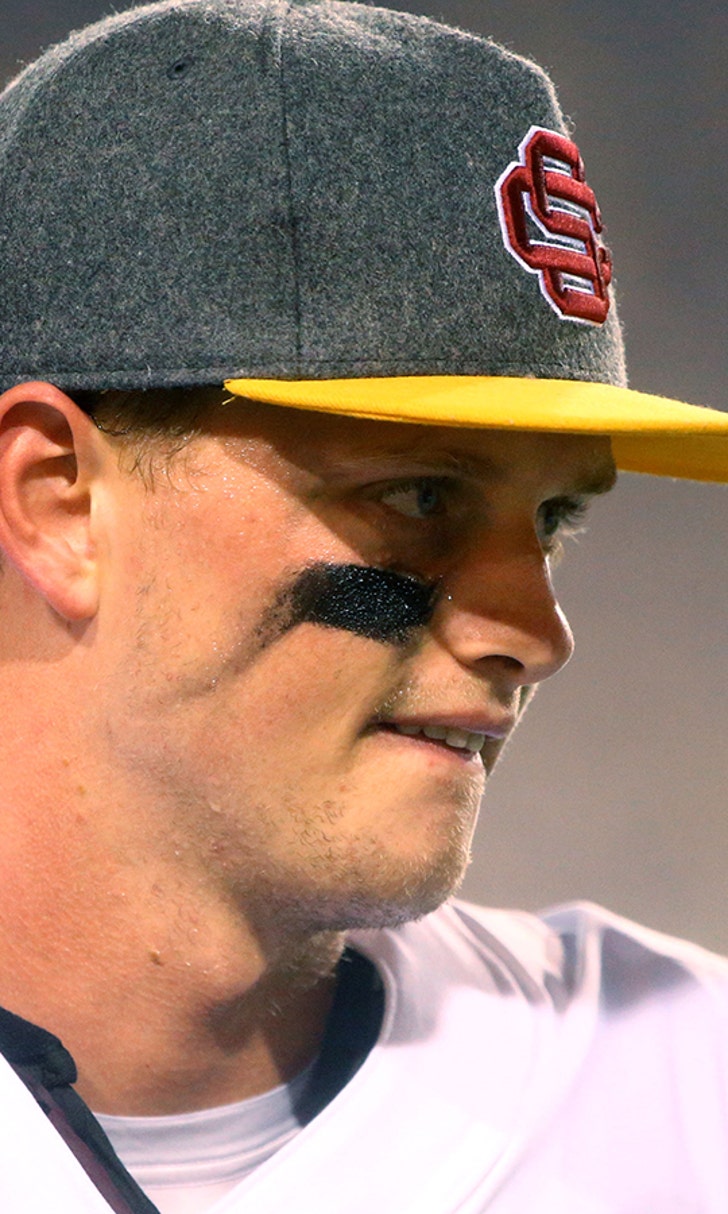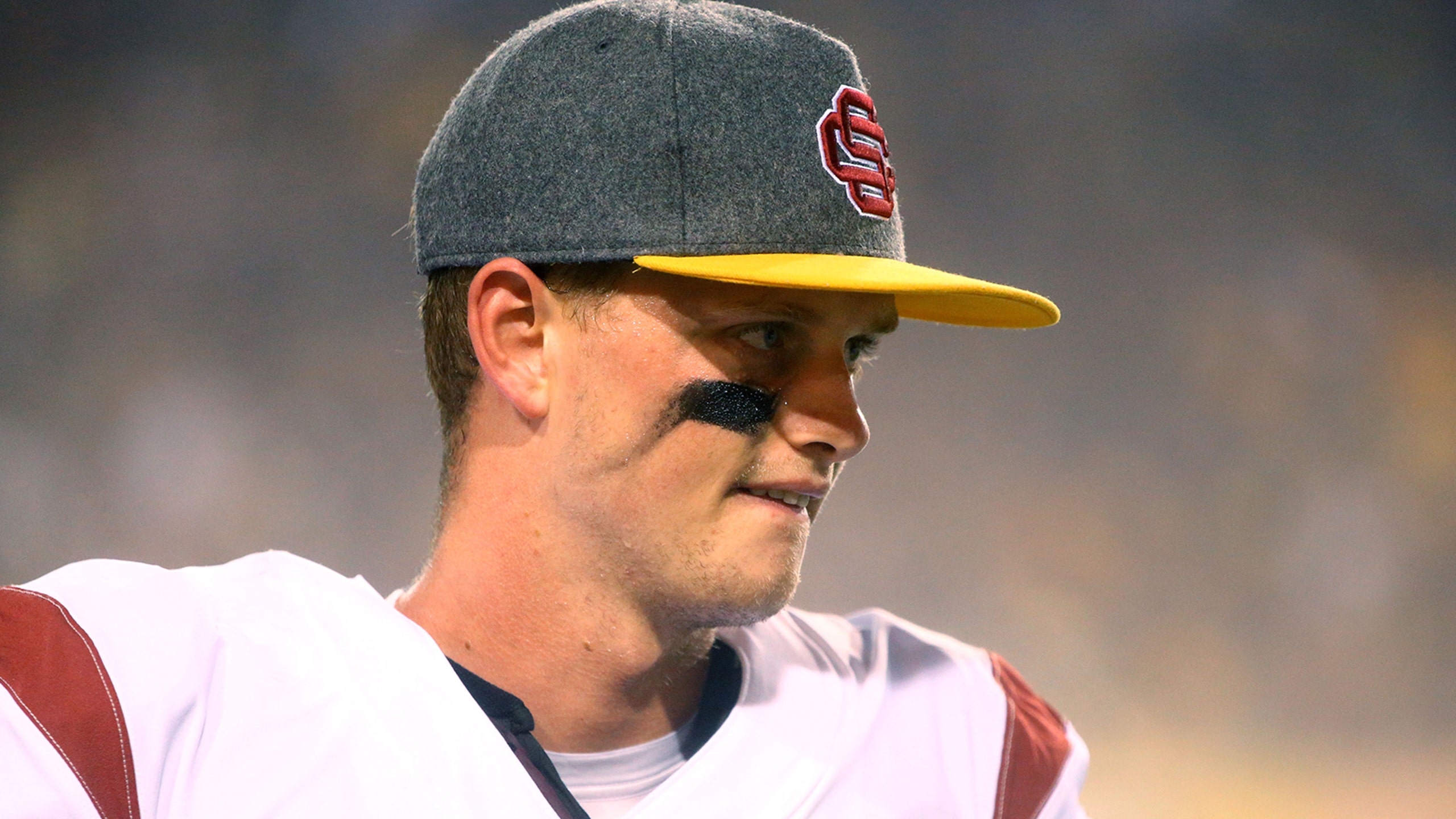 Former Trojans QB Max Browne reflects on 'weird' time at USC
BY Bruce Feldman • April 9, 2017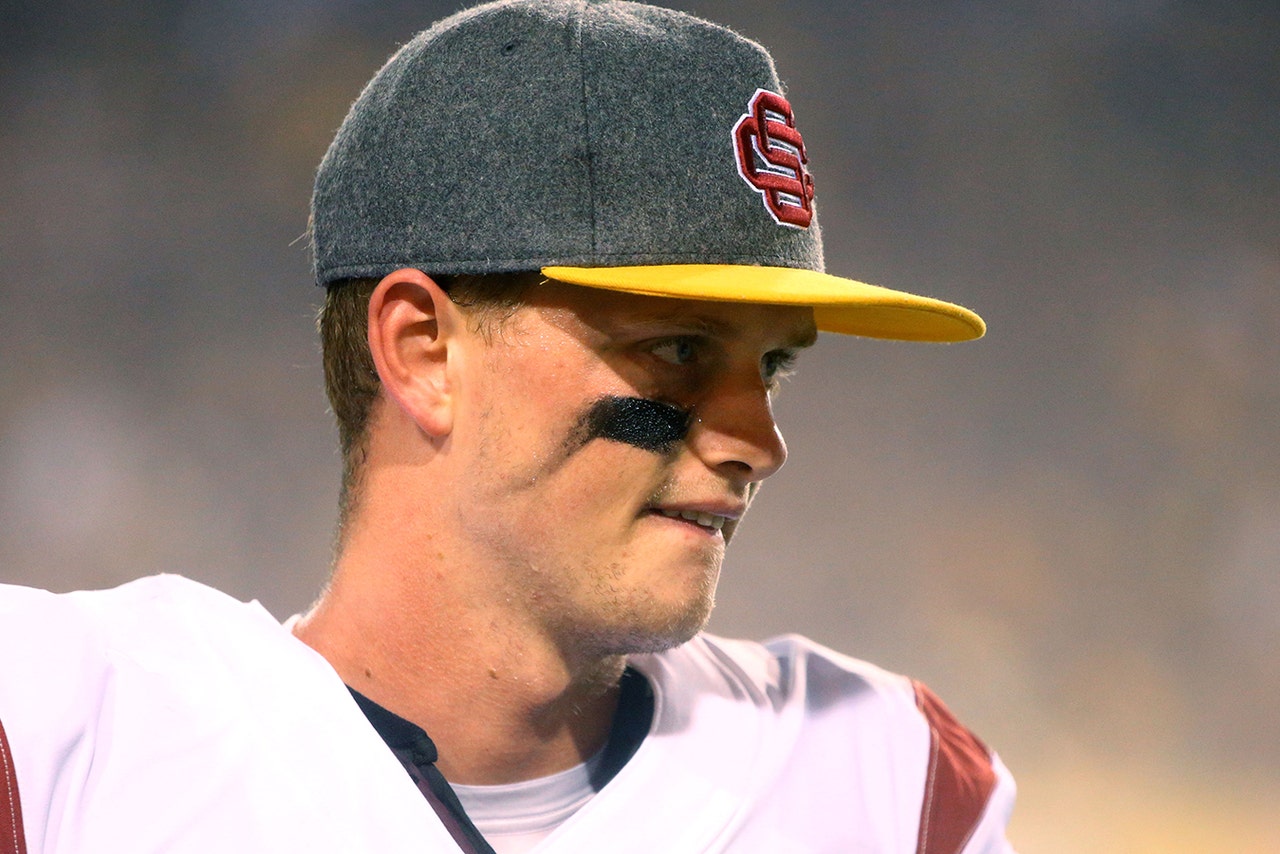 PITTSBURGH -- When Max Browne committed to play for USC, the Trojans were the No. 1 team in the country. It seemed like the ideal time for the Seattle kid, who was ranked as the nation's No. 1 quarterback prospect in the 2013 recruiting class. However, it didn't take long for things to tumble off course for the Trojans and Browne. One month into that season, head coach Lane Kiffin was fired. Fast forward four years and Browne is on the opposite side of the country and now playing for his fifth college head coach.

"Crazy weird deal and it kept getting weirder and weirder, and in a weird way, you kind of got used to that as far as the turmoil goes," Browne said as he looked back at the bizarre string of events that unfolded in his USC career.

The 6-5, 220-pound quarterback waited for his opportunity behind three-year starter Cody Kessler and then held off talented redshirt freshman Sam Darnold to win the starting job for the 2016 opener against Alabama. The Trojans fizzled coming out of the gate, opening 1-2. Even though Browne had only thrown two interceptions in the first three games, USC had managed only six points against Alabama and just 10 at Stanford.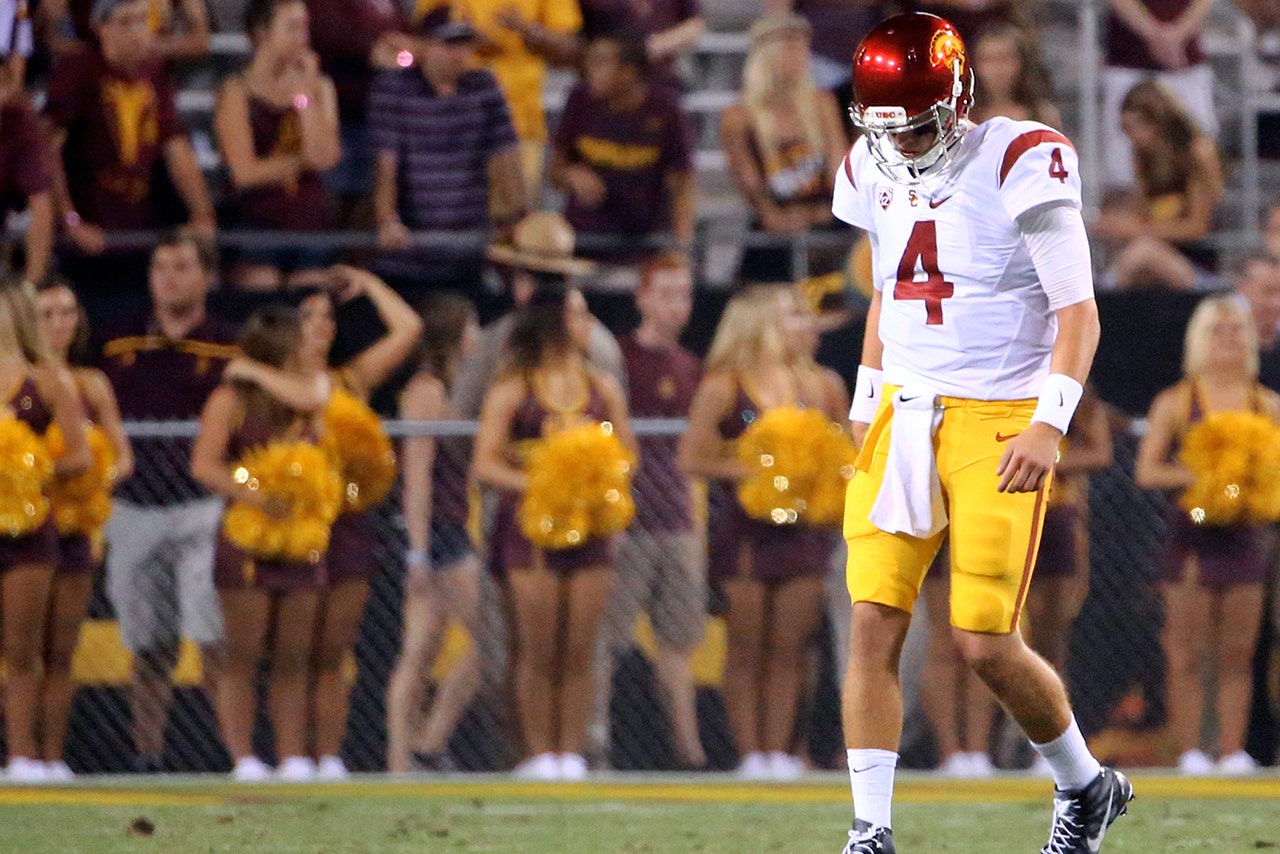 Mark J. Rebilas-USA TODAY Sports

New head coach Clay Helton was desperate for a spark and inserted Darnold, who proved to be a revelation with his play-making skills. Darnold lost his first start -- a 31-27 loss at Utah -- but then led the Trojans to nine consecutive wins, punctuated by a Rose Bowl victory over Penn State, where the young QB set Rose Bowl records for total yards and touchdown passes. Browne threw just six passes in mop-up duty after being made the back-up. In December, he opted to transfer and picked Pitt over Boston College and Fresno State. But even after deciding on the Panthers, there was an additional curveball thrown his way too. When Browne visited Pitt in mid-December, he met with OC Matt Canada. Less than 72 hours after Browne left Pittsburgh he started hearing rumors that Canada was in the mix to become LSU's new offensive coordinator and sure enough, that's what happened. Head coach Pat Narduzzi assured Browne he'd keep the same style of offense and the QB felt comfortable enough to keep his commitment.

"I'm used to having a bunch of coaches," Browne told FOX Sports. "I figured I'll take my chances and adapt."

Pitt also had a good track record of transfer QBs succeeding. The quarterback Browne is trying to replace Nate Peterman started out at Tennessee. Before him, ex-Rutgers and Arizona QB Tom Savage ran the offense and he ended up in the NFL. The climate of the Panthers' program bodes well for Browne to come in and thrive, which is obviously what he's hoping for.

"The ideal scenario is to bring Pitt an ACC championship, and throw for a bunch of yards and touchdowns," he says as he looks for a re-boot to his football career.

"I'm not an idiot. Right now, I know what my story is. It is what it is. A lot of people are writing me off. I know that's not (in line) with the work that I've put in or how this should end. I know that I can play at a high level, end on a high note and put myself in a position to get drafted and have a career in the NFL. All the goals that were out there when I committed to USC are still out there. I just have to go have a good year."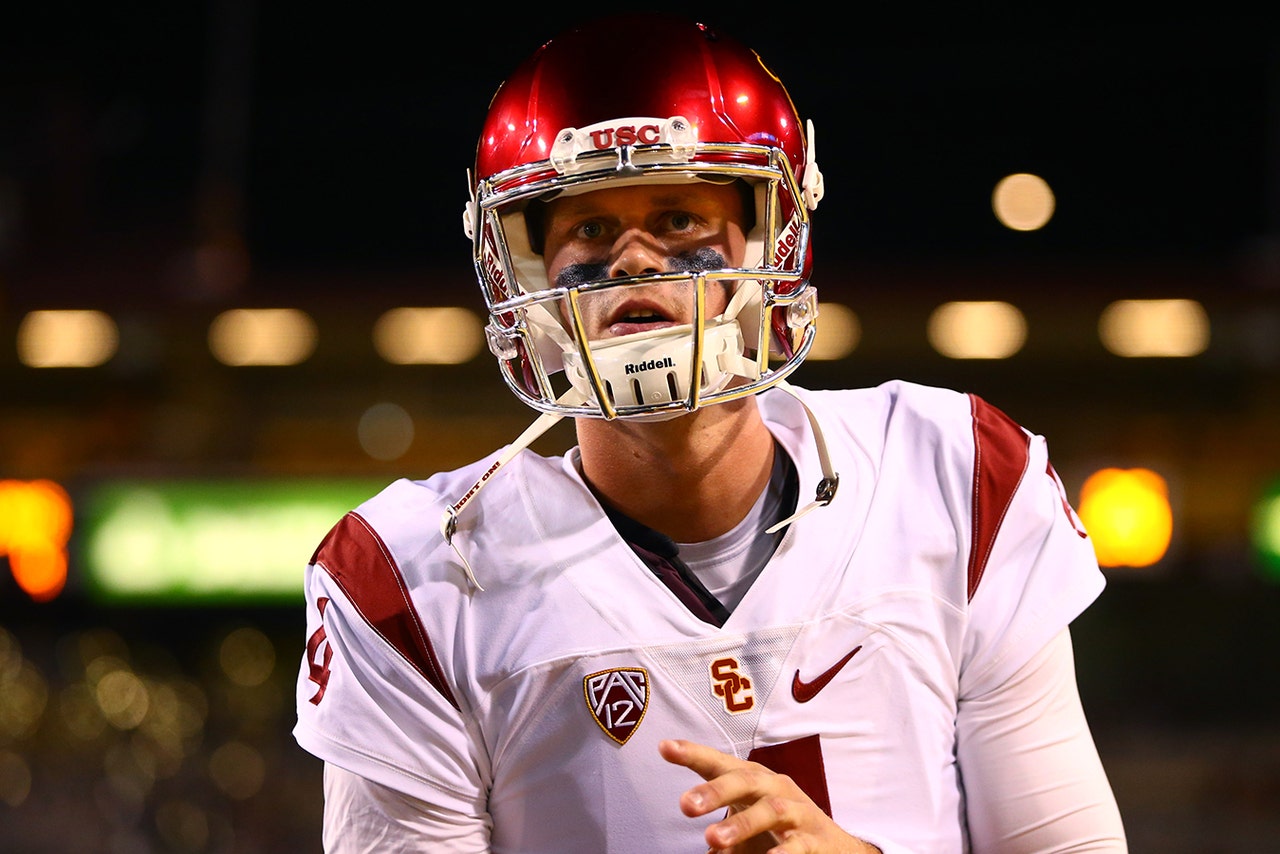 Mark J. Rebilas-USA TODAY Sports

Browne actually had earned his degree in communications in three years and could've left USC as a grad transfer before the 2015 season, which is one theory some Trojan fans floated when Darnold wasn't named the starter coming out of fall camp. Browne told FOX Sports this week that if he hadn't been named the opening-day starter he would've explored transfer options.

"My family had all those scenarios pointed out," he said. "I think I had three or four days of that buffer from when (head coach Clay Helton) said he was gonna name a starter 'til the start of school. Once I stepped foot in class, I'm locked in. If he didn't announce me, I definitely would've seen 'Hey who needs an emergency QB?' and searched for sure at that point in my career. You gotta play. I'd been sitting long enough but I will say that coming into that meeting, I knew that I'd won the job. I knew I'd outplayed him in fall camp whether that was what they wanted. I knew I did. I think at the time, it wasn't really a surprise. But things happen for a reason."

In his three starts, Browne went 55-of-87 for 477 yards with two touchdowns and two interceptions while the team averaged 20 ppg. In Darnold's 10 starts, the Trojans averaged 39 ppg.

Asked why he thinks things didn't work out for him with the Trojans, Browne pauses a few moments before answering, "That's a gooooood question."

"I think I was kinda the guy that got the short end of the stick from a program that was in a tough situation. Obviously, Sam is the big name right now but if you look at our team after three weeks, it wasn't a one player thing or one person issue. They felt they had to make a change and I got the short end of the stick. But it is what it is. I roll with that. I get it. I was pumped to see my guys do well. It was a tough one but that chapter is still open and still being written."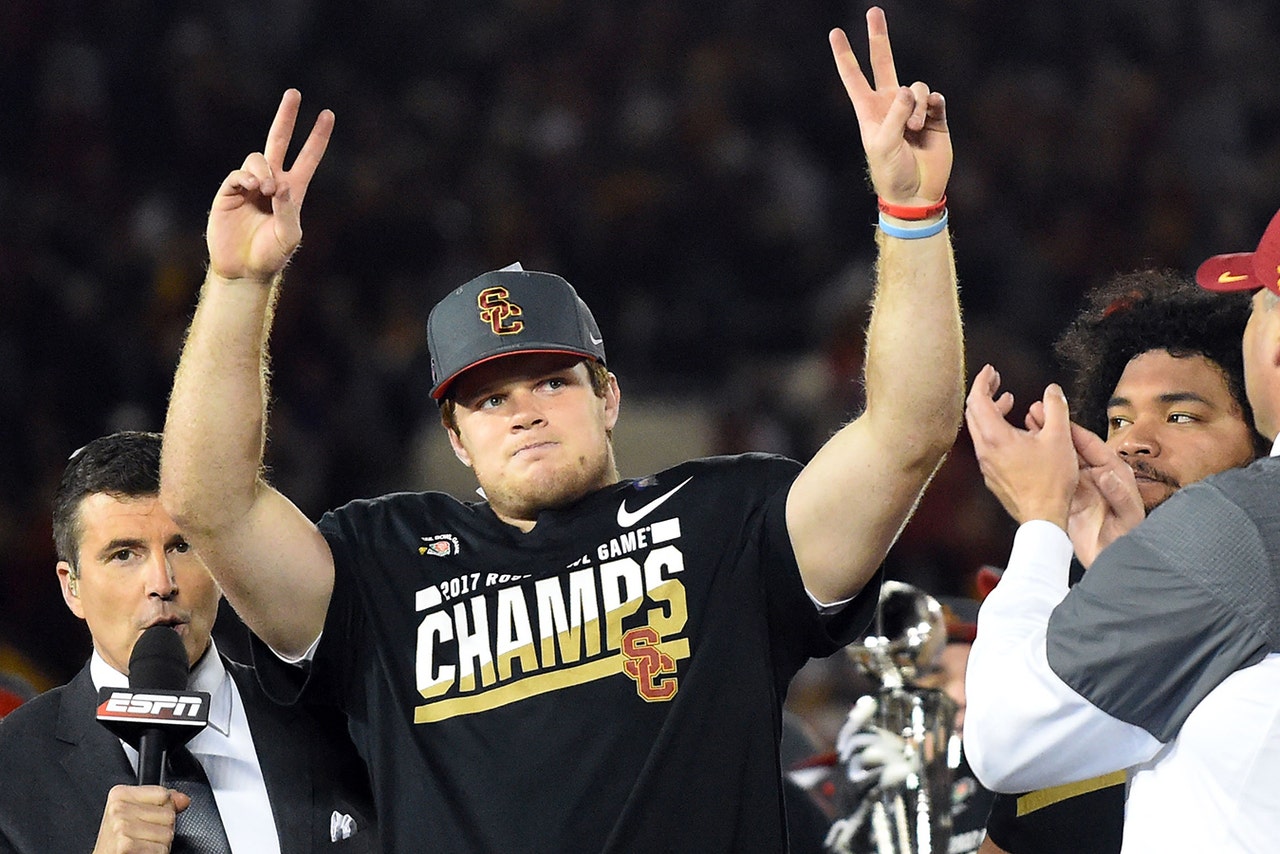 Jayne Kamin-Oncea-USA TODAY Sports

Browne, who had won USC's Bob Chandler Award -- honoring the underclassman with outstanding athletic ability, academic achievement and character -- said the low point came later in the season "when the dialogue starts being 'SC isn't playing for a national championship because of Max Browne.' That eats at you. I don't think that was the case. I truly don't. But when that is what the world thinks--and people at SC know that's not really the case and I've had people there text me that, thanking me, it motivates you and pisses you off at the same time. It puts a weird close to that chapter. At the end of the day, I'm happy that it did turn into a Rose Bowl for my best friends and all of my roommates. I was pumped for them when Matt (Boermeester) made the (game-winning) kick. They've been on the same roller coaster too. For them to end on that was pretty sweet."

That sweet ending to the 2016 season has led to renewed optimism about USC in 2017. The Trojans are a likely preseason Top 5 team and Darnold is the Heisman Trophy favorite and a guy some are touting as a possible first pick of the draft for 2018. As for any speculation of resentment towards Darnold, Browne says there isn't any.

"It wasn't just the past eight months but really the past 18 months of this supposed battle that was built up of 'Max vs Sam,' but we were good friends. Still are. I always told people if we weren't competing, we'd be hanging out all the time. He'd come over to my place from time to time. He's a good dude. I have nothing but good things to say about him. He's a humble, unassuming guy."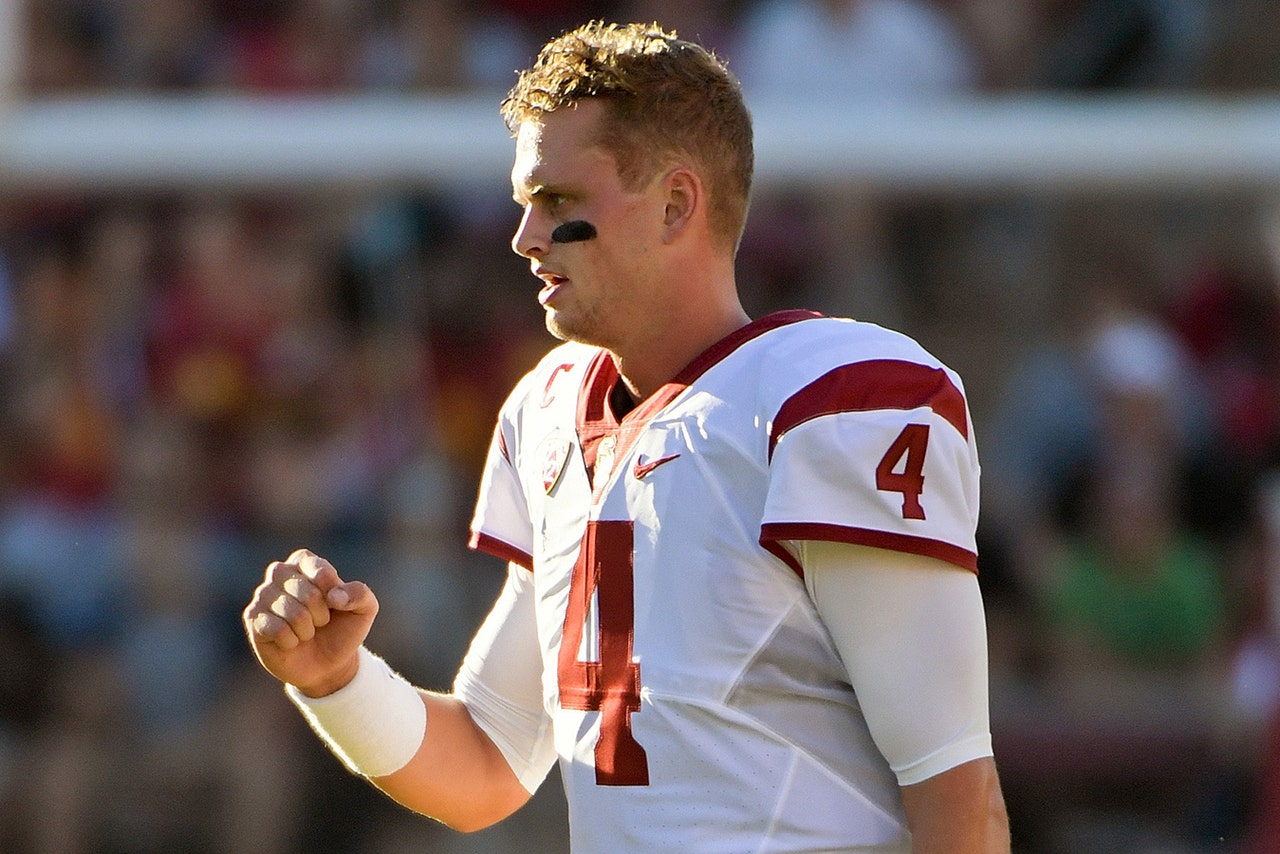 Kirby Lee-USA TODAY Sports

Browne was 60 percent done with his MBA when he left USC, he says. He is working on a marketing masters at Pitt. Something else he's gotten an education in during college: perspective.

"If you'd have asked 18-year old Max Browne about not panning out at USC, that'd have been the biggest disaster ever, a nightmare," he said. "That's why I did so much there, so it wouldn't happen, but when it did happen, well, I'm fine. I still have a great family, great friends, so it definitely gives you some perspective in a healthy way.

"I have no regrets (about choosing USC). Not at all. Still got the degree, almost two of them. Made great friends. Have some great memories. When I first got there (then USC AD) Pat Haden said, 'Make the most of everything at USC as far as school and connections,' and I felt like I did that. I still talk to professors and counselors over there. At every point of the way, from every coaching change that was there, I evaluated the factors at play and my best scenario was to stay at USC. And I still feel that way. "

New Pitt offensive coordinator Shawn Watson spoke to his old friend Tommie Robinson (the former USC running backs coach) who spoke highly of Browne. Tee Martin, the Trojans offensive coordinator, did too.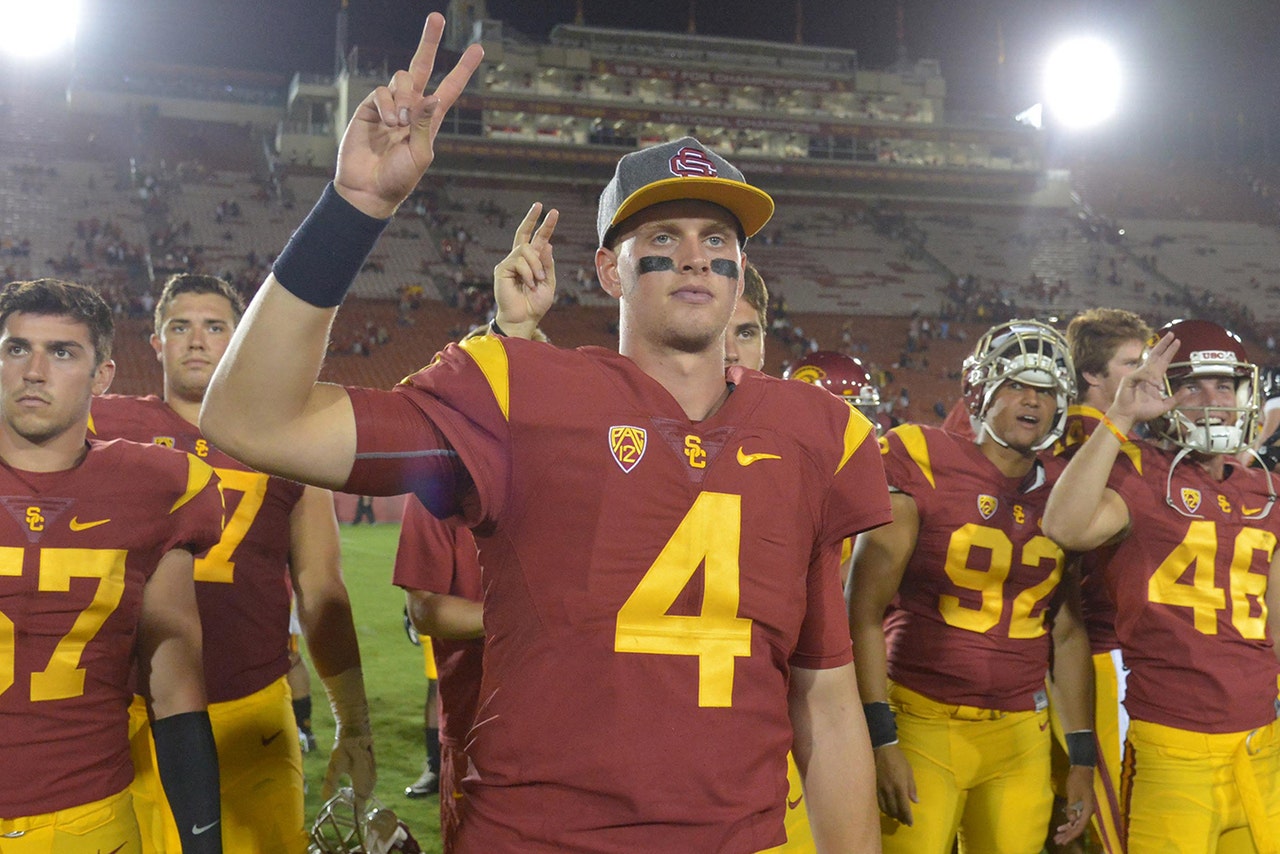 Kirby Lee-USA TODAY Sports

"Tee said, 'Man, you got a great kid. That kid didn't flinch here. He was the best teammate in the midst of some adversity. We made a change because we had to make a change. We were 1-3.'

"Long story short, Max is as advertised. He's got a great demeanor. He's got a little edge to him, and I think it's about things he wants to prove to himself. Great quarterbacks all have an edge. Tom Brady has been carrying an edge his whole career. Drew Brees is carrying an edge. He wasn't big enough. Russell Wilson. Same thing. Aaron Rodgers. They kept it, and that's the secret to their success. I go through all those stories with Max. You have an edge too. That's gotta be what keeps you sharp if you handle it right. It can't be personal. It's got to be from here," Watson says as pointing to his heart)."

The Panthers are about 75 percent through spring football and Browne is the favorite to win the starting job. Watson, his new QB coach, said Browne has "that It thing" about him. He's calm. His eyes are always downfield and that he's got a good feel for throwing in space.

Beyond that, Narduzzi likes his new quarterback's character.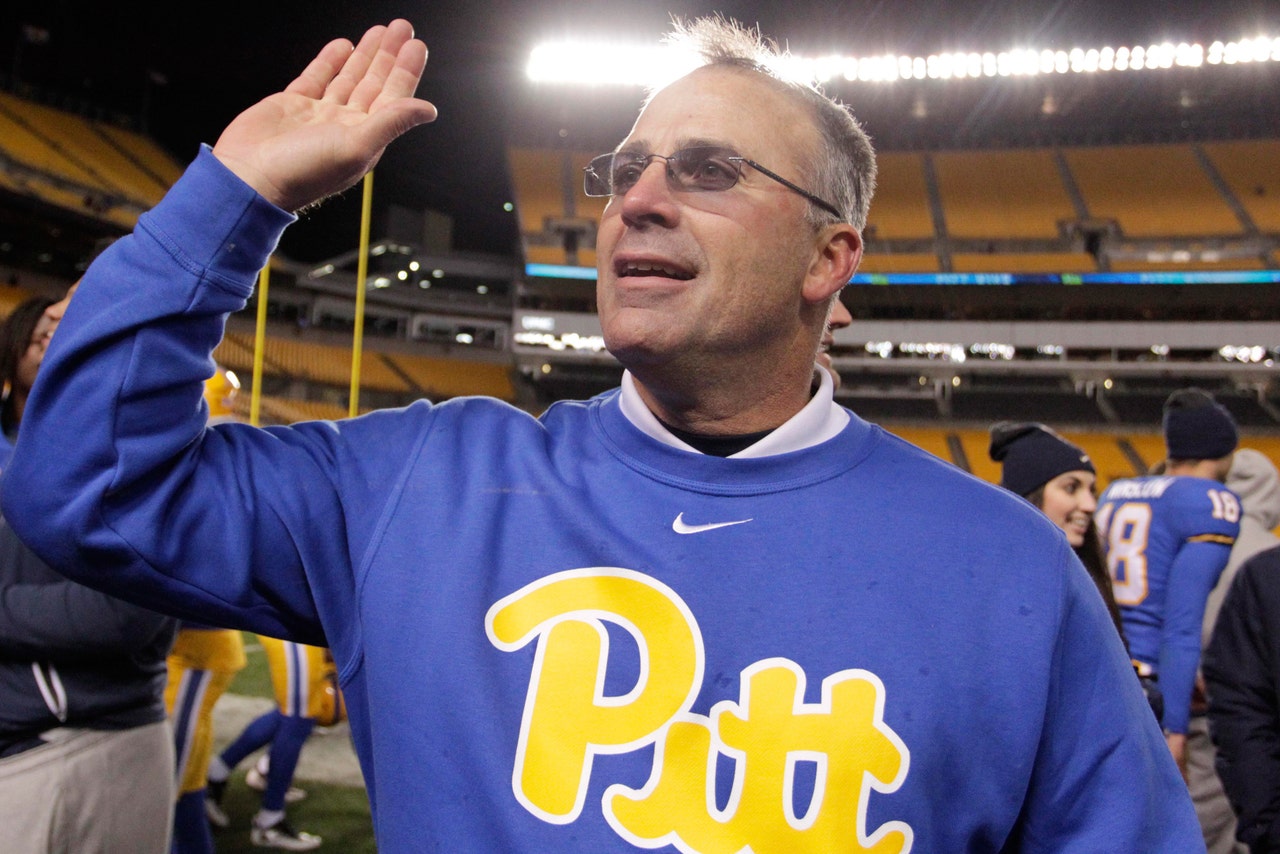 Charles LeClaire-USA TODAY Sports

"Our strength coach said he works his tail off and he's tough," Narduzzi said. "And I know he's smart. I'll take my chances with that. He's been perfect. He lives down the road and walks to work. He is a football guy.. Max has done a great job. The team has responded well. We had a transfer before and that worked for us. He's a low-maintenance quarterback. I haven't talked to his dad since he took the visit. He doesn't have 'a quarterback dad.' That's a big check mark in his corner.

"I talked to Clay (Helton) afterwards. He told me, 'Great guy. He wasn't necessarily the problem.' They just needed to make a change. He had the C (for captain) on his jersey and that tells you a lot about what his teammates thought about him."

Browne says he's a better quarterback now than a year ago because he doesn't get worked up much and isn't living and dying with every step he takes. "Every throw was intense and if I missed a throw, I'm beating myself up," he said. "That can't happen. (I was thinking) I'm playing for my life. But now I'm to the point, where I have nothing to lose. This is my last go-around. Most of the college football world has written me off in some regard. I'm playing with a clear head and, as a result, I'm playing good football right now. I'm excited about that. It's been a good spring."

If he could go back and offer some advice to an 18-year-old Max Browne, he'd say: "Lighten up. Have fun. Work hard and do all the things you need to do, but at the end of the day, we're all human, just go out and enjoy the little things."


---
---