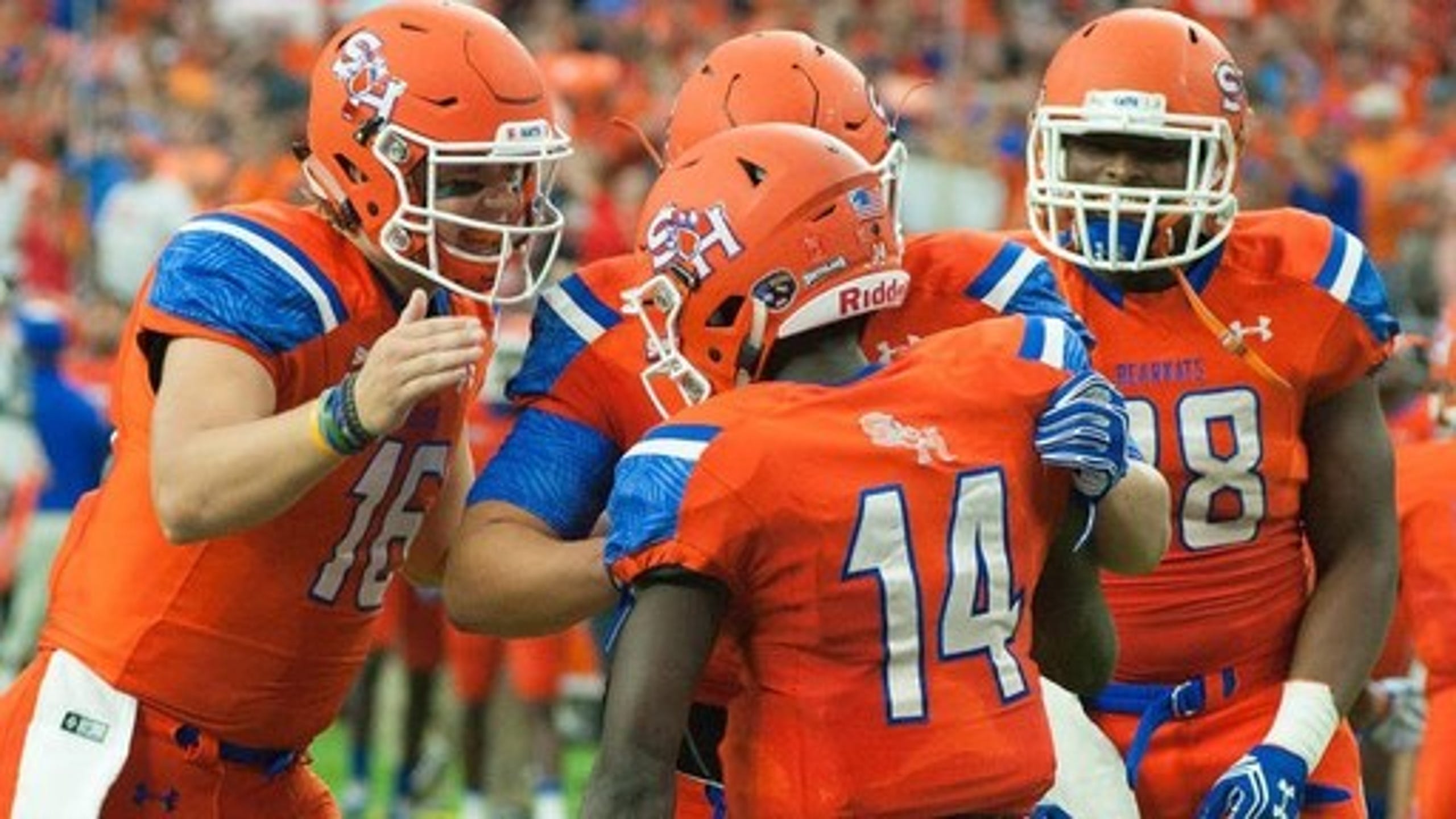 FCS Playoffs: South Dakota at Sam Houston State
BY AP • November 29, 2017
FCS Playoffs Second Round
The Matchup - South Dakota (8-4) at No. 6 seed Sam Houston State (10-1)
Kickoff - 3 p.m. ET at Bowers Stadium (12,593) in Huntsville, Texas
Coverage - ESPN3
Series - First meeting
Players to Watch - South Dakota: QB Chris Streveler (283 of 427, 3,614 yards, 27 TDs, 6 INTs; 669 rushing yards, 10 TDs), RB Michael Frederick (137 carries, 694 yards, 7 TDs; 21 receptions), DE Darin Greenfield (57 TT, 18 1/2 TFL, 8 Sacks), DT Taylor Lambert (35 TT, 8 1/2 TFL, 4 1/2 Sacks), FS Andrew Gray (77 TT, 5 1/2 TFL, 5 PBU); Sam Houston State: QB Jeremiah Briscoe (258 of 456, 3,893 yards, 37 TDs, 11 INTs), RB Corey Avery (139 carries, 839 yards, 11 TDs; 21 receptions), WR/RS Davion Davis (61 receptions, 990 yards, 14 TDs; 2 punt return TDs), WR Nathan Stewart (57 receptions, 1,305 yards, 11 TDs), NT P.J. Hall (40 TT, 15 TFL, 6 Sacks, 4 BK)
The Skinny - The two most productive offenses in the FCS square off, with Sam Houston first in total offense (544.6 ypg) and scoring offense (45.9 ppg) and South Dakota second overall (514.2 ypg) as well as fifth in scoring (37.8 ppg). South Dakota is back in the Southland Conference after beating Nicholls 38-31 in the first round. The Streveler-vs.-Briscoe QB matchup is the best of the Round of 16 - both quick-strike TD makers. The dual-threat Streveler ranks second in the FCS in total offensive yards per game (356.9) and Briscoe is first in passing yards per game (353.9), with Briscoe No. 1 over Streveler in points responsible for (240 to 222). Briscoe, the 2016 STATS FCS Walter Payton Award winner, has more offensive weapons, with Davis, Avery and Stewart in double figures with touchdowns. Streveler spreads the ball around quite well, with Shamar Jackson and Brandt Van Roekel his go-to receivers. Both defenses like to get after the opposing quarterback, particularly USD's Greenfield and Sam Houston's Hall and DE Chris Stewart. Hall, who moved from defensive end to nose tackle during his senior season, holds the FCS career record with 81 tackles for loss. The Bearkats have scored on four returns (three punts and one kickoff).
Up Next - The winner will play Kennesaw State or No. 3 seed Jacksonville State in the quarterfinals on Dec. 8 or 9.
Prediction - South Dakota won its first-round game following a late defensive stop. They won't get one this time in another game where the offenses should go up and down the field. Sam Houston State 38-33.
---
---