Jacksonville State Gamecocks
Jacksonville State Gamecocks
FCS playoff review
Published
Dec. 12, 2015 11:18 p.m. ET

(STATS) - Power programs rule with next weekend's FCS semifinals:
- Ohio Valley Conference champion Jacksonville State has been No. 1-ranked since mid-September and is 22-3 over the last two seasons.
- Sam Houston State from the Southland Conference has reached this level in four of the last five seasons.
- CAA Football co-champion Richmond won the 2008 FCS title, although it's basically the surprise of the final four.
- And North Dakota State, well, the Missouri Valley Football Conference co-champion has been the nation's premier program in search of a record fifth straight FCS national title.
Richmond and NDSU will meet for the first time and Sam Houston State and Jacksonville State will meet in a rematch from last year's playoffs.
"It is great to see four teams from four different conferences and four parts of the country have earned a spot in the semifinals," said Mark Wilson, the Tennessee Tech athletic director who served as the select chair of the playoff selection committee. "The semifinal matches should be outstanding games (with the possibility of) another phenomenal national championship game at Toyota Stadium in Frisco."
---=
NCAA PLAYOFF QUARTERFINALS=
SATURDAY, DEC. 12
No. 3 seed North Dakota State (11-2) 23, Northern Iowa (9-5) 13
Game Balls: NDSU's Bruce Anderson and Ben LeCompte truly were "special teamers." Anderson, a true freshman, returned a kickoff for a touchdown for the second straight playoff game - this one for 97 yards to open the second half to give the Bison their first lead, 14-10. LeCompte averaged 45 yards on six punts, with a long of 62 yards and two inside the UNI 10-yard line in the second half.
Key Stat: UNI's two 1,000-yard rushers, quarterback Aaron Bailey and running back Tyvis Smith - both coming off 200-yard games - combined for only 91 yards on 34 carries.
STATS Takeaway: The Bison believe they are still the best team in the FCS and just have to finish the job for the fifth straight season. They limited red-hot UNI to 221 yards and 11 first downs in another superb defensive effort, which was needed as their offense was slow to get in gear. The Bison had an edge in time of possession for the 28th time in their last 29 games (the exception being the loss to South Dakota on Oct. 17). The Panthers had their chance for an upset, but no visiting team has won inside the Fargodome during NDSU's FCS playoff history (15-0).
Up Next: Seventh-seeded Richmond (10-3) will try to get the job done against North Dakota State at the Fargodome in the semifinals on Friday (8 p.m. ET).
---=
Sam Houston State (11-3) 48, Colgate (9-5) 21
Game Ball: Jared Johnson was the All-Southland Conference first-team quarterback, but Jeremiah Briscoe has been the Bearkats' postseason MVP. With Johnson sidelined Saturday, Briscoe got his second start and completed 28 of 42 passes for 358 yards and four touchdowns.
Key Stats: Despite Colgate possessing the ball for 6½ more minutes than Sam Houston, the Bearkats basically doubled up the visitors in yardage, 653-327, and first downs, 37-19.
STATS Takeaway: Sam Houston coach K.C. Keeler has been to eight national championship games on the FCS and Division III levels (including Delaware's 2003 FCS title over Colgate) and says a national title is all that is eluding what he calls one of the best teams in his career. The Bearkats dominated Colgate by scoring on seven of their first eight possessions. Once again, Bearkats defensive end P.J. Hall was dominant, totaling five solo tackles, a sack, two pass breakups and a blocked field goal.
Up Next: Unseeded Sam Houston reached the national semifinals for the fourth time in the last five seasons and will visit top-seeded Jacksonville State (12-1) next Saturday (4 p.m. ET).
---=
FRIDAY, DEC. 11
No. 1 seed Jacksonville State (12-1) 58, No. 8 seed Charleston Southern (10-3) 38
Game Balls: There are enough touches to go around for Jacksonville State quarterback Eli Jenkins (195 rushing yards, 286 total yards, three total touchdowns) and running back Troymaine Pope (250 yards, three touchdowns).
Key Stat: Jenkins scored on an 83-yard run and Pope's three TDs averaged 58 yards, allowing the top-seeded Gamecocks to average a whopping 9.6 yards per carry (506 yards on 53 attempts) against what had been a dominant Charleston Southern defense this season.
STATS Takeaway: Incredibly, the Gamecocks offense features four of the five first-team All-Ohio Valley Conference offensive linemen. They're showing in the postseason how the honors were deserving. As the Gamecocks scored 45 second-half points, the ability of Jenkins and Pope to get outside on runs overwhelmed CSU's Blue Swarm defense. The size and speed of the Buccaneers' running backs were impressive this season, but the Big South champions couldn't keep up with the Gamecocks offense.
Up Next: Jacksonville State will host a semifinal it likely relishes against Sam Houston State (11-3) next Saturday (4 p.m. ET). The top-seeded Gamecocks lost to the Bearkats at home in last year's second round.
---=
No. 7 seed Richmond (10-3) 39, No. 2 seed Illinois State (10-3) 27
Game Ball: Richmond running back Jacobi Green took over in the second half, scoring three of his four touchdowns. He finished with 137 rushing yards as well as 35 receiving yards on a screen pass that he turned into a touchdown.
Key Stat: The Spiders averaged 21 yards on 19 pass completions, consistently burning Illinois State with downfield passes.
STATS Takeaway: The Spiders scored on their first two possessions and never trailed while they played with poise and confidence. They were exceptional on offense, mixing Kyle Lauletta passes with Green carries (the senior has gone over 100 rushing yards in seven straight games). Meanwhile, the Spiders defense took away Marshaun Coprich's usual dominance and made the Redbirds one-dimensional with the pass.
Up Next: Richmond will visit No. 3 seed North Dakota State (11-2) on Friday (8 p.m. ET) for its first national semifinal since the 2008 team captured the FCS title. The Spiders are 4-3 on the road.
---
---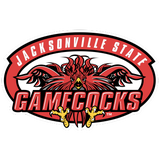 Get more from Jacksonville State Gamecocks
Follow your favorites to get information about games, news and more
---