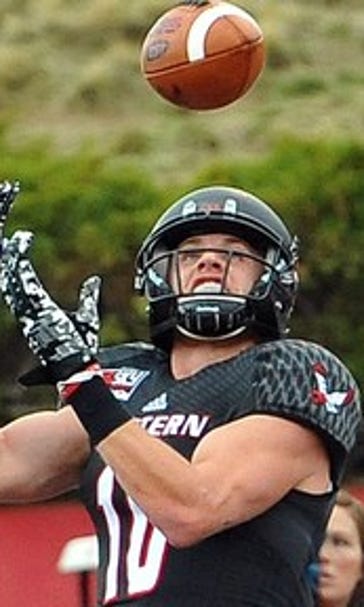 FCS draft roundtable - Part I
February 20, 2017

(STATS) - Finding the next Carson Wentz is an almost impossible task for NFL teams because the former FCS standout - and last year's No. 2 overall pick - was such an anomaly in the way he commanded attention.
But finding the next David Johnson (third round in 2015) or Super Bowl touchdown-maker Robert Alford (second round in 2013) or Pro Bowlers Kyle Juszczyk (fourth round in 2013) and Mike Tolbert (undrafted in 2008) is within reach.
With each year, NFL teams are paying more attention to FCS prospects, hoping to uncover hidden gems on draft day and as undrafted free agents.
Leading into next week's NFL combine, STATS turned to a roundtable of NFL draft analysts who know the value of prospects coming from below the FBS - Josh Buchanan, a recruiter for the NFLPA Collegiate Bowl; Eric Galko, the owner and lead draft analyst for Optimum Scouting; and Scott Wright, the owner and lead draft analyst for DraftCountdown.com.
Over the next five days, we'll pick their brains about how the FCS stacks up in this year's draft.
---=
Who is your top draft candidate from the FCS level, and why?
Buchanan: I don't know if he will definitely be the top guy in three years simply because I don't see a high upside due to the fact he is not raw, but Eastern Washington wide receiver Cooper Kupp is my top guy. He is a good route runner, catches everything, has been productive his entire career and had big games against top competition. He is 6-foot-1 1/2, 198 pounds and likely a 4.5 guy in the 40. I expect him to go in the second round, but if he could run in the low 4.4s and post very good numbers across the board, I would not be shocked if he was a top-40 pick. Kupp has great character and is very smart as well. I expect him to do well in meetings and workouts with coaches and scouts.
Galko: I know people say it every year, but this year really might be the best small school and FCS class in recent history. I believe, especially after a successful Senior Bowl, Youngstown State's Derek Rivers is the best FCS prospect. On film, he didn't finish as a run defender as an edge player and needs to be more consistent outside of third downs, but the pass-rush upside was phenomenal. He should go someplace on Day 2 and is a second-round prospect. But three or four other FCS players could join him.
Wright: This year, that's an easy question and the answer is Eastern Washington wide receiver Cooper Kupp. Coming off a ridiculously productive college career in which he racked up 428 receptions for 6,464 yards and 73 touchdowns, the only major question mark with Kupp was the level of competition. Was he merely a big fish in a small pond or could he hang with the big boys? A strong showing by Kupp throughout the Senior Bowl week went a long way toward alleviating those concerns. I believe Kupp will be selected on Day 2 - Round 2 or 3 - and will most likely be a Top 50 overall prospect in my final rankings. I may be in the minority, but when it comes to value on draft day, I might prefer Kupp in mid-Round 2 rather than the more highly regarded Corey Davis of Western Michigan in the middle of Round 1.
---
---