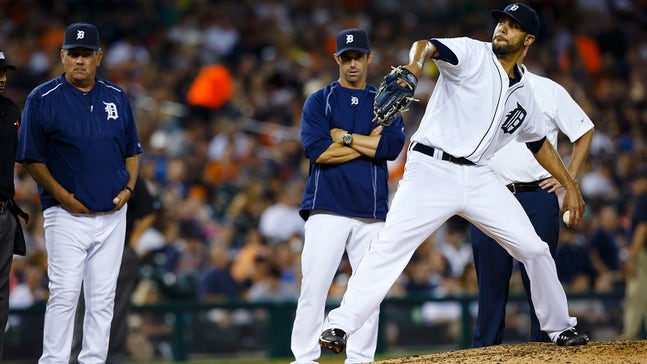 David Price steps on bat, injures leg in Tigers' 6-5 win over Royals
Published
May. 8, 2015 11:38 p.m. ET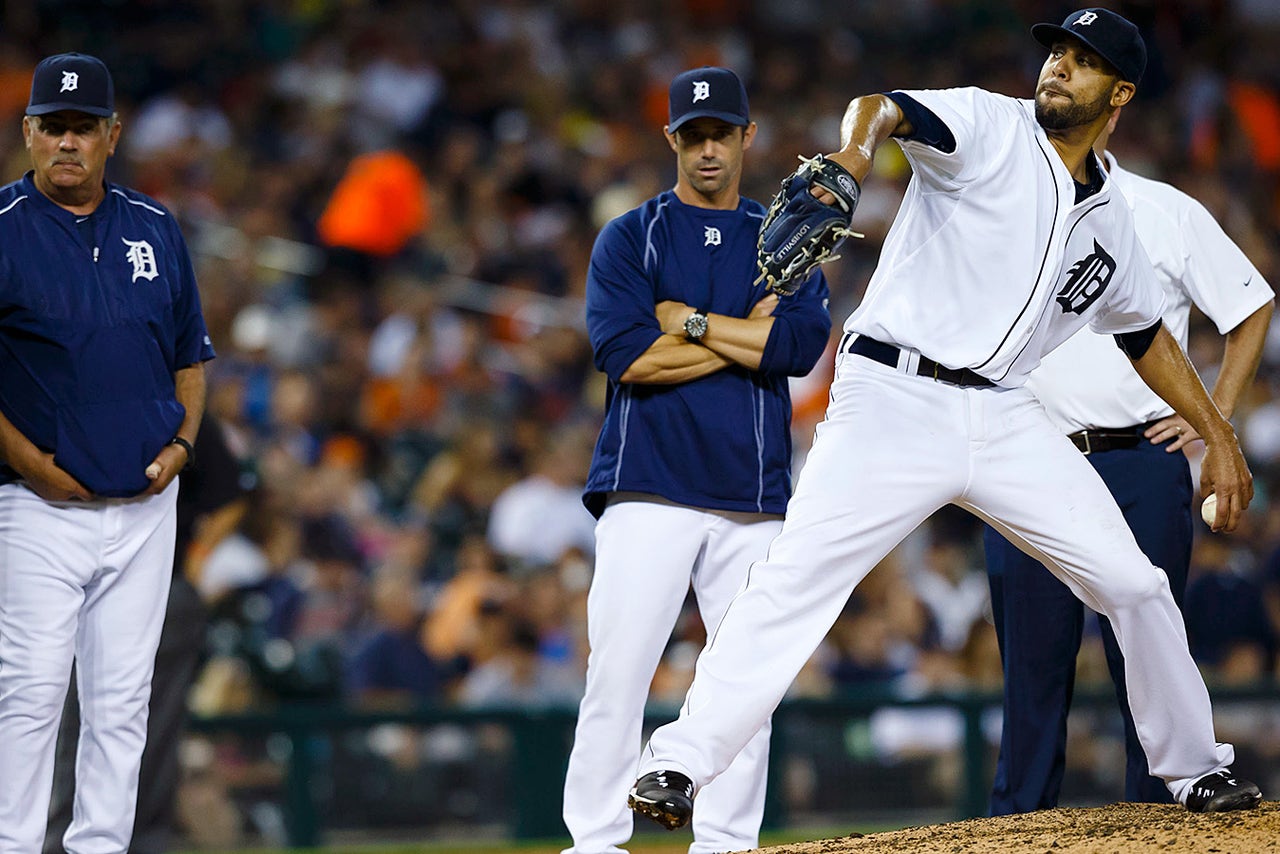 DETROIT
The Detroit Tigers picked up a ninth-inning victory over their biggest rival Friday night.
Now they have to hope they didn't lose their best pitcher in the process.
David Price allowed five runs and a career-high 13 hits before leaving the game in the seventh inning with a fluke injury. On a single by Alex Gordon that gave Kansas City a 5-4 lead, Price stepped on a discarded bat and tweaked his leg.
"I don't feel anything right now, but when I stepped on the bat, it rolled and kind of hyperextended my foot," he said. "It pulled on my hamstring, and when you feel something in your body that you've never felt before, you are going to be concerned.
"I don't know what will happen; we'll see how I feel tomorrow."
Detroit, though, tied the game with a run in the seventh and won it in the bottom of the ninth on a throwing error.
Anthony Gose led off the ninth with a double off reliever Yohan Pino, who had been called up earlier in the day.
On the next delivery, Ian Kinsler bunted down the third-base line, and although third baseman Christian Colon appeared to have a better angle, Pino (0-1) fielded the ball and threw wildly to first, allowing Gose to score the winning run.
"I wasn't sure what was going on; I was just running," Gose said. "They were trying to make a play and I just wanted to win the game."
Joakim Soria (2-0) earned the win with a scoreless ninth inning.
The Tigers scored four times in the fourth inning despite two high-risk decisions by third-base coach Dave Clark. With the bases loaded and no outs, Andrew Romine singled to right, and Clark sent Nick Castellanos to the plate, even though he didn't appear to have a chance to score.
Royals catcher Salvador Perez, though, couldn't make a clean pickup of Paulo Orlando's throw, then dropped the ball when he tagged Castellanos. After Gose's infield single loaded the bases again, Kinsler hit a hard single to right and Clark sent Romine to the plate in another bad-looking move.
This time, Perez caught the ball too far up the first-base line, and Romine was able to slide around his tag, making it 4-0.
"The first time, the ball short-hopped me, and I just couldn't get a grip on it; I think he was out if I hang on to the ball," Perez said. "The second one was a perfect throw by Orlando, and Romine just made a great slide."
Perez made up for two of the runs in the fourth, hitting a long homer to left. Christian Colon added an RBI single, and the Royals tied the game when Castellanos threw away Lorenzo Cain's two-out grounder to third.
Detroit threatened in the fifth, putting runners on the corners with one out, but Perez dug Colon's throw out of the dirt and tagged Kinsler at the plate. Ventura struck out J.D. Martinez, dropping him to 0 for 25, to end the inning.
The Royals went ahead on the play that cost them Price, but Detroit tied the game in the bottom of the inning on Victor Martinez's RBI groundout.
"Any injury is concerning, especially when you are talking about the ace of your staff," Tigers manager Brad Ausmus said. "But I'm less concerned now that I've heard the diagnosis."
TRAINER'S ROOM
Royals: 3B Mike Moustakas will miss the weekend series with Detroit after being placed on the Bereavement/Family Emergency List. SS Alcides Escobar, though, returned from the Concussion DL and started Friday night. ...The Royals placed LHP Jason Vargas on the DL with a flexor strain and called up Pino from Triple-A Omaha.
Tigers: RHP Justin Verlander, who has not pitched this season with a triceps injury, threw on flat ground for the third straight day, extending to 90 feet. The Tigers have not set a timeline on his return. ... RHP Bruce Rondon, who missed all last season after Tommy John surgery, has returned to Detroit after a setback in his return. Rondon is currently having soreness in his biceps, which the team does not believe is related to his elbow injury.
UP NEXT:
The teams meet in the second of a three-game series on Saturday afternoon, with Anibal Sanchez (2-3, 5.11) facing Kansas City's Jeremy Guthrie (1-2, 6.52). They matched up on Sunday in Kansas City, with Sanchez and the Tigers winning 6-4. Sanchez is 6-2 with a 1.40 ERA in eight career starts against the Royals.
---
---