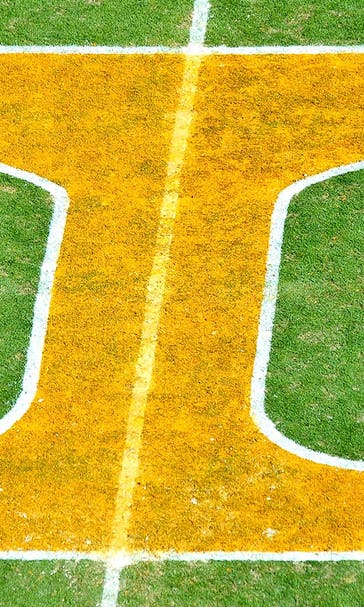 CFB AM: Two Vols fans dressed kids in fantastic UT-themed pimp suits
BY Teddy Mitrosilis • July 16, 2014
A few notable things happened in Hoover, Alabama, on Tuesday, which we'll get to shortly.
First, I want you to meet a great American family.
The Stubblefields.
They love football, and they adore their Tennessee Vols.
So like most fans of college football, the start of media days has stoked their fandom and driven their impatience for kickoff another notch higher.
That's why two good parents dressed two good boys in white Tennessee pimp suits for the spring game, producing a fantastic family photo that resurfaced again Tuesday in the spirit of media days. No, seriously:
There's really nothing like college football. God bless it, and God bless the good state of Tennessee.
THREE THINGS YOU NEED TO KNOW
1. We've reached Day 3 of SEC Media Days in Hoover, Alabama, which means fans of Missouri, LSU and Arkansas get to hear their head coaches and select players speak. Don't let us down, Les Miles (taking the podium around 2 p.m. CT).
2. Day 2 of SEC Media Days was largely dominated by two storylines, the first being South Carolina coach Steve Spurrier at the mic. Always good during what he calls "talking season," Spurrier referred to Alabama coach Nick Saban as the "greatest recruiter in the history of college football." Here's a rundown of some of Spurrier's best lines from SBNation's Steven Godfrey.
3. The other main topic from Tuesday in Hoover was Texas A&M coach Kevin Sumlin and the official beginning of the post-Johnny Manziel era. Sumlin had no interest in talking about Manziel, stifling all attempts to get him to comment. It's understandable if Sumlin wants to move forward from the drama the Manziel Era entailed, but he should have expected a heavy dose of Johnny questions given he's easily the most important player in Texas A&M history and who takes over at QB is of the utmost relevance to Aggies fans. It will be either sophomore Kenny Hill or true freshman Kyle Allen; Sumlin targeted a couple weeks before the opening game against South Carolina as a time he might name the starter.
THREE THINGS YOU SHOULD KNOW
1. Amid the hum of the SEC circus in Hoover the last couple days, a report surfaced that Texas informed the NCAA that two Longhorns received meals from an agent, which is an NCAA violation. The NCAA's process is ongoing, and Texas declined to comment on the self-reported incident.
2. If you're a college football fan, you're probably going to be watching the SEC Network this season. So this Jon Solomon story on how the network will cover the league is relevant to the content you'll consume and is worth a look.
3. The Biletnikoff Award, honoring college football's best receiver, released its watch list on Tuesday. Alabama's Amari Cooper and Baylor's Antwan Goodley will be two favorites. The pick here: Auburn's Sammie Coates.
THREE THINGS YOU MAY WANT TO KNOW
1. Tennessee and Mississippi State had some fun on their trips to Hoover, taking selfies in the SEC Media Days elevator. Speaking of Bulldogs coach Dan Mullen, he's a big Premier League fan and compared SEC football to European soccer.
2. Former Gamecocks QB Stephen Garcia asked Steve Spurrier a question at SEC Media Days. Good look at Garcia's mop, which made Spurrier wonder if he "joined Duck Dynasty." Here's the video:
3. Football parents: If your son is left off a meaningless preseason awards watch list, this is exactly how you should handle it -- because this is better than, you know, just playing well and stacking numbers. From the father of a Notre Dame wide receiver:
LASTLY
* CBS' Jerry Hinnen is writing a diary about attending SEC Media Days for the first time; here is his Day 2 entry. Check it out if you're looking for non-traditional coverage of the happenings in Hoover.
Have a great Wednesday, all.
(Correction: The Tennessee photo is originally from the spring game in April, not from SEC Media Days as was originally written.)
What is CFB AM? Click here and scroll to 'Lastly.'
Teddy Mitrosilis is an editor and writer for FOXSports.com. Follow him on Twitter @TMitrosilis and email him at tmitrosilis@gmail.com.
---
---