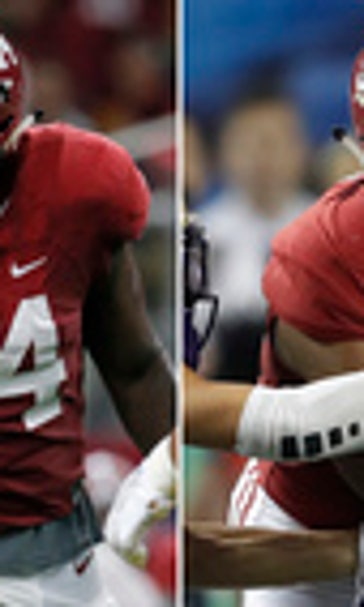 BAMA BONANZA: Allen, Howard lead Tide's big draft class
BY AP • April 22, 2017
Alabama's defense figures to resume its dominant ways during the NFL draft.
Bedeviled by Deshaun Watson and Clemson in the national championship game loss , the Crimson Tide could have three defenders selected in the first round next week in Philadelphia. Five members of the front seven have a shot at being picked in the first three rounds, and the other two remain in college.
And that's just the defense. Overall, it's almost certain to be the deepest draft class of coach Nick Saban's decade-long tenure at Alabama.
''Defensively, I would say that this most likely is going to be his best class,'' said Phil Savage, a former NFL general manager who now runs the Senior Bowl. ''It could be the best in the history of the draft if seven or eight of these guys go in the top two rounds.''
Alabama has five players projected as first-round picks in mock drafts and another five who could also be picked in the first three rounds. The group is led by potential top 10 picks defensive lineman Jonathan Allen , tight end O.J. Howard and linebacker Reuben Foster.
Mock drafts also put cornerback Marlon Humphrey and/or offensive tackle Cam Robinson as first-rounders.
Only four Southeastern Conference programs have produced four first-round picks, and two of them were Saban's Alabama teams in 2011 and 2012.
The Tide seem almost certain to top the 2013 high of nine picks during the Saban era.
Defensive lineman Dalvin Tomlinson, linebackers Ryan Anderson and Tim Williams, wide receiver ArDarius Stewart and safety Eddie Jackson are all projected as early- to mid-round picks.
Defensively, that would mean seven draft picks from a group that led the nation in scoring and rushing defense.
Stewart, Humphrey and Robinson are underclassmen.
Here's a look at the Tide's top prospects:
- Allen, who won the Chuck Bednarik and Bronco Nagurski awards as the nation's best defensive player, could go as high as No. 3 to the Chicago Bears. He's almost universally regarded as a top 10 pick and could play inside or on the edge.
''I've said 100 times he's an A-plus off the field and an A-plus on the field as far as a team knowing exactly what they're going to get,'' said Savage, who also serves as color analyst for Alabama's radio broadcasts. ''He's probably one of the safer choices in this draft because I think you know exactly what you're going to have as soon as he walks through the door.''
- Howard has been the big riser of the group since a standout week at the Senior Bowl in front of NFL executives, scouts and coaches. Some mock drafts forecast him as a potential top 5 pick though he wasn't targeted as often as some elite tight ends.
NFL.com draft analyst Bucky Brooks has him going 12th to the Cleveland Browns, but it sounds like he wouldn't be surprised if Howard is off the board earlier.
''He's almost a can't-miss prospect in terms of what he brings to the table,'' Brooks said. ''With those guys, those are special guys. That's why I think he kind of warrants a top 10 grade.''
Pro Football Focus gave him the highest run-blocking grade of FBS tight ends as a senior, but Howard would welcome some more balls thrown his way.
''I watch a lot of NFL football, I see guys getting utilized in tremendous ways,'' he said at the Tide's pro day. ''I feel like once I come in and put in the work, I can be the same way.''
- Foster, the Butkus Award winner, delivered a huge senior season after dropping 20 pounds. His stock doesn't appear to have been affected much after getting kicked out of the combine over a confrontation with a hospital worker. Foster is widely projected as a top 15 pick.
- Robinson started every game of his three-year Alabama career at left tackle. He's mostly tabbed as a late first-rounder and believes he's the top tackle in the draft after facing a number of elite pass rushers during his career - like Myles Garrett and Derek Barnett.
''I'm very vocal about being the best tackle in the draft,'' Robinson said at pro day. ''That's how I feel.''
He was arrested in Louisiana last summer on drug and weapon charges, but the prosecutor said there wasn't sufficient evidence to pursue the case.
- There's little consensus on Humphrey's most likely draft spot, ranging from the middle of the first round into the second. The third-year sophomore, and son of former NFL and Alabama running back Bobby Humphrey, has the least experience among the top group.
''I think if you draft Marlon, you've got to bank on the fact that he's playing his senior year for you as a rookie in the NFL,'' Savage said.
---
More AP college football: www.collegefootball.ap.org and https://twitter.com/AP-Top25
---
---