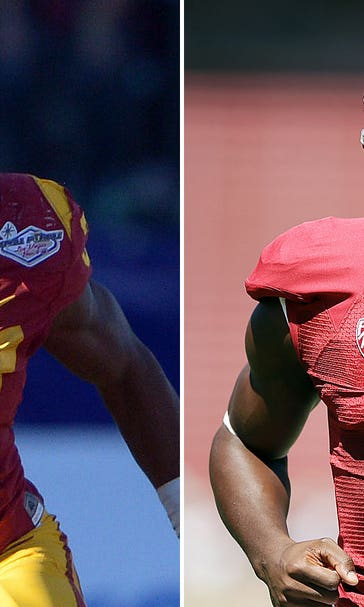 Audible: USC visits The Farm, the dangers of live TV, more Week 2
September 4, 2014

Catch your breath from Week 1 yet?
Ready or not, here comes Week 2.
But fear not: On this week's episode of The Audible, Bruce Feldman and Stewart Mandel get us prepped for the upcoming slate of games and more.
Among the topics discussed:
* After crushing Fresno State, USC ups the ante with a trip to The Farm. How will Stanford deal with the Trojans' up-tempo offense?
* Can Michigan State earn bragging rights for the Big Ten vs. Oregon in Eugene?
* A new season brings a new set of challenges, not only for players but the journalists covering them. Bruce and Stewart discuss balancing TV work with writing -- not to mention dealing with distractions in the FOX green room on Saturdays.
To listen to the podcast, click on the player below. You can get every episode of The Audible delivered to you by subscribing on iTunes.
---
---