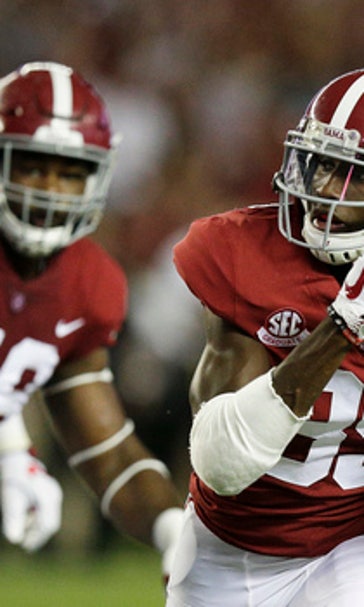 Alabama's Levi Wallace goes from walk-on to emerging star
October 26, 2017

TUSCALOOSA, Ala. (AP) College coaches didn't pay much attention to Levi Wallace in high school, and when they did he told them he wasn't interested in playing football any more.
''I was done with it,'' Wallace said.
Luckily for Alabama, he changed his mind with encouragement from his dad, who later died of ALS. Then a skinny 160-pound cornerback, Wallace walked on with the top-ranked Crimson Tide in 2014. He didn't touch the field for his first two seasons or crack the starting lineup until Game 2 of his senior year.
Now, he's an emerging star on one of the nation's best defenses, a potential early-round NFL draft pick who was a first-teamer on AP's midseason All-American team.
The 6-foot, 183-pounder from Tucson, Arizona, earned a scholarship before last season. He replaced Trevon Diggs in the starting lineup after a strong performance against Florida State .
Wallace leads Alabama with three interceptions, returning one for a touchdown against Mississippi. He ranks sixth nationally with 12 passes defended.
''We've had a lot of walk-ons through the years that have done a really good job of becoming contributors to the team,'' Tide coach Nick Saban said. ''Levi's probably done it as well as any of them.''
It might not have happened without a gentle push from his father, Walter Wallace. Walter said he believed his son had the talent to play college football and urged him to go for it. He died on the morning of Alabama's spring game in 2014, a few months after his son started school focused mainly on getting a business degree, which he has done.
Turns out Wallace's father was right. He was good enough to play college ball , and even to stand out on a team full of four- and five-star recruits.
''I wish he was here all the time but I know he's looking down at me and I know he's very proud,'' Wallace said.
He wasn't even on the radar of most college coaches coming out of Tucson High Magnet School. Major recruiting services didn't give him a star rating.
Wallace, despite protesting he hasn't earned the label, has effectively become a lockdown corner for the Tide, who are off this week taking on No. 23 LSU Nov. 4
Opposing quarterbacks threw to his man 30 times in the first seven games leading up to Tennessee, according to Pro Football Focus . The results, according to PFF: nine catches for 35 yards with three interceptions. A minuscule opposing passer rating of 0.7 placed him tops among FBS draft-eligible cornerbacks.
Friends back home in Tucson forward the positive reports to Wallace. And the defensive back who scarcely got any attention for the past three seasons tries not to let it go to his head.
''It's cool to see it but it's not my focus,'' Wallace said. ''I don't want to get big-headed or anything like that. Just stay the course. I've got a lot of things to work on. It's just midseason. The season's not over with so I just want to keep building on what I've done so far.''
He gets recognized more often around campus and town but when asked how his life has changed, responds: ''Ummm, I've got more Instagram followers. Other than that, nothing different.''
Wallace is still second fiddle in the secondary behind All-American safety Minkah Fitzpatrick . But when they go out to eat, fans who come up to Fitzpatrick do often ask: ''Are you Levi?''
It's progress.
Teammates have known who Wallace was since shortly after his arrival. He said some would ask why he wasn't recruited and tell him he could be playing elsewhere, where the odds weren't so stacked against him.
Linebacker Rashaan Evans said even with all the attention Wallace is suddenly receiving, the DB has stayed consistent and kept doing the same things in practice and preparation that got him to this point.
''Levi's always been on my radar,'' Evans said. ''I was seeing Levi making these types of plays in camp and spring ball during that time. And I knew that if he ever got the opportunity to really make plays, he'd make a lot of people notice that. And I think a lot of people are starting to notice his ability.
''And I think it's kind of shocking for him the fact that he's doing all the things that he's doing right now and all of those things are just falling into place like they should for him.''
---
More AP college football: http://collegefootball.ap.org and https://twitter.com/AP-Top25
---
---