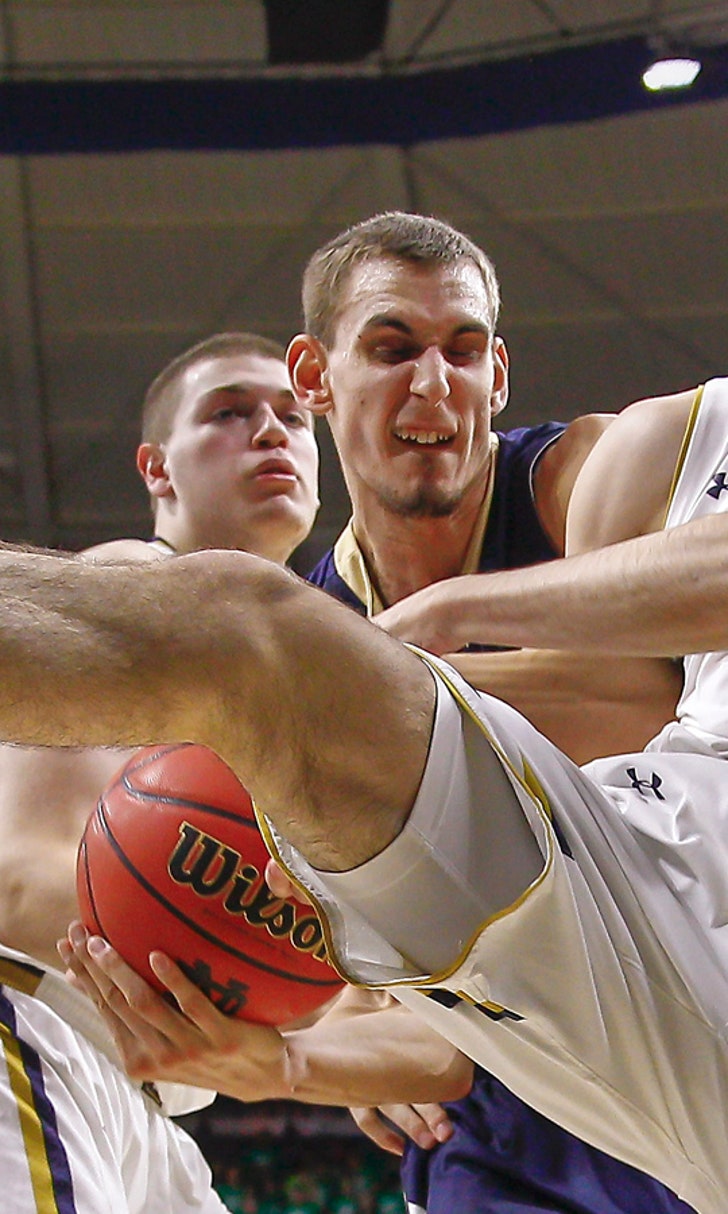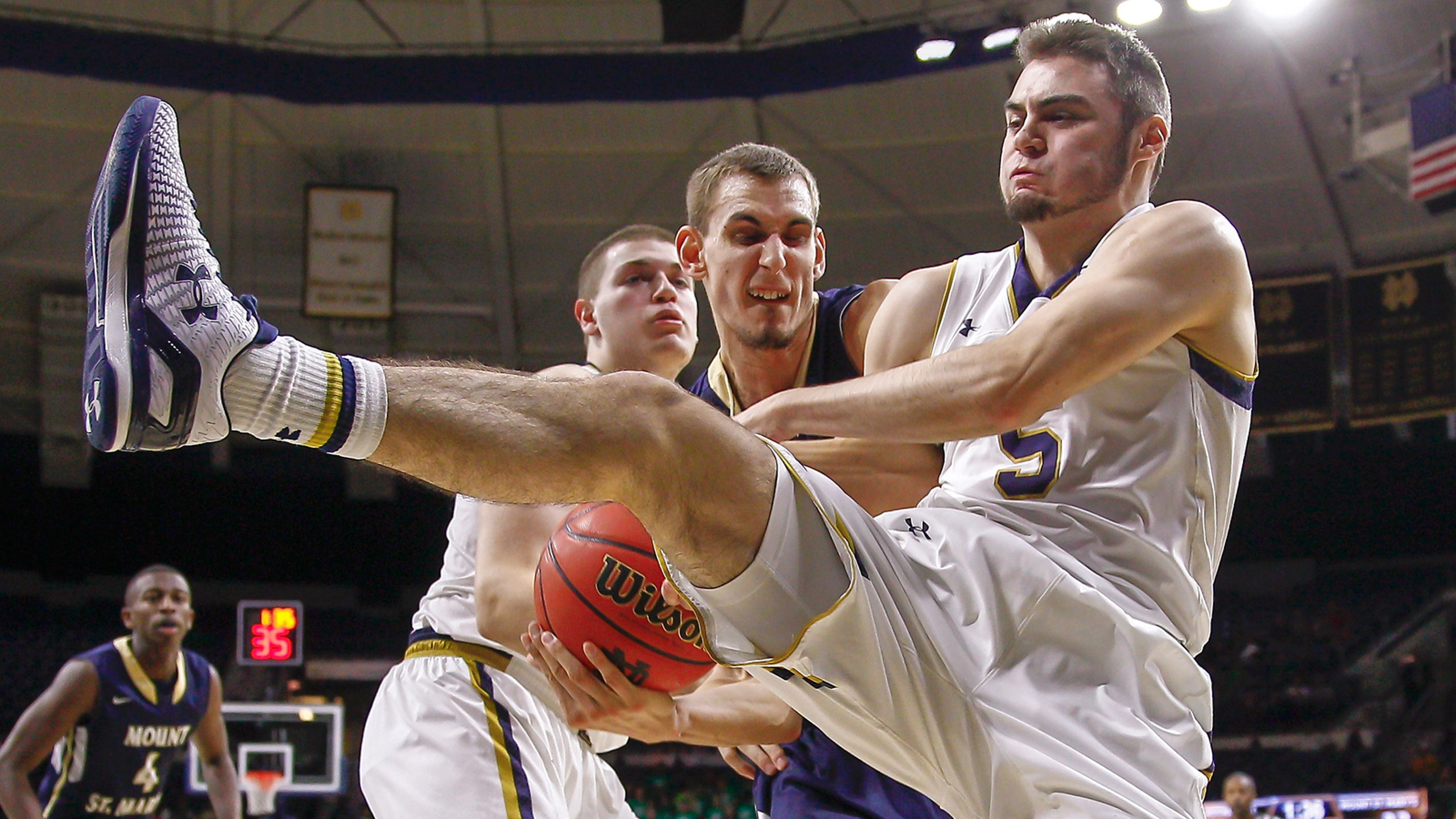 Vasturia leads Notre Dame with 19 in rout of Mount St. Mary's
BY foxsports • December 9, 2014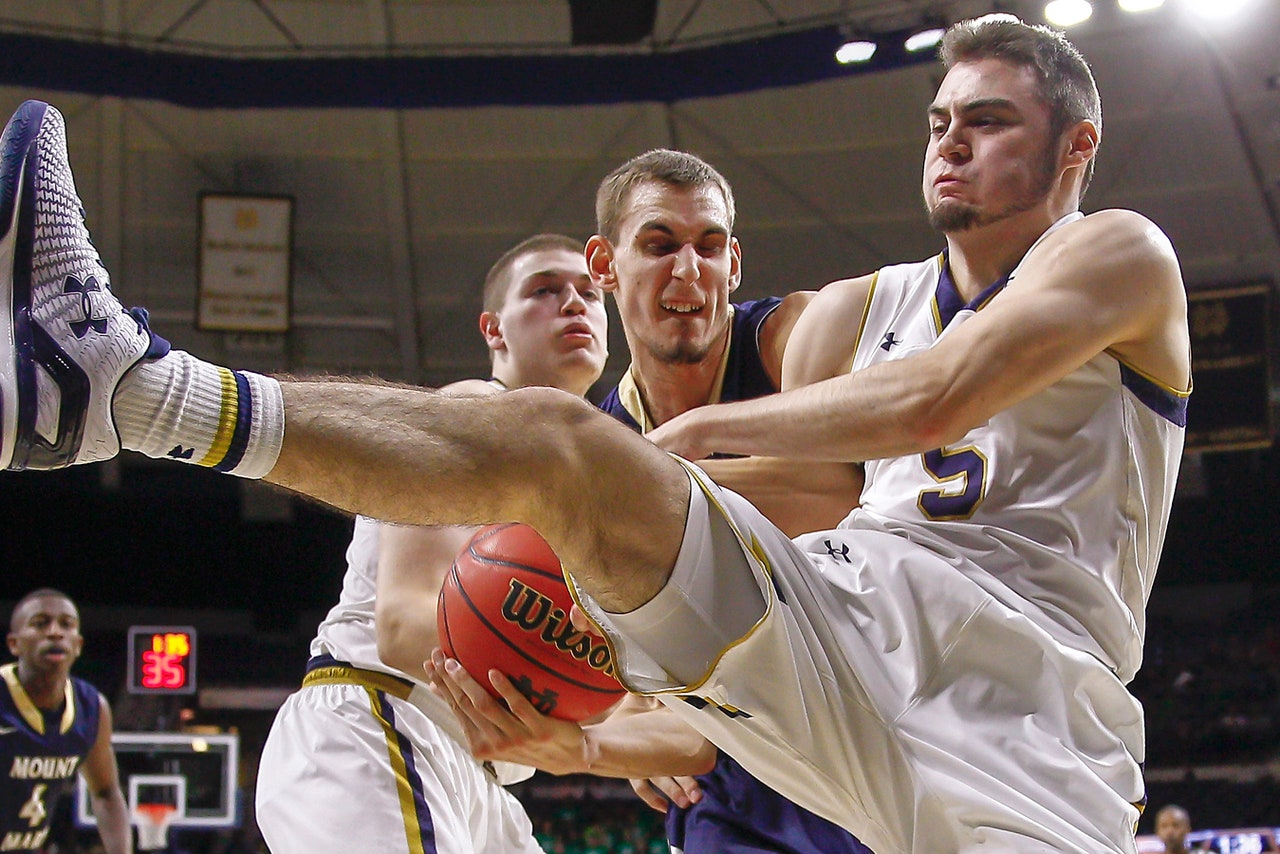 For the past week and a half, Notre Dame coach Mike Brey has been urging sophomore guard Steve Vasturia to be more aggressive.
The message appears to have sunk in.
Vasturia scored a career-high 19 points Tuesday to lead No. 25 Notre Dame to a 93-67 win over Mount St. Mary's. Vasturia was perfect shooting the ball, hitting 7 of 7 from the floor, including three 3-pointers, and both his free throws.
"This was a process we started with him about 10 days ago, like, stop playing so safe, go for it a little bit," Brey said. "We've created a monster."
After scoring a season-high 12 against Michigan State last week, Vasturia has scored in double figures three straight games, while continuing to draw the defensive assignment against the opponents' top perimeter threat.
That was the Mountaineers' Will Miller, who failed to score in the first half, and didn't get the majority of his 12 points until late in the game with the Irish holding a big lead.
With Jerian Grant and Demetrius Jackson -- bigger offensive threats -- to focus on, leaving Vasturia free was part of the game plan for Mount St. Mary's (2-5).
"We were going to let Vasturia try to beat us tonight," said Mountaineers' coach Jamion Christian. "And he did."
Zach Auguste had 19 points and eight rebounds and Grant, Notre Dame's leading scorer, hit his average of 19 points. Jackson finished with 15 points.
Back in the Top 25 for the first time in over a year, the Irish (9-1) used a 30-4 first half run to turn a four-point contest into a blowout before halftime.
Chris Martin hit 5-of-9 3-pointers and finished with 19 points for the Mountaineers.
Not much would go down in the second half for Mount St. Mary's, which missed two tip-ins and followed with a failed dunk attempt by Byron Ashe on consecutive trips down the floor as the Mountaineers hit just 2 of 12 from the floor to open the second half. Notre Dame's lead ballooned to 34 points in that stretch after a Vasturia 3-pointer and Grant's pull up jumper.
The Irish started the game 5-of-5 and had an 11-point lead less than three minutes in.
After Martin's 3-pointer cut that lead to 22-18 with 11:29 left in the half, the Irish roll began. Grant knocked down a long jumper and Vasturia hit consecutive 3-pointers to spark Notre Dame's big run over the next 10 minutes, effectively ending any thought of an upset by the Mountaineers.
"When we got rebounds, we could run and they couldn't get in their press," Vasturia said. "That was big for us. We just kept stepping on the gas."
ACC ON TAP
The Irish open their ACC conference season when Florida State visits Saturday night. With three 7-footers on the Seminole roster, rebounding was on Brey's mind, even after his team beat Mount St. Mary's on the glass, 41-31.
"Can we keep it to one-and-done enough on Saturday to win the game?" Brey said. "That's a big concern."
ON THE OFFENSIVE
Notre Dame, the national leader in field goal percentage, shot 59 percent from the field (36-of-61) and hit for its second-highest point total of the season. The Irish were 13th in the country in scoring offense, averaging 84.2 points per game coming in.
TIP-INS
Notre Dame: This was Notre Dame's third game in seven days. After Saturday against Florida State, the Irish will have played 11 games in 30 days.
Mount St. Mary's: The Mountaineers' "Mayhem" style of play has resulted in school records for 3-pointers made and attempted the last two years. They finished 13 of 35 on 3-point attempts against the Irish.
UP NEXT
Notre Dame hosts Florida State on Saturday.
Mount St. Mary's returns home to face Norfolk State on Saturday.
---