Michigan State Spartans
Michigan State Spartans
Valentine's triple-double leads Michigan St over Kansas
Published
Nov. 18, 2015 1:36 a.m. ET

CHICAGO (AP) Denzel Valentine joined some pretty elite company in Michigan State basketball history.
The senior guard had 29 points, 12 rebounds and 12 assists - the 13th triple-double in Spartans' history - and No. 13 Michigan State rallied for a 79-73 victory over No. 4 Kansas at the Champions Classic on Tuesday night.
Valentine flirted with a triple-double - 13 points, eight rebounds and nine assists - in the season opener against Florida Atlantic. He got it against a power program in Kansas and the points and assists were career-highs.
''I didn't know when it was going to come and I didn't think it was going to come on this stage, this early, but credit to my teammates,'' Valentine said. ''They played a hell of a game. It wasn't pretty, but it got the job done.''
Eight of Michigan State's triple-doubles were by Magic Johnson. Draymond Green had three and Charlie Bell one. Add Valentine to the list.
''There's a million things that he's not good enough at, but winning is something he is good enough at, work ethic is something he's good enough at and basketball IQ is something he's good enough at,'' Michigan State coach Tom Izzo said.
Kansas (1-1) had a 13-point lead twice in the first half, the last time at 28-15 with 6:16 to go. Michigan State (2-0) was within 41-35 at halftime but the Jayhawks again opened the lead to double figures at 61-50 with 9:42 to go on a long layup by Frank Mason III.
Valentine then scored seven points in a 12-1 run to tie the game at 62 with 6:08 to play.
There were six lead changes the rest of the way and it was Valentine who put the Spartans ahead for good at 72-71 on a drive with 1:29 left. He had 21 of his 29 points in the second half.
Valentine's understudy in the comeback was freshman guard Matt McQuaid, who scored six of his nine points on two 3s in the final 3:54 and then he came up with a huge blocked shot of Mason in the final minute.
''Matt McQuaid - how about him - big-time 3s,'' Valentine said. ''He's somebody that impressed me this whole summer and this whole offseason and these first two games. He shows toughness, he always makes the right play. Who would come in as a freshman like that and knock (down) two big, gigantic 3 like that in Chicago, in the United Center on an NBA floor? I wouldn't have done it my freshman year. I'm glad he did it.''
Perry Ellis led the Jayhawks with 21 points, Mason added 14 and Wayne Selden Jr. had 12.
''They made some big shots,'' Kansas coach Bill Self said. ''They made some timely 3s, and we just didn't finish down the stretch I thought like we did the majority of the first 30 minutes of the game and Valentine just took over. He was great tonight.''
''I've always thought he was a good player, but tonight I think he proved to everybody he's an exceptional player,'' Self added. ''He totally controlled the game when they were coming back.''
No. 2 Kentucky beat No. 5 Duke 74-63 in the first game of the double-header.
TIP-INS:
Kansas: The Jayhawks were outrebounded 45-25 but they had the advantage on the offensive glass 12-10. ... Ellis was 9 for 18 from the field while the rest of the starters were 10 for 37.
Michigan State: Valentine's 12 assists matched Kansas' total for the game. ... The Spartans struggled from 3-point range in the first half (3 of 10) but they rallied in the second half to make 6 of 11. ... Michigan State had eight blocked shots to Kansas' one. In their win over Florida Atlantic the Spartans had 12 blocks. ... One of Magic Johnson's triple-doubles came against Kansas on Feb. 4, 1979.
CHAMPIONS HISTORY: This was the second time Kansas and Michigan State met in the five years of the Champions Classic. The Spartans beat the Jayhawks 67-64 in 2012 in Atlanta. It's already set that Duke and Kansas will meet in next year's Champions Classic at Madison Square Garden.
PLAYING THE BEST: Since 1997-98, when Michigan State started its run of 18 consecutive NCAA Tournament appearances, the Spartans have played 199 games against ranked opponents. That's the most of any team that appeared in the Final Four since then and they are followed by North Carolina (182), Texas (173), Duke (173) and Kentucky (170).
UP NEXT:
Kansas: Meets Chaminade in the first round of Maui Invitational on Nov. 23.
Michigan State: Hosts Arkansas-Pine Bluff on Friday.
---
---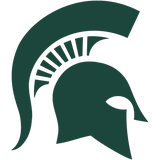 Get more from Michigan State Spartans
Follow your favorites to get information about games, news and more
---