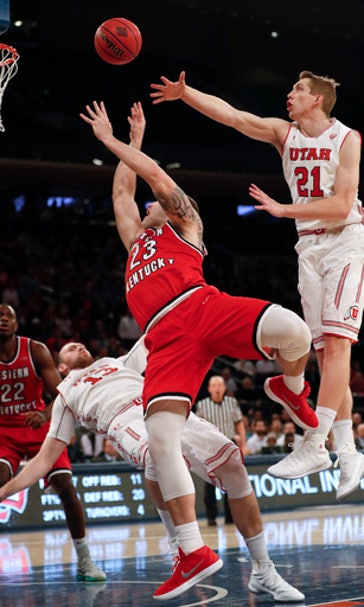 Utah slips by Western Kentucky 69-64 to reach NIT title game
March 27, 2018
NEW YORK (AP) With a poised performance at the free throw line, Justin Bibbins sent Utah to the championship game of the National Invitation Tournament for the first time in 44 years.
Bibbins made all 12 of his foul shots and scored 19 points as the Utes beat Western Kentucky 69-64 on Tuesday night in the semifinals at Madison Square Garden.
''I went to the basics and knocked them down,'' Bibbins said.
Sedrick Barefield added 14 points for the second-seeded Utes (23-11), who advanced to the title game for the third time - and first since losing to Purdue in 1974.
They will play Thursday night against No. 4 seed Penn State, a 75-60 winner over Mississippi State.
''We thought the whole time we could win this thing and bring back the trophy,'' said David Collette, who had 13 points and seven rebounds. ''We're there.''
Tyler Rawson scored 12, including a 3-pointer that put Utah ahead to stay with 38.1 seconds left.
Bibbins led the way despite shooting just 3 for 8 from the field.
''I was happy to go to the line,'' he said. ''Once I got into the flow and made four in a row, I tried to get there more because my shot wasn't falling from the outside.''
Justin Johnson had 24 points for the fourth-seeded Hilltoppers (27-11). Lamonte Bearden added 12 and Dwight Coleby scored 10.
''It's a fine line, winning and losing,'' coach Rick Stansbury said. ''Give them credit (for) making the plays.''
The game went back and forth throughout and wasn't decided until the final seconds. Utah took a 66-64 lead when Rawson hit a 3 from the right side to snap an 0-for-7 shooting slump for the Utes, who went 8:23 without a field goal.
''Ty was wide open,'' Bibbins said. ''I was happy he knocked it down.''
On the ensuing possession, Bibbins drew a charge against Bearden and knocked down two free throws. Johnson missed a straightaway 3 at the other end, and Barefield's free throw with five seconds to go made it 69-64.
''I don't think there's a college team - I may be wrong - that shoots more free throws in practice,'' Utah coach Larry Krystkowiak said. ''We've got some guys that really shoot a high percentage of free throws.''
Johnson's spinning layup with 1:27 remaining put the Hilltoppers ahead 64-63.
The teams went into halftime tied at 32 after Bearden's buzzer-beating jam, and the score was tied 51-all after the third quarter.
BIG PICTURE
Western Kentucky: The Hilltoppers went 7 of 24 from 3-point range, ending an NIT run that included wins over three teams from power conferences: Boston College, top seed Southern California, and Oklahoma State. ''Sometimes when you shoot a lot of 3s and make some, it can be fool's gold a little bit. That's not our strength,'' Stansbury said. ''We shot some 3s early, made some, got some separation, and probably fell in love with it a bit too much early and shot too many. That's not who we are.''
Utah: The Utes missed seven of their nine shots from the field in the fourth quarter but advanced because they hit 12 of 14 free throws in the period. ... It was the first meeting between the schools and Utah's first game against a Conference USA opponent since losing 69-60 to Tulsa in the 2008 CBI quarterfinals.
SOMETHING DIFFERENT
Instead of college basketball's traditional format of two-20 minute halves, the postseason NIT has been played with four 10-minute quarters. The tournament also implemented the FIBA 3-point line (22 feet, 1.75 inches), NBA-width lane of 16 inches, and a 20-second shot clock following offensive rebounds.
UP NEXT
Western Kentucky: Looking ahead to next season.
Utah: A chance to win the NIT for the second time. The school's only title came in 1947 with a 49-45 victory over Kentucky.
---
More AP college basketball: www.collegebasketball.ap.org and https://twitter.com/AP-Top25
---
---