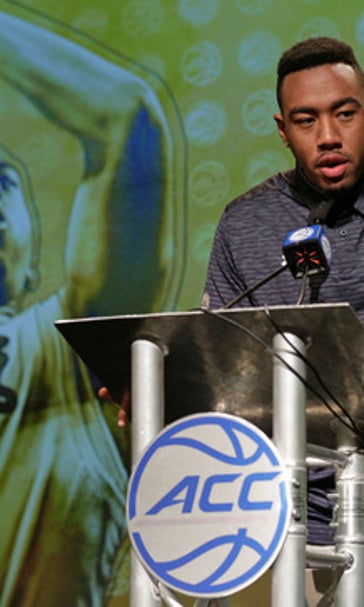 The Latest: Pitt's Stallings shaping an overhauled roster
October 25, 2017

CHARLOTTE, N.C. (AP) The Latest on the Atlantic Coast Conference's preseason media day for men's basketball (all times local):
5:50 p.m.
Pittsburgh coach Kevin Stallings isn't quite sure of what he has for his second year with the Panthers. That's because the team has an almost entirely new roster.
Pitt has 11 new players and its top returning scorer averaged just 5.7 points per game last year.
Stallings said during the ACC media day that he's ''enjoying the heck out of these kids right now'' and called them ''extremely coachable.'' But he knows that's before any games have been played, too.
Stallings spent 17 seasons at Vanderbilt before taking over for Jamie Dixon at Pitt before last season. He said he's ''never had a situation to where it was this extreme,'' but said he ''had my eyes wide open'' on what he was getting into when he took the job.
---
4:30 p.m.
North Carolina guard Joel Berry II is competitive at all things - including video games.
Apparently to a fault.
Tar Heels coach Roy Williams said Wednesday at ACC media day that Berry broke a bone in his right hand after losing a video game to teammate Theo Pinson and a team manager when he punched a door in disappointment.
Berry's action will keep the Final Four's Most Outstanding Player on the bench for about four weeks.
The reigning national champs open the season on Nov. 10 against Northern Iowa.
When North Carolina's trainer called with the news, Williams could not believe it.
Williams says, ''Joel tells me, `Yeah, coach, it was just silly.'''
Sophomore Seventh Woods and freshman Jalek Felton could see more time in the backcourt until Berry's return.
---
3:05 p.m.
Georgia Tech coach Josh Pastner says he and Kentucky coach John Calipari are on an impressive run, one that even the Yellow Jackets coach can't believe is still viable.
Pastner said Wednesday at ACC media day that ''the only two coaches in the last eight years not to lose three games in a row is me and Calipari.''
Pastner has no clue why that is, only that he's glad his players at Memphis for seven seasons and ones he had in first season last year with the Yellow Jackets had the fortitude to dig in for a victory after consecutive defeats.
Georgia Tech went 21-16 in Pastner's first season. He was certain the streak would end after the Yellow Jackets were beaten 81-58 at Tennessee for their second straight loss and headed to difficult VCU. Instead, Tech rallied to win in overtime, 76-73.
Pastner says it is ''nothing that I've done. It's mind boggling and that's what's crazy about sports.''
---
2:05 p.m.
Atlantic Coast Conference Commissioner John Swofford says a task force of league athletic directors will work to find solutions to problems in the college basketball.
Swofford said Wednesday during the ACC media day it will include retiring Virginia athletic director Craig Littlepage, Boston College's Martin Jarmond, Florida State's Stan Wilcox and Duke's Kevin White. It will include Paul Brazeau, the league's senior associate commissioner for men's basketball operations.
The commissioner says the goal is to aid a new Commission on College Basketball established by the NCAA amid a federal fraud and bribery case that has shaken the sport. It is chaired by former Secretary of State Condoleezza Rice.
Swofford says he hopes to ultimately find ways to modernize rules ''to live in today's world in a way that makes sense.''
---
12:40 p.m.
Notre Dame's Bonzie Colson knows he's wearing a target this season - literally.
He said Wednesday during ACC media day that assistant coach Ryan Humphrey recently gave him a poster featuring Colson sporting a photoshopped bullseye on his chest. It's a reminder of what awaits the 6-foot-6 senior, who was an Associated Press third-team All-American last year and is a candidate for ACC player of the year.
Colson says there's also a message on the poster: ''Every game.''
Colson averaged 17.8 points and a league-best 10.1 rebounds, including an ACC-best 19 double-doubles. He says he's focusing on being a better leader this season, adding: ''I'm always going to be humble and hungry.''
---
12:15 p.m.
Clemson senior forward Donte Grantham was about to walk the street at the team's Barcelona hotel to find his mom a souvenir when he ran into teammate Mark Donnal and never left.
Moments later, the players heard screams and commotion from a fatal attack after a van ran up the curb and crashed into tourists. There were 13 people killed in the incident that took place right in front of the Tigers' hotel during the team's preseason trip to Spain.
Grantham said Wednesday at ACC media day that the Tigers ''really didn't know what was going on. At first we thought it was gunshots, that's how loud it was. Once we got inside, and heard what happened. It was a bad situation.''
Clemson, Arizona and Oregon State were all staying at the hotel as part of their summer tour. No one from Clemson's traveling party was hurt. The team cancelled its final game in Spain and returned to campus.
Grantham was not sure what could have happened if he had not run into Donnal, saying, ''Words can't describe it.''
---
10:55 a.m.
North Carolina State forward Lennard Freeman says is eager to play again, even with a 14-inch rod in his right leg.
Freeman said Wednesday at ACC media day that he is pain-free now and has been conscious not to push himself too hard during the opening weeks of practice to ensure he stays healthy.
The Wolfpack's fifth-year senior redshirted last year after reinjuring a stress fracture in his shin. He needed a second surgery to remove a previously installed rod and replace it with a new one.
The injury had him limping around in limited minutes during the 2015-16 season.
First-year coach Kevin Keatts will need the 6-foot-8 forward to provide rebounding and interior toughness.
As for the rod, Freeman says he has two of them, ''one in my leg and one in my room I'm keeping.''
---
2:30 a.m.
The Atlantic Coast Conference is aiming to extend one of the most successful runs in its recent history.
The 15-team league holds its preseason media day Wednesday in Charlotte, North Carolina. League coaches and players will discuss the upcoming 2017-18 season, which follows the ACC claiming a second national championship in three years.
The ACC also posted a record nine NCAA Tournament bids last year, nearing its post-expansion goal of reaching double figures.
Duke is a contender to be the preseason ACC favorite with senior Grayson Allen's return and the arrival of a heralded recruiting class. Reigning national champion North Carolina will rely on an experienced backcourt, while Notre Dame returns a candidate for player of the year in senior Bonzie Colson.
---
More AP college basketball: http://collegebasketball.ap.org and http://www.twitter.com/AP-Top25
---
---