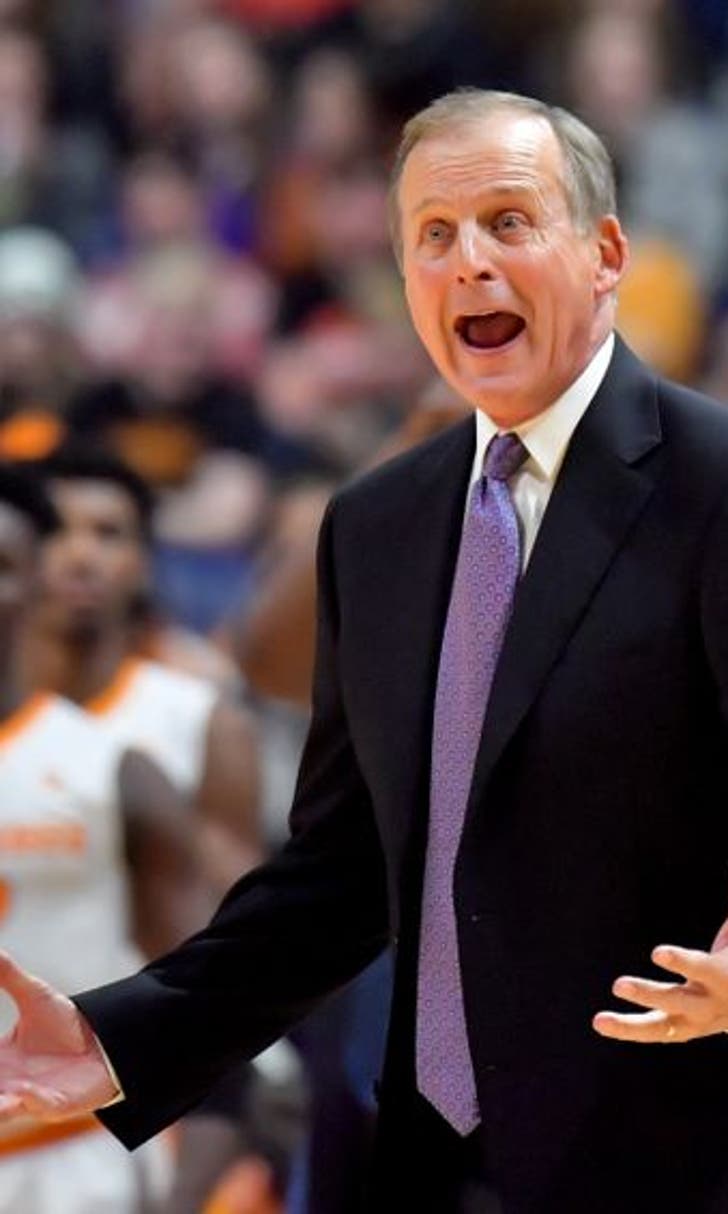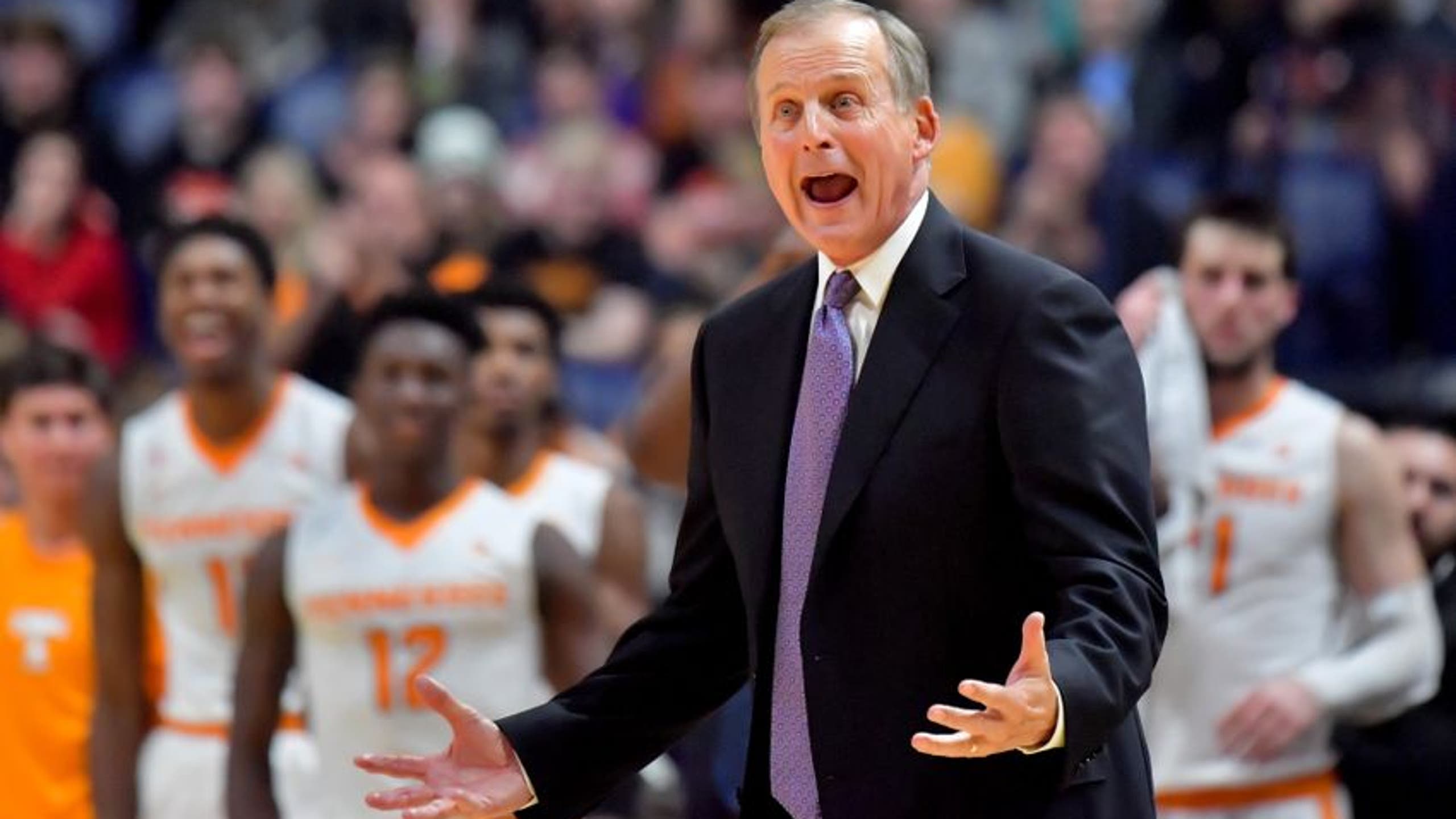 Tennessee Basketball: 5 Things Vols Have to do to be Successful in SEC Play
BY Fansided and Caleb Calhoun/FanSided via All for Tennessee • December 29, 2016
Nov 23, 2016; Lahaina, Maui, HI, USA; Tennessee Volunteers coach Rick Barnes coaching on the sidelines against the Chaminade Silverswords during day three of the Maui Jim Maui Invitational at the Lahaina Civic Center. Mandatory Credit: Brian Spurlock-USA TODAY Sports
Tennessee basketball begins Southeastern Conference play against Texas A&M. Here are five keys to the Volunteers being successful in the league.
Tennessee basketball may be entering SEC play with just a 7-5 record, but the Vols are currently in the Top 100 of the RPI.
With the No. 30 ranked strength of schedule, they have a great chance to make the NCAA Tournament with their RPI resume at the end of the year. After all, a tough schedule is the first step, and that ranking will only go up in conference play.
The next step is getting eligible, which means finishing with a winning record.
But the final step is actually getting a few quality wins.
That is where the Vols are currently lacking. While all five of their losses are to Top 100 RPI teams, including four to Top 50 RPI teams and three to Top 25 RPI teams, they have yet to actually win a game against a Top 100 RPI team.
With 18 SEC games coming along with a non-conference match-up against the Kansas State Wildcats, the Vols have 15 chances to beat teams currently in the Top 100 of the RPI.
Of course, this is subject to change, but it still gives them plenty of opportunities to get those quality wins.
Doing that and finishing with 11 wins in SEC play might be enough to get them to the tournament considering their schedule strength.
However, Rick Barnes's team has to do a lot of things right and improve in certain areas to reach that goal.
Here are the five keys to success for Tennessee basketball entering SEC play.
Nov 11, 2016; Knoxville, TN, USA; Tennessee Volunteers guard Jordan Bone (0) shoots the ball against Chattanooga Mocs guard Greg Pryor (1) during the second half at Thompson-Boling Arena. Chattanooga won 82-69. Mandatory Credit: Randy Sartin-USA TODAY Sports
1. More Consistent Point Guard Play
This is clearly the area where Tennessee basketball needs to improve the most. However, the Vols already appear to be on the right track with Jordan Bone slated to return on Thursday.
He was supposed to be the Vols' true point guard from the start.
And through the first three games, he already looked great. One of them included eight assists against Appalachian State.
However, Bone can't do it alone. He's still hurt a bit, and he's developing. That means that Barnes needs his other players to step up.
Shembari Phillips showed flashes of brilliance at the position with Bone out, but he was also wildly inconsistent.
After all, he had five assists against Lipscomb and Tennessee Tech and seven assists against Georgia Tech. But he combined for three assists against Gonzaga, UNC, and ETSU, and he had nine turnovers in those games.
So Phillips has to be more reliable, especially with Lamonte Turner being more of a combo guard who is still trying to fit in.
Barnes needs all three of these guys to be able to manage the position if he calls on them. Bone and Phillips have shown they can do it. They have to continue to prove it.
With The Vols' offense based on such tempo, a point guard who is in control is a huge deal. Without that, everything can fall apart.
The next key on this list plays a role as well in keeping the unit glued on the court.
Dec 6, 2016; Knoxville, TN, USA; Tennessee Volunteers forward Admiral Schofield (5) looks to pass the ball against the Presbyterian Blue Hose during the second half at Thompson-Boling Arena. Tennessee won 90 to 50. Mandatory Credit: Randy Sartin-USA TODAY Sports
2. Physical Play from Point Forwards
This has been an issue for Tennessee basketball ever since Admiral Schofield got suspended. So we will start with him.
Schofield was supposed to be a star here and replace Armani Moore easily. The 6'4″ 238-pound sophomore can stretch the floor with his shot, play big underneath the basket, use his athleticism to make hustle plays, and keep the offense together as a great passer.
But he's not been able to do any of those things since coming back from suspension. Since then, he's averaged just over five points a game and is shooting worse than 30 percent from the field. He also has five turnovers and one assist during that time.
And the only two games he got more than one rebound were against Tennessee Tech and Presbyterian.
Simply put, Schofield's been awful. Barnes turned to Grant Williams in his suspension, and both showed flashes just like Shembari Phillips.
But Fulkerson is now out for a while, and Williams is young and developing at the same time. So Schofield should be the main point-forward here while Williams provides depth.
Together, they are key. For starters, they help the point guards keep the group together in the half-court offense. And they are supposed to complement the bigs, Kyle Alexander and Lew Evans.
So if Tennessee basketball is going to make a run in the SEC, they have to get better.
But while they have to do the physical stuff away from the basket, this next guy is key to everything.
Dec 13, 2016; Knoxville, TN, USA; Tennessee Volunteers guard Robert Hubbs III (3) drives to the basket against the Tennessee Tech Golden Eagles during the the first half at Thompson-Boling Arena. Mandatory Credit: Randy Sartin-USA TODAY Sports
3. Robert Hubbs III Remains Centerpiece of the Offense
By himself, Robert Hubbs III was always going to be a crucial part of the Vols going into the year. He is the only senior on the roster, the most experienced player, and also the highest-rated recruit. Hubbs was a five-star coming out of high school.
And this was his first year playing in the same system two years in a row after suffering a season-ending injury his freshman year under Cuonzo Martin and then going from Donnie Tyndall to Barnes.
Given all of that, he was clearly designated the role of being the Vols' everything.
And so far, the 6'5″ 207-pound senior has done a very solid job showing that aggression we have been waiting for three years to see from him.
He is averaging 15 and half points a game while shooting 53 percent from the field.
Hubbs is efficient, aggressive, and demanding. This is what Vols fans have wanted to see for a long time. He's showing it in other ways as well, averaging nearly five rebounds a game.
The best part is he has found ways to score without his three-point shot falling. Hubbs is in a slump there so far this year, shooting under 20 percent from long-range.
Yet he's still managed four 20-plus point games. Part of that is his aggression allowing him to draw lots of fouls and go to the free throw line more.
And he's making 89 percent of his free throw attempts, which is another huge testament to his efficiency. It also brings us to our next key.
Dec 6, 2016; Knoxville, TN, USA; Tennessee Volunteers forward Admiral Schofield (5) shoots a free throw against the Presbyterian Blue Hose during the second half at Thompson-Boling Arena. Tennessee won 90 to 50. Mandatory Credit: Randy Sartin-USA TODAY Sports
4. Continue Elite Free Throw Shooting
Tennessee basketball is not very big and not very experienced. But they have athleticism, talent, and one thing that could make a huge difference in numerous close games if it continues: free throw shooting.
The Vols currently shoot 75.5 percent from the free throw line, good for third-best in the conference behind the Vanderbilt Commodores and the Arkansas Razorbacks.
That number could be higher as well had Barnes not been limited due to injuries and suspensions during non-conference play. So the potential for the difference Tennessee basketball's free throw shooting could make in games is huge.
Robert Hubbs III helps this by shooting 89 percent from the free throw line. But Lamonte Turner and Jordan Bone both shoot 83 percent, Jordan Bowden is at 94 percent, and Shembari Phillips shoots 79 percent.
Meanwhile, the bigs also help out, with Lew Evans shooting 76 percent and Admiral Schofield currently a perfect 9-9 on the season at the line.
Detrick Mostella shooting 74 percent is also very solid, and it gives the Vols plenty of options if they need scoring late in games.
Kyle Alexander at an atrocious 44 percent and Grant Williams at 65 percent are the two who need to show improvement.
Outside of them, this is one mismatch that could work significantly towards Tennessee's advantage down the stretch.
And it especially helps with their style of play and the number of fresh bodies they should have to be able to shoot at all. That brings us to our final point.
Dec 15, 2016; Knoxville, TN, USA; The Tennessee Volunteers bench reacts after a score against the Lipscomb Bisons during the second half at Thompson-Boling Arena. Tennessee won 92 to 77. Mandatory Credit: Randy Sartin-USA TODAY Sports
5. Use Depth as an Advantage
This is something Rick Barnes focused on with his recruiting tactics for Tennessee basketball this year. He brought in lots of solid players who can develop knowing there would be growing pains.
But as they continued to play together, they would get better, and at the same time, they would have tons of depth.
That's where the Vols are at right now.
Even with John Fulkerson out and Jordan Bone getting back to health, Tennessee is loaded with players to sub in and out. Barnes has 11 guys averaging over 10 minutes a game right now, and only Robert Hubbs III is averaging over 30 minutes a game.
But it's only at 30.3.
And Hubbs is also the only guy averaging over 25 minutes a game as well. So the Vols run a lot of players.
If Barnes continues to use this to his advantage, it should be key down the stretch of the SEC season.
After all, his up-tempo offense should tire out a lot of teams, but his team should still be fresh in late February and March. That sets them up to make a great run.
On top of that, they will get more experience, so if Barnes continues to use this depth to his advantage, he's got a team in great shape down the stretch.
However, he needs to keep in place what he has already done throughout the season. And his guys need to develop more and improve a bit if they are going to be able to do that.
More from All for Tennessee
This article originally appeared on
---
---