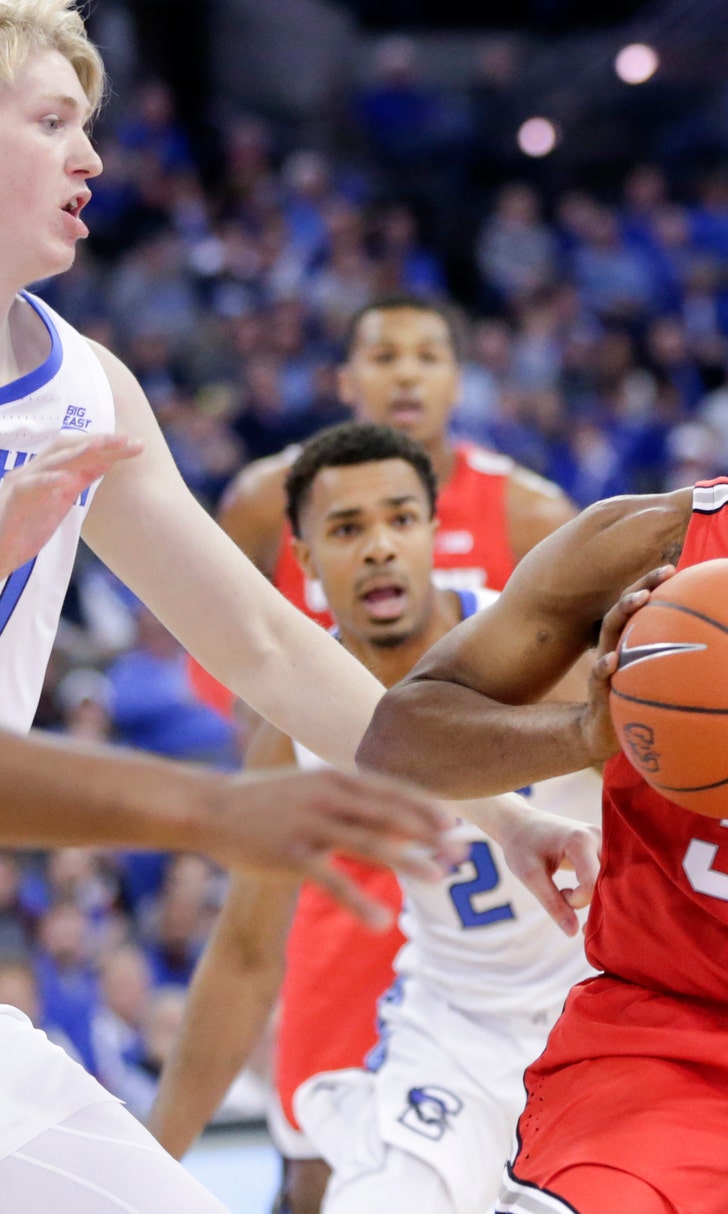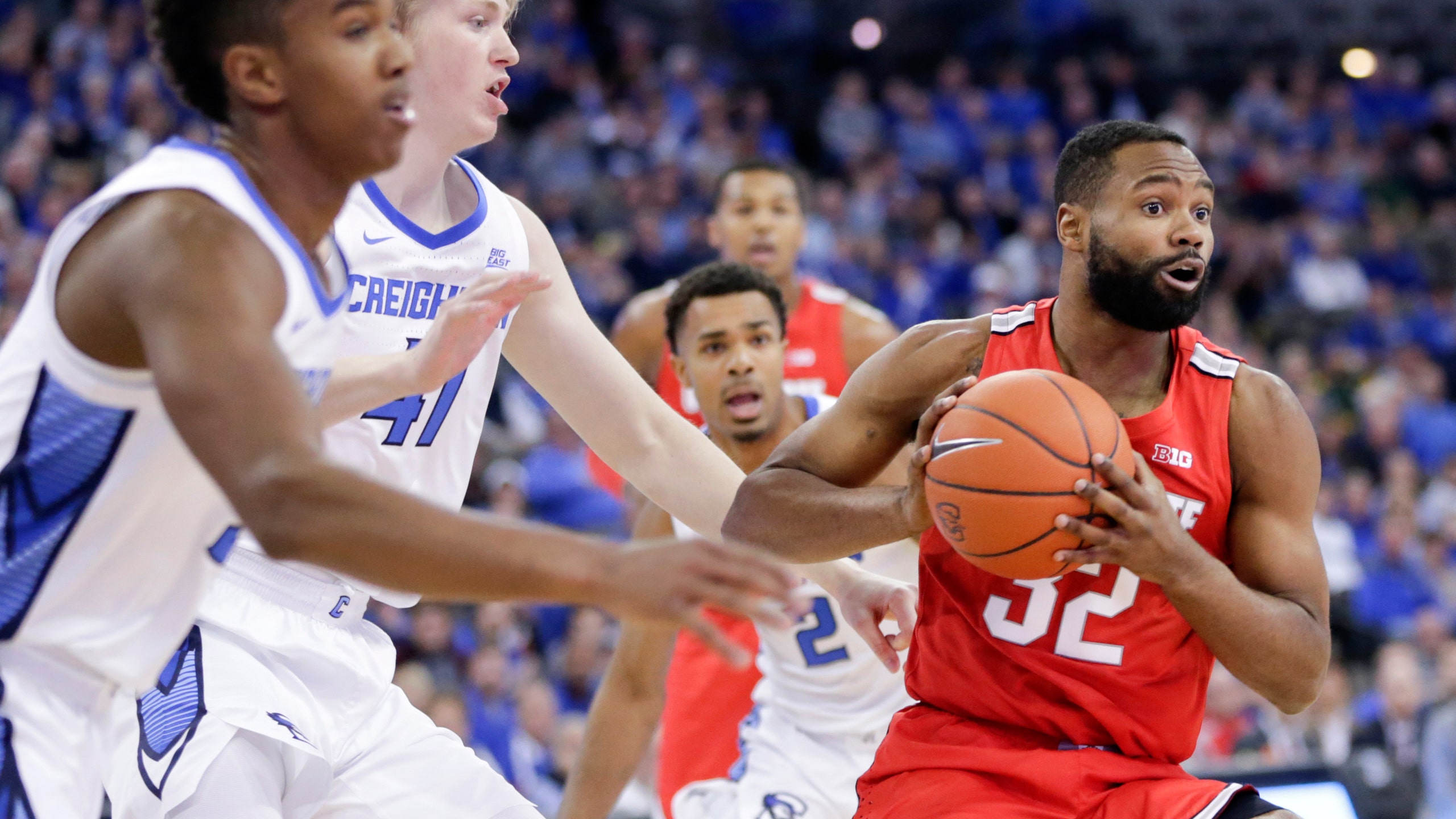 Ohio State beats Creighton 69-60 after blowing its big lead
November 15, 2018
OMAHA, Neb. (AP) — A bunch of newcomers carried Ohio State for much of the game against Creighton. When the Buckeyes called on their longest-tenured player, he delivered.
C.J. Jackson took a cross-court pass from Keyshawn Woods and launched the go-ahead 3-pointer with 2:10 to play and made a hook shot in the lane in the final minute as the Buckeyes held off the Bluejays 69-60 after squandering a double-digit halftime lead Thursday night.
Jackson had been 0 for 7 from the field with five turnovers before coming up with two of the Buckeyes' biggest baskets.
"We need him," Woods said. "I told him to stay confident and that we needed him to come up big down the stretch, and that's just what he did."
Woods scored 15 of his game-high 19 points in the first half as the Buckeyes (3-0) got out to a 37-25 halftime lead, but Creighton (2-1) stormed back to take a four-point lead before fading and losing for the first time in 25 home nonconference games since December 2015.
Duane Washington Jr. added 12 points for the Buckeyes, who clinched the Big Ten's fifth win in eight-game Gavitt Tipoff Games. The Big Ten and Big East went 4-4 against each other in the previous three Tipoff Games.
"A lot of credit to Creighton," Ohio State coach Chris Holtmann said. "We knew they would come out and respond in the second half and, boy, did they ever."
The Bluejays wiped out their halftime deficit and led 55-54 on Martin Krampelj's tip-in with 5:40 left, and it was 60-56 when Mitch Ballock hit a 3 from the corner.
But Washington answered with a 3 of his own, and after Krampelj missed a free throw, Jackson made his 3 from in front of the Buckeyes' bench. Kyle Young dunked for a four-point lead with a minute to play. After Luther Muhammad swiped at the ball and it went out of bounds off Davion Mintz's leg, Jackson floated through the lane to make his hook shot.
Ty-Shon Alexander led the Bluejays with 16 points and Mintz had 12.
"Really the end of the first half and end of the second half, those were two areas where they were extremely efficient and we weren't," Creighton coach Greg McDermott said. "If you take away those 12 possessions, defensively we were really good."
THE BIG PICTURE
Ohio State: Holtmann is still trying to figure out his best combinations after losing three starters from last season. The Buckeyes picked up a second straight quality road win. They won at Cincinnati last week.
Creighton: Creighton also has a lot of new faces, and it showed grit coming back after the Buckeyes took control of the game late in the first half.
"When I was a young coach," McDermott said, "I judged progress on whether we won or lost. Been at this long enough, and you just can't do that. While we've made mistakes, this team is progressing and the fight they showed the second half is what we have to have."
FAMILIAR SETTING
Ohio State's Holtmann was accustomed to coaching at the CHI Health Center, having been at Butler of the Big East from 2014-17. He was 3-3 against the Bluejays those years, 1-2 in Omaha. "I'm usually in a pretty bad mood when I'm in this seat," Holtmann said as he sat down to start his postgame news conference.
THE KIDS WILL BE FINE
Ohio State got impressive performances from freshmen Washington, Luther Muhammad and Jaedon LeDee. The three combined to go 8 for 14 from the floor for 20 points with nine rebounds and three steals.
"Our freshmen are dogs," Woods said. "They're gritty, they love defense, they love to win."
UP NEXT
Ohio State hosts South Carolina State on Sunday in the Buckeye Classic.
Creighton plays Boise State on Monday in the Cayman Islands Classic.
__
More AP college basketball: https://apnews.com/Collegebasketball and https://twitter.com/AP_Top25
---
---