North Carolina State Wolfpack
North Carolina State Wolfpack
No. 17 Duke looks to build on comeback win (Jan 23, 2017)
Published
Jan. 23, 2017 12:44 p.m. ET

DURHAM, N.C. -- Duke and North Carolina State have been in some similar situations up to this point in the season, with the debuts of freshmen delayed and injuries striking along the way.
So while both teams are aiming for continuity, they might be sensing desperation in their own ways when they meet Monday night at Cameron Indoor Stadium.
No. 17 Duke coped with injured freshmen at the start of the season and the Blue Devils have dealt with other distractions. N.C. State had eligibility issues postpone the debuts of a pair of freshmen and an injury kept another key player off the court for weeks.
The teams, albeit with different accomplishments, can be compared to some degree.
"It's just hard to get your team developed, but you have to figure it out," N.C. State coach Mark Gottfried said. "We have to figure it out. They have to figure it out. Everybody has to figure it out."
Duke has found some solutions, perhaps most notably with Saturday night's comeback from 12 points down to defeat Miami 70-58.
The Blue Devils (15-4, 3-3 ACC) said turning anger into something good was part of the winning formula for that game.
"It was just us coming together and saying enough is enough," Duke freshman forward Jayson Tatum said. "We know what we have to do and it's just a matter of us all being in and being hungry. We were hungry in the second half and when we're hungry, man, we're scary."
Interim coach Jeff Capel liked the response.
"I think we were all fed up," Capel said. "There has to be a sense of urgency to change it."
N.C. State (13-7, 2-5) suffered a 93-88 home loss to Wake Forest on Saturday.
With the second game in three days for both teams, it's important to look ahead in a hurry.
"We'll have to play hard and follow the coaches' plan," Wolfpack forward Abdul-Malik Abu said. "We'll go into the game with the same focus we go into every game."
N.C. State played two games in three days last week, winning on the back end.
"I'm just excited to keep playing. Every game is only worth one game," N.C. State guard Torin Dorn said. "We've got 11 more tests to go, so there is no time to sulk and worry about this (latest) loss."
Duke has used seven different starting lineups, with senior forward Amile Jefferson returning to that role after a two-game absence with a bruised foot. Capel said it was too soon to know what group would be used Monday night after his lineup shuffle at the beginning of the second half sparked the big rally in the Miami game.
"That group did great," Capel said. "For us, it shouldn't matter who starts."
N.C. State freshman Dennis Smith Jr. has led the Wolfpack in scoring in eight of the last 11 games. He was a recruiting target for Duke, so Capel is aware of his abilities.
"A team that can really score," Capel said of N.C. State, "and with as talented of a guard (in Smith) as there is in college basketball."
Monday night's game is the only scheduled meeting of the season between the teams. Duke has won the last four in the series, including a sweep of three matchups last season.
If N.C. State pulls an upset, it will mark a couple of milestones. It would be the 100th all-time victory against Duke, which leads the series 146-99, and it would be Gottfried's 400th career coaching win.
---
---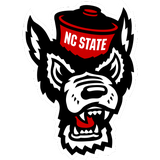 Get more from North Carolina State Wolfpack
Follow your favorites to get information about games, news and more
---