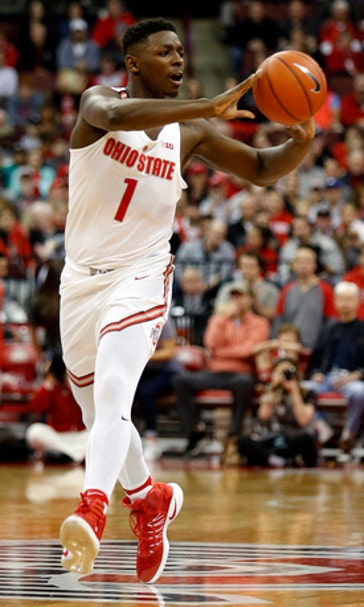 New coach tries to put struggling Buckeyes back together
October 26, 2017

COLUMBUS, Ohio (AP) The offseason for the Ohio State basketball program was strange and tumultuous.
First the Buckeyes missed the NCAA Tournament for the second straight season, finishing 7-11 in the Big Ten.
Center Trevor Thompson left early for the NBA draft. One of the team's best players, JaQuan Lyle, quit in April following an arrest, and another player was dismissed for ''failure to meet team expectations.''
Coach Thad Matta was fired in June, three months after athletic director Gene Smith had issued a statement saying he had job security. Butler coach Chris Holtmann was hired a week later, and he got to work piecing together a roster that will be competitive this season while rushing to lock up some top recruits for 2018-19.
Holtmann - and everyone else associated with the team - acknowledged the Buckeyes are in another rebuilding year. Three of the four top scorers and the top rebounder from last year's 17-15 team are gone. Depth will be lacking and injuries will be difficult to handle. The new players will have to contribute right away.
''Our season in many ways is going to be determined by how we handle what happens when their expectations - whether it's playing time or how the season is progressing - gets met with reality,'' Holtmann said.
''There's going to be a lot of ups and downs,'' he added. ''There's going to be some tough stretches, and if we don't handle that the right way then we're going to struggle.''
BUILDING BLOCKS
The Buckeyes will rely heavily on senior forward Jae'Sean Tate, who led the team in scoring with a 14.3 average last season, and redshirt junior forward Keita Bates-Diop, who was lost for the season to a leg injury in early January. Ohio State needs a breakout year from a now-healthy Bates-Diop, who averaged nearly 10 points in the first nine games before the injury last season.
Holtmann also puts senior guard Kam Williams in that category with Tate and Bates-Diop.
''I think we'll go as our fourth and fifth-year guys go,'' he said. ''Our season will in large part be determined by them....Not just in their play but in their leadership and how they direct the team. In a lot of ways our season is in their hands.''
THIN AT GUARD
C.J. Jackson returns at point guard, but the only other point player on the roster is Andrew Dakich, a University of Michigan graduate transfer seeking more playing time than he got there.
''It's going to be a lot on him,'' Holtmann said of Jackson as the primary ball-handler. ''And he's going to be important for us.''
Williams will start at the other guard spot, but the ranks are thin. The only other guards on the roster are Joey Lane, who played in four games last season, Air Force transfer Danny Hummer, and true freshman Musa Jallow.
BIG MAN AND THE WESSON BROTHERS
Sophomore Micah Potter, who backed up Thompson last year, returns to start at center. The 6-foot-9 sophomore averaged about 14 minutes per game, with 4.1 points and 3.1 rebounds. One of the only experienced bigs on the roster, he's going to have to be more aggressive inside. Toward that end, he gained strength and muscle mass in the off-season.
''I've been working on being able to handle the ball a little bit, be able to be more than just a catch-and-shoot guy,'' Potter said. ''I've tried to develop myself to be able to put it on the floor a little bit and expand on my repertoire in the post.''
The Wesson brothers from the Columbus suburb of Westerville - sophomore Andre and 6-foot-9 freshman Kaleb - also will play in the backcourt. Andre Wesson played in 29 games off the bench last year.
Kaleb Wesson and fellow freshman Kyle Young, who had committed to Butler but then followed Holtmann to Ohio State, are likely to play significant minutes.
HOLTMANN BRINGS NEW VIBE
The Buckeyes are may be thin on talent, but Holtmann has made sure the espirit de corps is strong.
That included entertaining players and recruits at his house on most every Saturday night throughout the summer. He hopes it helped them develop the camaraderie they'll need for the inevitable tough times this season.
''That's been a good tool that we've used not only to show the recruits a good time but to get to know each other,'' Tate said.
---
Follow Mitch Stacy at http://twitter.com/mitchstacy
---
For more AP college basketball coverage: http://collegebasketball.ap.org and http://twitter.com/AP-Top25
---
---