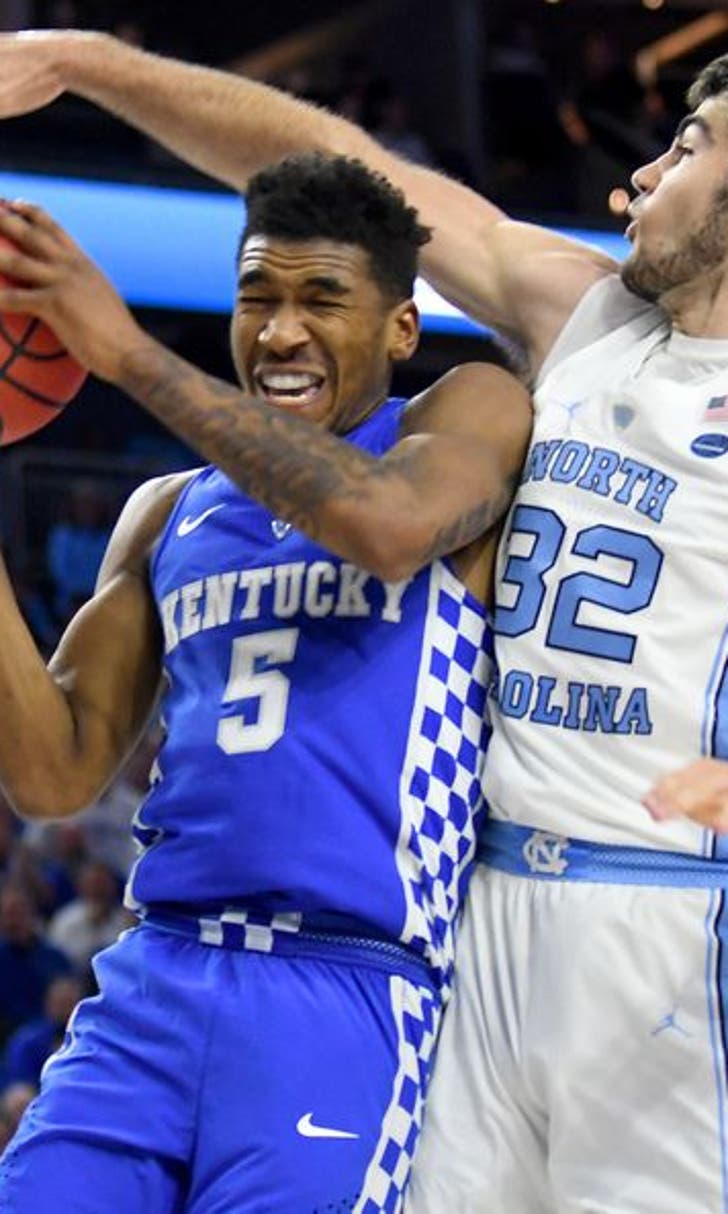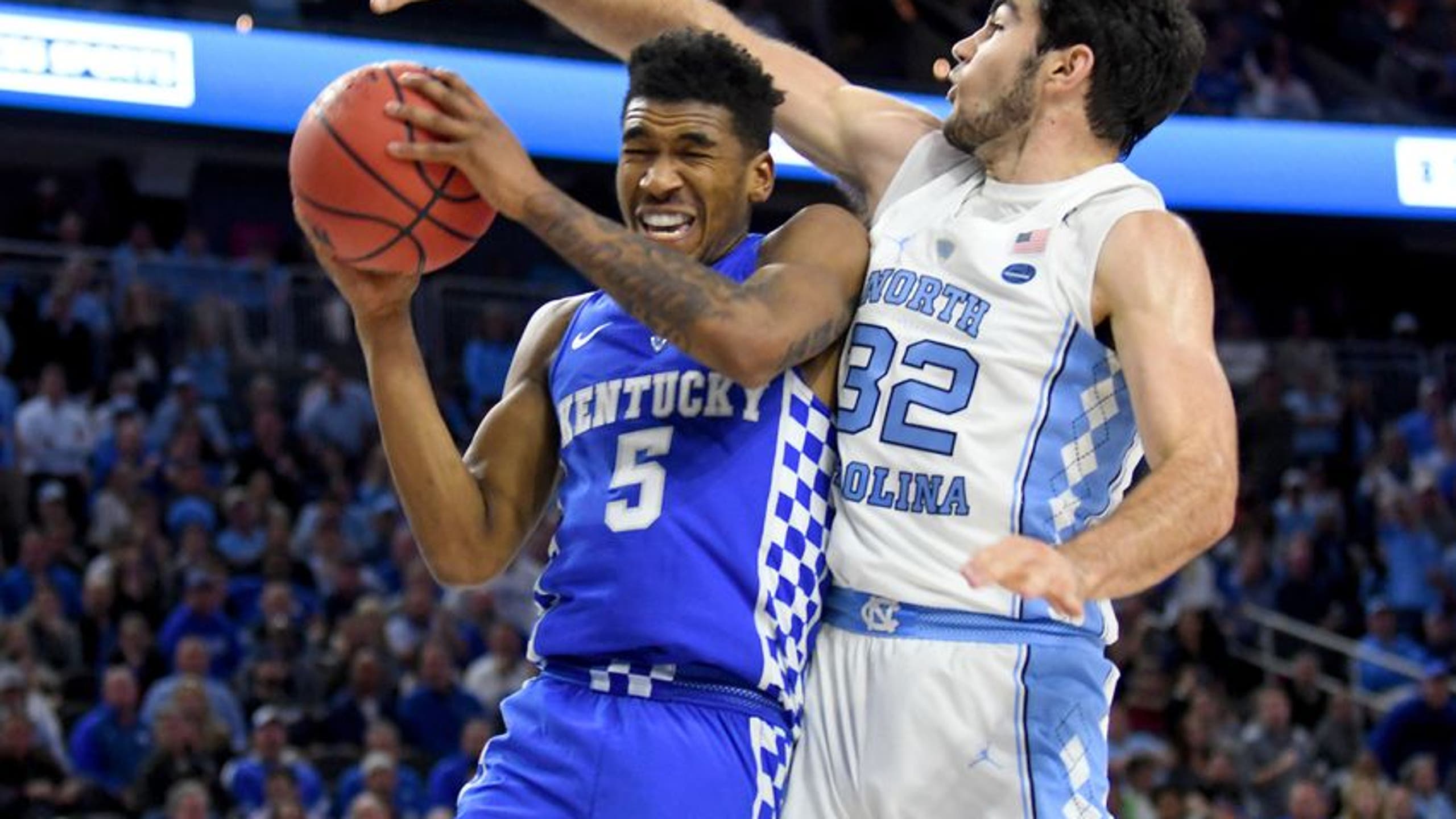 Kentucky Basketball: Wildcats edge out Tar Heels in instant classic
BY Fansided and Mike Knapp/FanSided via Busting Brackets • December 17, 2016
In a high level, quality basketball game, Kentucky basketball edged North Carolina in Vegas.
KentuckyWildcats103
Kentucky defeated North Carolina 103-100 on Saturday night in the finale of the CBS Sports Classic. This was one of the most highly anticipated match-ups of the college basketball season, and it did not disappoint. This game will be remembered for a very long time.
The first half was a back and forth affair. Both teams were on fire offensively and shooting well over 50 percent from the field, but it was Kentucky that led for most of the first 20 minutes. They saw their lead grow as large as 12, but the Tar Heels fought back to cut the lead to five at the break.
The first half was highlighted by incredible performances by Kentucky's Malik Monk (27 points) and UNC's Justin Jackson (20 points). Roy Williams also stole some headlines with this emphatic technical after UNC was called for multiple questionable fouls consecutively.
While I don't want to take anything away from Kentucky's stellar backcourt and their impressive first half, Williams did have the right to be angry. The Wildcats got some VERY favorable calls early on. But, at the end of the day, it was their talent more than anything that gave them 56 first half points. That is the most a Roy Williams coached team has ever surrendered before intermission.
The second half was just as compelling, and without a doubt solidified this game as an instant classic between two college basketball blue bloods. The Wildcats once again found themselves ahead for the majority of the final 20 minutes. The Tar Heels cut the deficit down to two on multiple occasions, but Kentucky kept finding a way to answer. They extended their lead back into double digits at one point, but UNC refused to go away.
The Tar Heels were down seven with less than five minutes left, but were able to chip away at the lead and tie things up at 95 with 1:51 remaining. The last two minutes made for one of the most exciting finishes in recent college basketball memory.
Justin Jackson knocked down a three with 1:35 left to give Carolina a three-point lead, but Kentucky tied it back up immediately with a Monk triple on the other end. Then Jackson once again responded, this time with an And-1 layup that put UNC up two. He did, however, miss the free throw, which would prove to be costly.
After Luke Maye was able to tip out the offensive rebound after Jackson's miss, UNC settled for a long jumper late in the shot clock. Kentucky was able to get the rebound this time around, and De'Aaron Fox found Monk streaking to the wing, where he knocked down another three, his eighth of the game, to put the Wildcats up one in what ended up being the game-clinching shot.
Carolina tried to answer back, but Isaiah Hicks forced up a tough fadeaway jumper over two defenders. Kentucky got the rebound, made two free throws to extend their lead to three, and Carolina was not able to get a good shot off as they attempted to tie things up with less than two seconds left.
Late in the game what really stood out, aside from Monk's incredible performance, was Williams' decision to not call a timeout in what ended up being their final full possession. The UNC head coach has been known in the past to let things play out, but this looked to be an especially questionable decision tonight, especially when Hicks was being trapped in the post before forcing up an awful shot that did not hit the rim.
Despite the questionable coaching decision late, this was a game decided by some of the best players in the country. There were multiple impressive individual performances for both teams. This included Jackson's 34 points for Carolina, and Fox's 24-point, 10-assist outing for the Wildcats. But, as good as both players were, neither one came close to matching Monk.
The freshman finished with 47 points on 18-of-28 shooting from the field, including his aforementioned eight makes from beyond the arc and the eventual game-winner. In easily the best game of the college basketball season so far, Monk turned in a performance for the ages, setting the record for the most points by a freshman in Kentucky history. (He demolished the previous record of 35 points shared by Terrence Jones and Jamal Murray.)
This was an absolutely phenomenal performance by both teams and will not be forgotten anytime soon. While the Tar Heels may have come out of the game with a loss, they without a doubt look to be every bit of the national title contender that they were expected to be. Kentucky was just a little bit better on Saturday night and have no real competition in the SEC.
More from Busting Brackets
This article originally appeared on
---
---