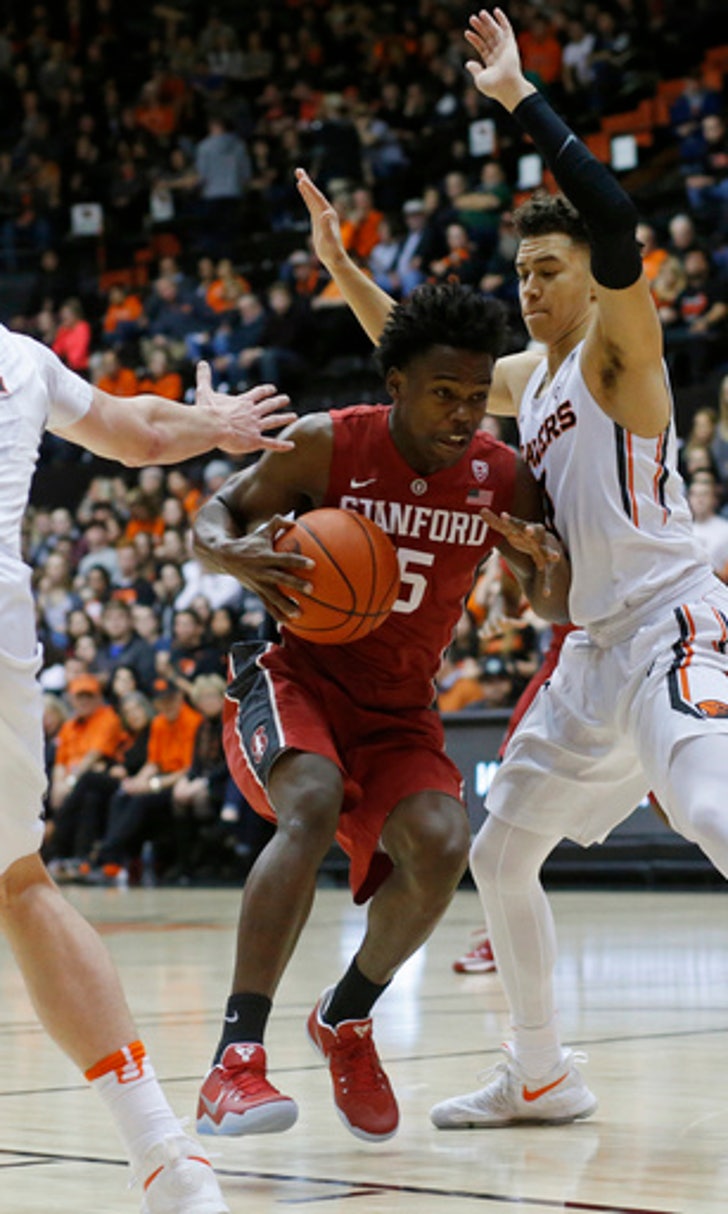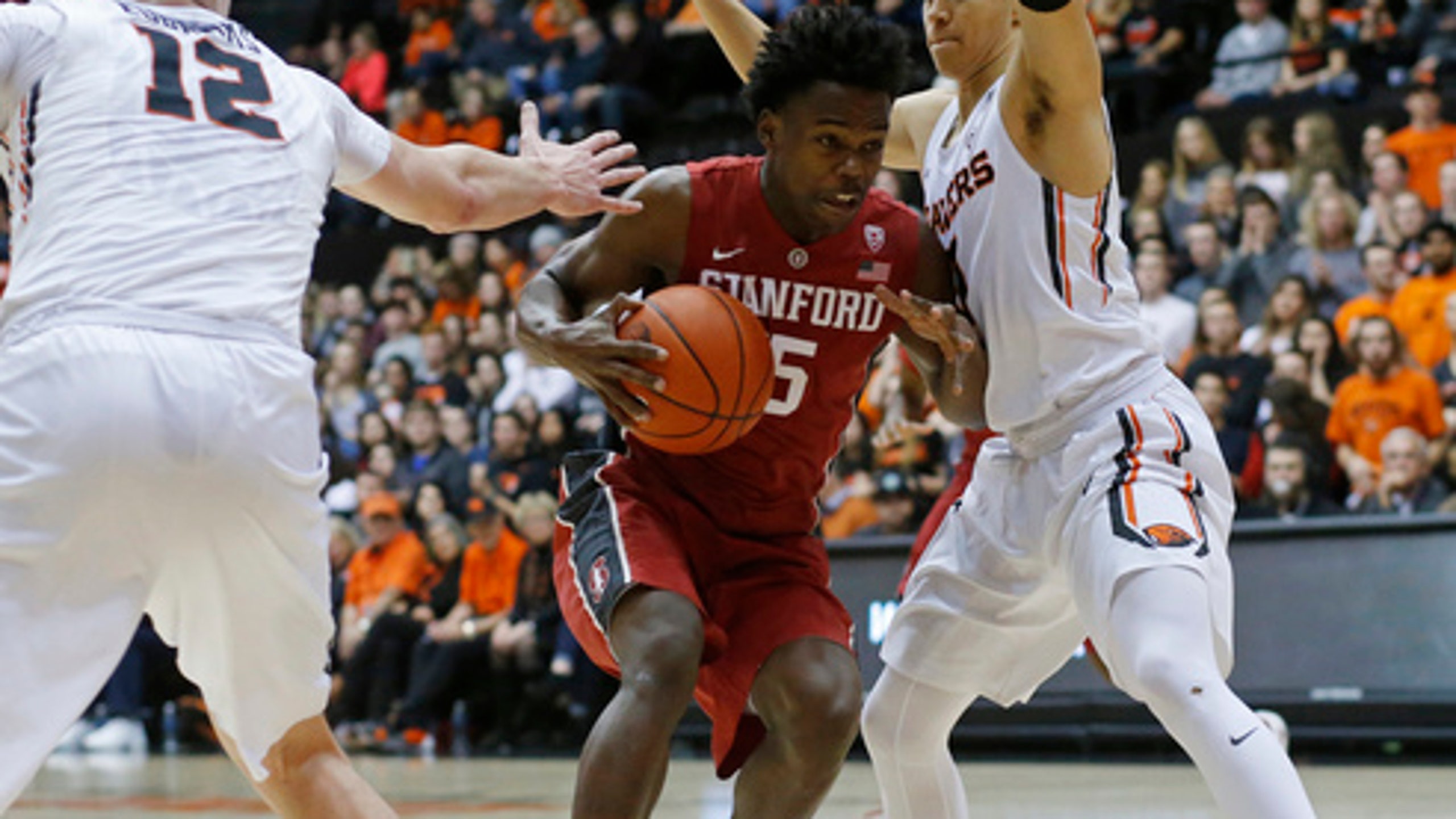 Humphrey has 21 and Stanford beats Oregon State 62-46 (Jan 19, 2017)
BY AP • January 20, 2017
CORVALLIS, Ore. (AP) Once Stanford got its defense going, the offense followed.
Michael Humphrey had 21 points and Marcus Allen added 12 to lead Stanford to a 62-46 victory Thursday night over Oregon State, keeping the Beavers winless in Pac-12 conference play.
The Cardinal (11-8, 3-4) overcame a slow start for their third straight win after a pair of victories at home last week against the league's Washington schools.
''We didn't start the way we wanted to and coach kind of got into us in one of those timeouts,'' Humphrey said. ''We knew we weren't playing the way we needed to. It started with getting a few stops that turned into buckets offensively, and that kind of turned the table for us right there.''
Stephen Thompson Jr. led the Beavers (4-15, 0-6) with 15 points. Oregon State, which trailed by as many as 17 points late after jumping out to an early nine-point lead, has lost six straight games.
''Our guys really showed a lot of focus and came out and got after it. Then unfortunately what's happened a bunch this year is we got off page, got off the page offensively in the first half and couldn't score for a while because we went away from what was working,'' Oregon State coach Wayne Tinkle said.
The Cardinal were without Reid Travis, the team's top scorer and rebounder with averages of 16.6 points and 8.9 rebounds per game. Reid injured his right shoulder in Stanford's 76-69 victory over Washington last Saturday. He had missed the previous two games with a similar injury.
The Beavers have struggled without top scorer Tres Tinkle, who was averaging 20.2 points a game before he broke his right wrist on Nov. 25 against Fresno State. Tinkle has missed 13 games.
But Oregon State did have forward Drew Eubanks, who was a game-time decision because of a thigh injury. Eubanks was averaging 14.6 points going in. He finished with eight points against Stanford.
Coach Tinkle tweaked his starting lineup, giving sophomore Gligorije Ravocevic his first career start. Ravocevic replaced Matt Dahlen, who had started the last 10 games.
At least at the start, the Beavers had spark, going up 16-7 on three consecutive 3-pointers - two by Thompson and a third by JaQuori McLaughlin. Thompson hit another 3 to give Oregon State a 19-11 lead.
But Stanford closed the gap, pulling within 20-17 on Marcus Sheffield's jumper with a little more than five minutes left before the break.
Humphrey's dunk got Stanford within 25-23, and Allen's layup tied it. Humphrey made two free throws to give the Cardinal a 27-25 halftime lead.
Sheffield's 3-pointer made it 37-32 with 12:35 left as the Cardinal began to pull away. Humphrey's layup stretched the lead to 45-36 with 8:20 left.
BIG PICTURE
Stanford: The Cardinal had won six of the previous eight meetings with Oregon State.
Oregon State: The Beavers have been hurt by injuries this season. Players have missed more than 40 games, including center Cheikh N'diaye, who has missed 10 games and is out indefinitely with an injured left shoulder.
ALLEN'S IMPACT:
Allen, a senior, was making his 15th start of the season. He was coming off a similarly strong performance against Washington, when he had a season-high 15 points.
''Marcus Allen's been great, he's been a consistent defender for us all year and offensively he's continuing to make the right reads, knowing when to penetrate and when to shoot,'' coach Jerrod Haase said. ''He's certainly been a stabilizing for us.''
UP NEXT
Stanford: The Cardinal visit No. 11 Oregon on Saturday. The Ducks defeated California 86-63 on Thursday, but preseason All-America forward Dillon Brooks injured his lower left leg late in the first half and did not return.
''It's an opportunity to compete. I think our guys really embrace the idea of continuing to work to get better. We understand they're a fantastic team, it's a great environment, the whole bit,'' Haase said. ''But it's another opportunity for our team to grow and develop, and we're excited about it.''
Oregon State: The Beavers host the Golden Bears on Saturday night.
---
---